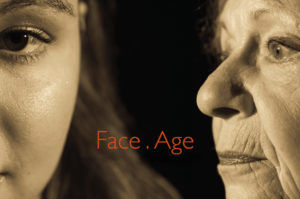 UNIVERSITY PARK, Pa. — Andrew Belser, 2017-18 Penn State laureate, will kick off the tour of his award-winning "FaceAge" exhibition, a multimedia video installation created from cross-generational conversations, Aug. 30 to Sept. 5 at University Park. The exhibition will be open 9 a.m.–9 p.m. Aug. 30, Sept. 1 and Sept. 5, and 9 a.m.–5 p.m. Aug. 31 in the Arts & Design Research Incubator (ADRI), located in 16 Borland Building.
Throughout the 2017-18 academic year, Belser will take "FaceAge" to all Penn State campuses, as well as the University of North Carolina at Wilmington — where "FaceAge" was started — and meetings of organizations that provide services related to aging.
The laureate tour of "FaceAge" will include community engagement, research and curricular components intended to facilitate intergenerational connections.
"As a laureate endeavor, 'FaceAge' proposes intergenerational connection as a binding force for communities divided by income, class and education, among other issues," said Belser, professor of movement, voice and acting, and director of the ADRI. "Because Pennsylvania demographics show growth in our aging population, a focus on cross-generational engagement is both timely and has potential to spawn meaningful interaction between Penn State and various communities."
Belser is producer and director of "FaceAge," whose partners include — in addition to the ADRI — the Center for Healthy Aging in the College of Health and Human Development and the Center for Geriatric Nursing Excellence in the College of Nursing. According to Belser, the partners envision the "FaceAge" tour as a chance to demonstrate how compelling outcomes emerge from dynamic cross-disciplinary collaborations.
"This Penn State laureate tour is ideally timed to play a significant role in launching 'FaceAge' toward national and international prominence, further broadcasting Penn State's leadership as a progressive innovator in approaches to creative and research activity," he said.
In July, "FaceAge" was exhibited at the IAGG World Congress of Geriatrics and Gerontology. In March 2018, "FaceAge" will be featured at Leading Age's Leadership Summit as Belser begins a partnership with Leading Age to disseminate "FaceAge" broadly throughout the United States.
For more information on "FaceAge," including future tour dates and locations, visit www.faceage.org.