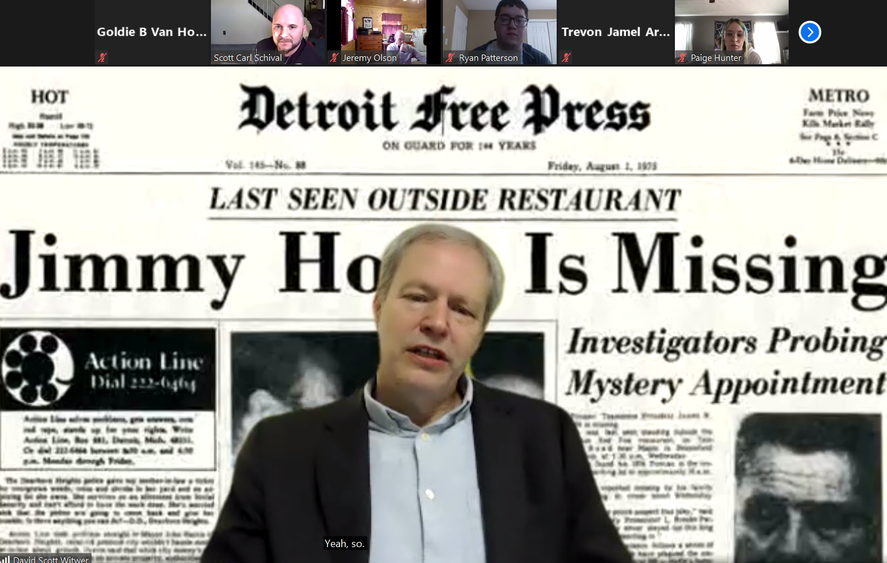 LEHMAN, Pa. — Students in a Penn State Wilkes-Barre criminology class had a special opportunity to hear from the University Laureate regarding his research on corruption, organized crime, labor racketeering and the disappearance of Jimmy Hoffa in 1975.
David Witwer, 2020-21 Penn State Laureate and professor of American studies in Penn State Harrisburg's School of Humanities, spoke to students in Jeremy Olson's criminology class, CrimJ 12/Soc 12, over Zoom about his background, career and theories on what happened to Hoffa.
"Dr. Witwer's knowledge and research into organized crime and Jimmy Hoffa fits very well with our exploration of biological, psychological and social factors that lead to crime, especially as related to organized crimes," said Olson. "Using real-life cases to explore these ideas helps students engage with material in ways other than simply reading theories in a book.
"Dr. Witwer presents his research in such a way that students can see the interconnections between previous events and actors in one town or city to events and actors at later times and in different geographical areas," Olson added. "Such connections reinforce the idea we teach from restorative justice that we are all pieces of a giant interconnected web of people and relationships."
During the presentation, Witwer explained the role of University Laureate and gave the students an overview of his background in the New York District Attorney's Office and the New York Organized Crime Task Force.
He discussed the history of the Teamsters Union, which he described as "the most powerful union, but also the most notorious and corrupt union" at the time Hoffa was union president in the early 1970s.
"Organized labor and unions all date to the 1890s. 'Teaming' was when goods were transported by horse-drawn wagons and the horses were teamed up together," he explained. "Transportation required low capital and was easy to get into, but it was also cutthroat competition."
"Even in that period, unions were notorious for corruption," Witwer continued. "These sorts of local hauling businesses were destroying each other by lowering their prices to the point where they couldn't afford to feed their horses. So they formed a cartel with an agreement to set standard prices, assign customers and stop new businesses from coming in. It was totally illegal and a violation of antitrust laws, but the way to enforce it was to use a union."
He also talked about the rise of Al Capone and his group along with the St. Valentine's Day massacre in Chicago, topics covered in his second book, "Shadow of the Racketeer: Scandal in Organized Labor." Witwer is also the author of "Corruption and Reform in the Teamsters Union" and "Murder in the Garment District: The Grip of Organized Crime and the Decline of Organized Labor," which was co-authored with Catherine Rios, associate professor of communications and humanities at Penn State Harrisburg.
Witwer is currently writing "Searching for Jimmy Hoffa: The Disappearance of America's Most Notorious Labor Leader and Why It Still Matters Today," scheduled for publication in time for the 50th anniversary of Hoffa's disappearance.
He told the class about Hoffa's legacy as a history event and the "massive federal response" it generated in Chicago, New York and even Pittston.
"It wiped out the top leadership of organized crime throughout the country and helped transform the federal government's response to organized crime," Witwer said.
Students were able to ask questions and hear his thoughts on some of the more popular theories surrounding Hoffa's disappearance.
Olson said he thought Witwer's talk was beneficial for his students to hear.
"I think Dr. Witwer's presentation adds to my students' ability to think critically about what they hear or see in the popular media. His research and knowledge about the things he discusses work their way into addressing why some explanations and theories of Hoffa's disappearance are more likely than others. This includes scenes or information from popular mafia movies, newspaper accounts and even 'investigative' reporting offered on the internet or print media. Dr. Witwer also makes connections to local figures in his presentation, which I think gives students a new way to think about where they live, historically at least," Olson said.
Paige Hunter, a first-year student studying criminal justice, appreciated the opportunity to hear from Witwer.
"I thought his presentation was very well done and I liked how he mentioned his books that he helped write and wrote. It gave me deeper insight into actual cases that occurred," she said.
"I learned about his job and it gave me insight somewhat into what it would be like to work into that field," Hunter continued. "Having a better understanding of some of these things will help me deepen my knowledge for future criminal justice classes that I will have to take and help me have some knowledge when I go to hopefully work in the field of criminal justice."
The Penn State Laureate is an annual faculty honor established in 2008 to bring greater visibility to the arts, the humanities, the honoree's work, and the University. The laureate brings an enhanced level of social, cultural, artistic and human perspective and awareness to a broad array of audiences. The annual honoree is a full-time faculty member who is assigned half-time to serve as the University Laureate for one academic year.