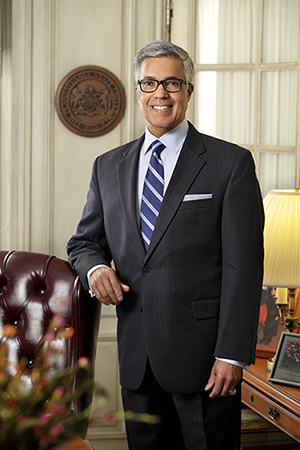 Dr. Dale Jones
Chancellor, Penn State Wilkes-Barre
On behalf of the entire Penn State Wilkes-Barre family, I am pleased to welcome you to our community. Thank you for visiting our website, which we are confident you will find to be a wonderful resource for information about how we can meet your educational needs.
The Pennsylvania State University is a multi-campus, land-grant public research university that educates students from Pennsylvania, the greater United States, and around the world. Penn State Wilkes-Barre is an integral part of the university. A Penn State education opens many doors to a future of intellectual, personal, and professional fulfillment. Our students are serious about receiving a quality education.
Founded in 1916, Penn State Wilkes-Barre is the oldest institution of higher learning in the Wyoming Valley. Located approximately thirteen miles from the city of Wilkes-Barre, the campus is a close-knit community where students are known by name and enjoy all the opportunities of a world-class research university in a supportive, small college environment.
Penn State Wilkes-Barre's faculty and staff reflect our values of academic excellence, a student-centered focus, ethics and integrity, community service, and inclusivity. We are living up to the exceptional standards of Penn State and are highly committed to our students.
Penn State Wilkes-Barre's faculty, staff, alumni, advisory board, and students form a solid team. As a team, we work together to be successful. Excellence in all we do is our practice. We are proud of Penn State Wilkes-Barre.
We invite you to learn more about us. Visit our campus. Speak with our admissions counselors, faculty, staff, and students. We are confident you will see what we already know — Penn State Wilkes-Barre is a special place to be!
Dr. Dale Jones
Chancellor, Penn State Wilkes-Barre