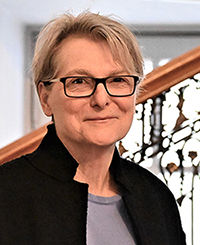 Welcome to Penn State Wilkes-Barre!
Whether you've just graduated from high school or are a veteran or working adult finishing a degree you started years ago, a Penn State degree and its wide alumni network will open doors for you. You can start on our campus and finish at another Penn State location (2+2), or you can stay close to home and enroll in one of our associate's or bachelor's degree programs.
Fun fact: we have the only ABET-accredited Surveying Engineering program in Pennsylvania.
Here you'll find a campus dedicated to helping you succeed and to helping you make an impact: in the classroom, in co-curricular activities, and in your community. Many of our students choose the affordability of commuting from home, but you will also find the convenience of privately-owned housing directly adjacent to campus.
Join us for our small classes, opportunities for undergraduate research, hands-on learning, study abroad and internships, our athletics programs and club and leadership activities, and our intentional academic advising and learning support for students of all abilities. First in your family to attend college? We have the resources you need to be successful.
We are your local campus with a land grant mission to serve Pennsylvania, so providing access to affordable, research-based higher education is an essential value. Did you know that 85% of our students receive financial aid, much of it through endowed scholarships from Penn Staters who want you to succeed.
The land grant mission also means contributing to a sustainable Pennsylvania through a network of Penn State resources dedicated to expanding opportunities for stable and just growth. We provide innovative programming through Invent Penn State and collaborations with industry, business, and municipalities in northeast Pennsylvania to support entrepreneurship, workforce development, and healthy communities.
Join us for programming that supports working professionals, business and industry, youth, and personal enrichment. Whether you're interested in earning a certificate, offering employer-specific training, or attending summer youth camps, speaker series and art shows, we have something for you. Join us for stargazing events on Fridays at the Friedman Observatory or the annual Arts at Hayfield craft show each August.
Penn State Wilkes-Barre has served the Wyoming Valley—and beyond—since 1916. Join us in sustaining that history of service to community by becoming a Penn Stater.
Dr. Lynda Goldstein
Interim Chancellor, Penn State Wilkes-Barre