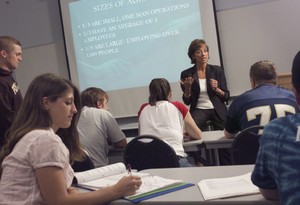 Mission
Penn State Wilkes-Barre provides a student-centered educational environment whereby students of all ages, backgrounds, and experiences can access the excellence of The Pennsylvania State University to become productive responsible global citizens.
Vision
Penn State Wilkes-Barre aspires to be the premier educational institution of choice in the region by providing superior opportunities for students to excel in academic and co-curricular excellence leading to rewarding careers.
Values
We are committed to creating an environment of:
Academic Excellence that provides students with a rich academic experience by fostering intellectual curiosity, exploration, innovation, and open inquiry.
Student Focus in which students are provided with opportunities for intellectual and personal growth inside and outside the classroom. We are committed to education that meets students' needs and provides them with a wide variety of strong positive values in academic and co-curricular activities. We recognize and embody the value of life-long learning.
Ethics and Integrity based on civil dialog in which all individuals are heard and respected. The actions of the campus community members will be driven by the highest standards of integrity and ethical behavior.
Community Service that recognizes, values, and encourages lifelong service to the community as an integral part of educating well rounded students.
Inclusiveness that recognizes and embodies the benefits of diversity, which is vital for personal, intellectual, and social growth.