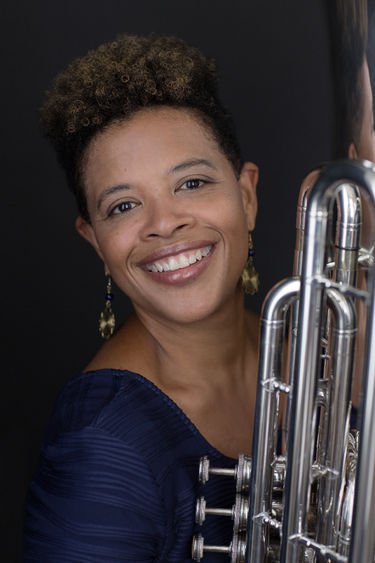 DALLAS, Pa. — Velvet Brown, the 2022-23 Penn State Laureate, will visit Penn State Wilkes-Barre for a live performance at 7:30 p.m. Tuesday, Oct. 25. The presentation will be held in Room 105 of Hayfield House and is free and open to the public along with the campus community.
A tubist who has been teaching at Penn State since 2003, Brown is an international soloist, composer/arranger, chamber ensemble performer, recording artist, conductor and orchestral player. She serves as the David P. Stone chair and associate director for equity, diversity and inclusion in the College of Arts and Architecture's School of Music.
Brown has performed and taught throughout Europe and the United States and in Russia, Japan, Cuba and Canada. She is currently the principal tubist of the New Hampshire Music Festival Orchestra and was previously principal tubist for the Hope and Harmony Ensemble, which recorded a video of fanfares for the 2021 presidential inauguration conducted by Marin Alsop.
She is the co-founder of MOJATUBA: Tuba and Dance Fusion Project, the focus of her presentation at Penn State Wilkes-Barre. This unique ensemble presents on the performance stage an artistic and interdisciplinary collaboration between solo tuba, dancers, piano, voice and percussion. The term MOJATUBA comes from the acronym MOJA, which stands for Modern Dance, Original Works, Jazz Styles and African Influence, and its distinctive association with the tuba. The diverse ethnic theme of the program, especially its African-influenced music and dance, contributes to the soulful energy that connects performers and audience.
Brown, who has released five solo CDs, has performed and worked closely with jazz, commercial and classical artists regarded as some of the most influential musicians of all time, including Howard Johnson, Marie Speziale, Bob Stewart, Susan Slaughter and Doc Severinsen.
As Penn State Laureate, Brown plans to integrate the African diaspora into a shared musical journey across the commonwealth through concerts, recitals, workshops and lectures.
"As a performing artist deeply grounded in excellence, I strive to engage audiences with unique collaborative performances, and to enthusiastically share soulful, creative inspirations," said Brown. "My goal is to merge a musical journey including African American music and education to elicit empowering emotions. It is imperative to reach out to communities regardless of race, origin or background to provide a positive and passionate musical and educational experience."
An annual faculty honor established in 2008, the Penn State Laureate is a full-time faculty member in the arts or humanities who is assigned half time for one academic year to bring greater visibility to the arts, humanities and the University, as well as to their own work. In this role, the laureate is a highly visible representative of the University, appearing at events and speaking engagements throughout the commonwealth.
Brown will take questions throughout the performance at Penn State Wilkes-Barre and will hold a short question-and-answer session at the end of her presentation.