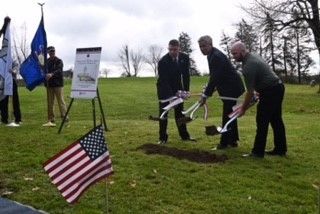 DALLAS, Pa. — Penn State Wilkes-Barre students gathered to honor military veterans with two special events, one to raise awareness of issues veterans may face and one to break ground for a special veterans' memorial on campus.
The Veterans Support Club, in partnership with Veterans Promise, hosted the Shine A Light ceremony at Penn State Wilkes-Barre on Nov. 12. The Shine A Light ceremony is held to honor the servicemen and women who have lost their lives to suicide, drugs or alcoholism after coming back from service. This event was established to bring awareness of issues veterans may face and provide support while remembering Veterans Day.
Students and community members who attended the Shine A Light event learned skills to assist a veteran family member or community member who is struggling. These struggles can include adapting to life outside the military, addiction and thoughts of suicide.
Sgt. Robert Mastropole, a student-veteran of the United States Marine Corps and president of the Veterans Support Club, was the coordinator for the event.
"As a student-veteran, seeing this big turnout shows me that there are a lot of patriotic individuals on this campus," he said. "It makes me proud to be a Penn State Wilkes-Barre student. Seeing that we have so many people who want to support us makes me truly happy."
The event featured several guest speakers, including Sgt. Dave Ragan, the founder of Veterans Promise.
"I served in the Pennsylvania National Guard from 1996 to 2006. I served tours in Bosnia and Iraq. When I came back, I felt guilty that I survived when so many of my brothers and sisters didn't," Ragan said. "After a long period of treatment, I was asked to speak about my experience and share my story publicly. People were touched and moved. Even if I didn't understand why, I knew that I was alive to help others get the help they needed. I started Veterans Promise to advocate and educate about veteran suicide, drug and alcohol addiction, and offer support for their families."
"It means the world to me to see our youth so involved in a project like this," Ragan continued. "We don't normally get this audience. It means a lot to me because these are the people who can go out into their communities and promote this mission."
Several student clubs gathered to support the event. JAM Club President Jason Eiden played music while S.T.E.A.M. President Hannah Farber sang the national anthem.
"There were a lot of moving pieces that had to come together to make this event happen. I couldn't have done it without help from the Veterans Support Club. A special thanks goes out to Dave Ragan of Veterans Promise. We told him what our idea was and he helped bring this to fruition," Mastropole said.
Cpl. Scott Schival, a member of the Veterans Support Club and a veteran of the U.S. Marine Corps, said, "The Shine A Light event was nice to have here. It was great to have Veterans Promise come in and help spread awareness of this issue. Having been in the same spot as so many of those people, having almost been one of the 14 servicemembers who lost their lives to suicide from my group, it was such an important event to have."
The Shine A Light ceremony followed the groundbreaking on the Penn State Wilkes-Barre veterans' memorial. The production of the memorial has been in the works for several years, but was put on hold due to COVID-19.
"I am excited that this project is finally happening, and my hope is that it continues to happen," Schival said. "This memorial is something that is very dear to me. The goal is to honor those men and women who have served and to pay homage to the sacrifices they have made for our freedom. I have lost friends in the service. This memorial is for them."
The Penn State Wilkes-Barre veterans' memorial will be placed between the Murphy Student Services Center and the Nesbitt Academic Commons. Completion is planned for the summer of 2022.
In addition to community support, dozens of students attended both events, watching the groundbreaking and listening to the stories shared by speakers.
To learn more about Veterans Affairs and Service at Penn State, visit https://veterans.psu.edu/.