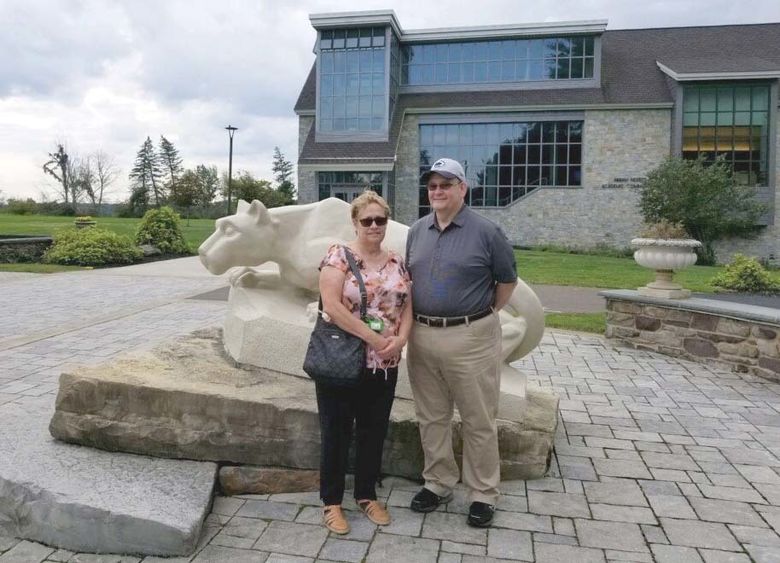 DALLAS, Pa. — A new scholarship that will support military and veteran students has been created at Penn State Wilkes-Barre.
Penn State alumni and longtime supporters Ed and Judy Lucy, who previously committed an estate gift and an annual award to support Penn State Wilkes-Barre, have continued their commitment by the creation of the Samuel J. and Ruth Valick Family Scholarship with a gift of $50,000. The scholarship will give preference to students who have served or are serving in the United States military and who are majoring or plan to major in criminal justice.
"We are grateful for Ed and Judy Lucy's continued support of our students and campus," said Chancellor and Chief Academic Officer Dale Jones. "The family created this scholarship in the hopes of inspiring others to a lifetime of service and sacrifice, protecting and serving our nation both at home and abroad as Mr. and Mrs. Valick did."
The scholarship is in memory of Judy's parents, Samuel and Ruth Valick, who were residents of northeastern Pennsylvania. Samuel Valick was a veteran of World War II who served in the United States Navy as a member of the Construction Battalion, better known as the Seabees. He also was a former Pennsylvania state trooper who worked in northeastern Pennsylvania. Ruth Cornell Valick was a 1946 Penn State alumna who studied math and science education. She became a teacher and taught in various local school districts. The Valicks met while Ruth was teaching in Dushore and had five children during their marriage.
"Ed and I wanted to help veterans be able to pursue their education. Because my dad was in the Navy, it was important to us that a veteran would have the first chance at the scholarship each year," said Judy Lucy. "My mom was from northeastern Pennsylvania and grew up on my grandparents' farm in that area. Since she graduated from Penn State, we liked making the connection with Wilkes-Barre and the area where she grew up."
Judy Lucy, a 1972 Penn State alumna, attended Lake-Lehman High School and Penn State Scranton before earning her bachelor's degree in health and physical education at University Park.
"We want to support other people who are trying to get an education and help them however we can," Judy Lucy said. "For people who are in need, a scholarship might make the difference as to whether they can pursue their goals. We are grateful to be able to support students who are following in my father's footsteps."
The Lucys, who have been married for 36 years, currently live north of Houston, Texas, and return to northeastern Pennsylvania during the summer. Ed Lucy, a 1976 computer science alumnus, works in information technology for Woodforest National Bank and previously worked for corporations including IBM and Microsoft. Judy Lucy dedicated her career to child care before retiring, working with Head Start programs that partnered with parents attending community college.
Gifts from Ed and Judy Lucy and others will advance "A Greater Penn State for 21st Century Excellence," a focused campaign that seeks to elevate Penn State's position as a leading public university in a world defined by rapid change and global connections. With the support of alumni and friends, "A Greater Penn State" seeks to fulfill the three key imperatives of a 21st-century public university: keeping the doors to higher education open to hardworking students regardless of financial well-being; creating transformative experiences that go beyond the classroom; and impacting the world by fueling discovery, innovation and entrepreneurship. To learn more about "A Greater Penn State for 21st Century Excellence," visit greaterpennstate.psu.edu.