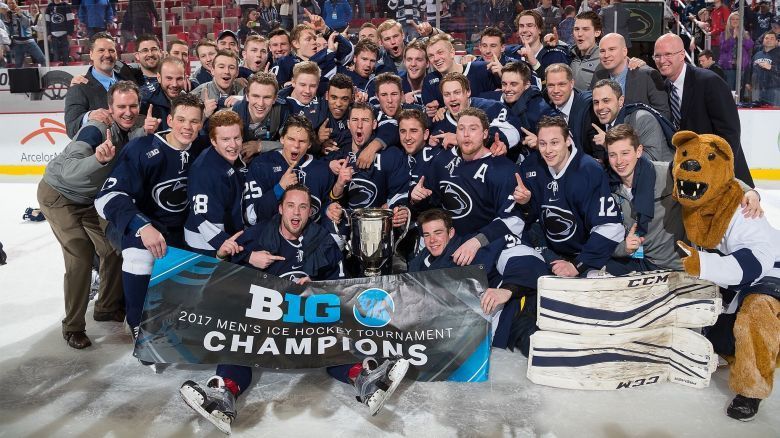 DETROIT, Mich. – Freshman Liam Folkes potted both goals including the game-winner at 6:43 of the second overtime period to lift fourth-seeded Penn State past No. 2 Wisconsin, 2-1, in the Big Ten Tournament Championship this evening from Joe Louis Arena.
Penn State becomes the fourth different winner in the four years of the tournament, but the first to win three games in three days to capture the crown. The Nittany Lions improve to 24-11-2 on the year and earn an automatic berth to next week's NCAA Tournament. This also marks sixth conference regular season or tournament championship for the university for the 2016-17 academic year.
Penn State will await its seed and opponent when the bracket is announced during the selection show on Sunday at 12 p.m. live on ESPNU.
Folkes opened the scoring just after a power-play expired as he collected the loose puck in the slot, turned toward the net and fired beating Badger net-minder Jack Berry five-hole at 15:37 for the 1-0 edge.
Matt Ustaski potted the equalizer for Wisconsin with the man-advantage as freshman goalie Peyton Jones made the initial stop on Luke Kunin's shot, but couldn't find the puck and Ustaski punched it home at 11:45 of the third period for the 1-1 tie.
In the first overtime period both teams had legitimate shots to put the game away as Wisconsin rang the crossbar with the man-advantage and senior David Goodwin had a rebound chance on the left side of the cage, but Badger defenseman JD Greenway slid in and stopped the puck with his skate preventing it to cross the goal line as the score remained 1-1.
In the second overtime period it was Folkes again who found himself all alone after a great feed from freshman Brandon Biro through the neutral zone and the rookie gave a quick backhand-forehand move and slid the puck through Berry's five-hole at 6:33 for the 2-1 victory.
Freshman goaltender Peyton Jones stopped a career-high 51 shots, the second most in a single-game in program history, to improve to 22-9-2 on the year while Berry made 33 saves and falls to 11-8-1 with the setback.
Wisconsin outshot the Lions 52-35 while going 1-for-3 with the man-advantage. Penn State was 0-for-1 on the power play.