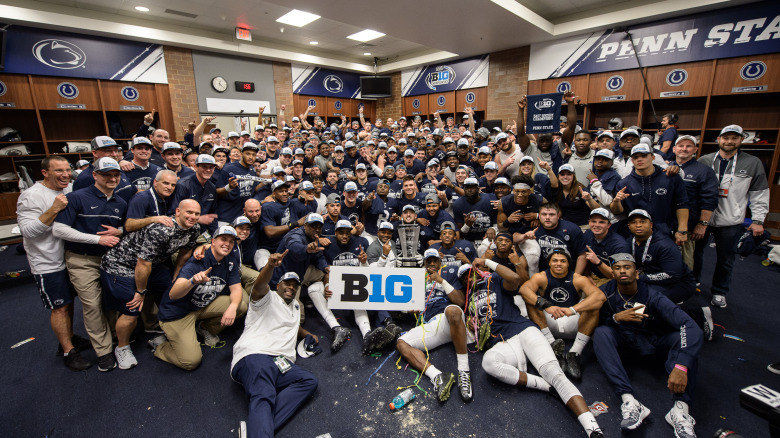 UNIVERSITY PARK, Pa. — The Penn State football team's Big Ten Championship win over Wisconsin last Saturday was historic not only for the football program but also for Penn State Intercollegiate Athletics.
With head coach James Franklin guiding the Nittany Lions to their first Big Ten title since 2008, the win also marked Penn State's 100th Big Ten championship or tournament title since winning its first in 1992. Penn State's initial Big Ten title was delivered by the women's volleyball squad, winning the first of its 16 Big Ten crowns during the 1992-93 academic year, one year after some Penn State sports began competing in the conference.
Full integration of all Penn State sports sponsored by the Big Ten did not occur until 1993-94 (football) and women's soccer began competing as a varsity sport in 1994-95.
Penn State, Michigan and Ohio State are the only conference institutions that have won at least 100 Big Ten titles since 1992-93.
Penn State's comeback 38-31 win over Wisconsin on Dec. 3 in Indianapolis marked the fourth Big Ten Championship for the football program and its first undisputed conference title since the 1994 squad went 8-0. The Nittany Lions were victorious in Lucas Oil Stadium in their first appearance in the Big Ten Football Championship Game since it began in 2011.
Since the fall of 2012, Penn State's 27 Big Ten championships or tournament titles are second in the conference to Michigan's 29. The Nittany Lions won a school record eight Big Ten crowns in 2012-13 and matched that mark in 2013-14. Penn State won five Big Ten championships last year and has captured three in getting 2016-17 off to a another successful start.
Two Penn State programs are among the five most successful among all Big Ten teams in regards to winning conference championships. The Nittany Lion women's soccer team, the 2015 NCAA Champions, have won 18 Big Ten Championships, good for a tie for third-most among all conference teams. The Penn State women's volleyball squad has captured 16 Big Ten titles, and seven NCAA Championships, to rank No. 5 among all conference teams.
The Wisconsin men's cross-country and Michigan women's gymnastics squads have won 20 Big Ten titles since 1992-93 to lead all teams, and the Michigan softball team has won 18 to tie Penn State women's soccer for third.
Since 1992-93, the Nittany Lions' 29 NCAA Championships are easily the most among Big Ten institutions. Maryland is second with 21, followed by Nebraska and Ohio State, with 13.
Penn State has one of the nation's most comprehensive and successful athletic programs, featuring 800 student-athletes across 31 varsity programs (16 men's, 15 women's). The Nittany Lions' 48 NCAA Championships all-time (76 national championships overall) rank No. 5 among all NCAA Division I programs and are the highest total of any college or university east of the Mississippi River.
Penn State student-athletes have an 89 percent NCAA Graduation Success Rate. The Nittany Lions rank No. 4 among all Division I schools with 194 CoSIDA Academic All-Americans all-time and No. 5 among all NCAA institutions.