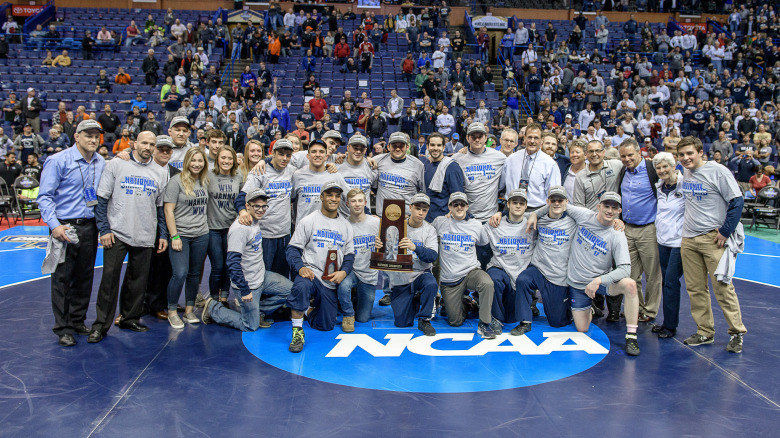 ST. LOUIS, Mo. -- The Penn State Nittany Lion wrestling team left no doubt to its dominance, rolling to a perfect 5-0 record in the 2017 NCAA Championship finals. The stunning run capped off Penn State's team title performance in St. Louis' Scottrade Center. Penn State, under the guidance of head coach Cael Sanderson, claimed its sixth NCAA team title in the last seven years, its second straight and its seventh overall.
The Nittany Lions won the title with a school record 146.5 points, 36.5 points ahead of second place Ohio State. Oklahoma State was third with 103.0. Penn State won the title at Madison Square Garden last season and now owns seven NCAA team crowns (1953, 2011, 2012, 2013, 2014, 2016, 2017). Penn State's seven team titles are fourth all-time in NCAA history. Sanderson now has six NCAA team titles as a head coach, tied for fifth all-time.
The NCAA began the finals at 197, with fans voting the 184-pound tilt as the night's last championship bout. Penn State had wrestlers in each of the final five bouts as it worked its way to the evening's team trophy presentation. All five Nittany Lions emerged victorious.
Junior Zain Retherford, the No. 1 seed at 149, took on No. 3 Lavion Mayes of Missouri in the first of five straight NCAA finals match-ups to close out the championships. Mayes fought off a quick early shot by Retherford and then took a 2-0 lead with a fast double leg at the 2:33 mark. Retherford quickly escaped to a 2-1 score and took the lead with a low single to a takedown at the 1:40 mark. Retherford then controlled the action from the top position and carried a 3-2 lead with 1:15 in time into the second stanza. Retherford chose down to start the second period and quickly escaped to a 4-2 lead. He then stepped back from a slight Mayes shot, countered low, and finished off a takedown for a 6-2 lead at the :40 mark. He rode Mayes out once again and led 6-2 with 2:04 in time after two periods. Mayes chose down to start the third period. Retherford took advantage of the decision. The Lion senior turned Mayes three straight times, nearly getting the fall on the second, and posting a crushing 18-2 technical fall at the 6:42 mark to win his second straight NCAA title.
Retherford, Penn State's 26th three-time All-American, is now tied for 17th on Penn State's all-time NCAA wins list with 14 and heads into next year having won 63 straight bouts. He is the seventh two-time NCAA champion in school history. The Lion went 5-0 with four technical falls and a pin at the tournament and ends the season with a 28-0 mark with 17 pins, seven techs and a major. Retherford was named the 2017 NCAA Championships Outstanding Wrestler for his effort. The junior was also honored for his season long dominance as the 2017 NCAA Most Dominant Wrestler.
Sophomore Jason Nolf, the No. 1 seed at 157, took on No. 3 Joey Lavallee of Missouri. The duo battled evenly for two minutes before Nolf gained control of Lavallee's right foot, lifted it off the mat and finished off the takedown with just over 1:00 left in the period. He cut Lavallee loose with :40 on the clock and immediately went to work on offense. Lavallee fought off a late Nolf shot and killed the buzzer in the opening period. Nolf chose down to start the second period and quickly escaped to a 3-1 lead. He picked up a point on a second Lavallee stall and then used a swift low double for a takedown with just :12 left to lead 6-1 after two periods. Lavallee chose down to start the third and Nolf cut him loose. He finished off the tiger with four textbook takedowns to roll to a 14-6 major decision and win his first national title.
Nolf, now a two-time All-American, caps of the 2017 season with a 5-0 run in St. Louis, including a pin, two techs and a major. He ends the season with a 27-0 record, including 14 falls, eight tech falls and two majors.
Red-shirt freshman Vincenzo Joseph, the No. 3 seed at 165, took on No. 1 Isaiah Martinez of Illinois. They worked the middle of the mat for nearly a minute before Martinez worked his way in on a shot that Joseph appeared to step back from. A takedown was called with an immediate Joseph escape. Penn State challenged the call but it was confirmed and Joseph trailed 2-1 at the 1:50 mark. Joseph countered a slight Martinez shot at the :40 mark, worked his way behind the Illini and took a 3-2 lead with a takedown. Martinez escaped before the period ended and the match moved to the second period tied 2-2. Martinez chose down to start the second and escaped to a 4-3 lead and Joseph quickly moved in for a takedown to lead 5-4. Martinez escaped to a 5-5 tie and Joseph had 1:05 in riding time. Joseph chose down to start the third period and quickly escaped to a 6-5 lead. He then moved in for the win. Joseph and Martinez locked up in the middle of the mat and the Nittany Lion picked the two-time defending NCAA champion off the mat and turned him to his back as the Scottrade Center erupted. The Lion freshman spent seconds to get the stunning fall at the 5:25 mark and claim his first NCAA title as a red-shirt freshman.
Joseph closes out his St. Louis run with a 5-0 mark, including a pin in the finals and a major. He ends his red-shirt freshman campaign with a 22-4 record with two pins and four majors.
True freshman Mark Hall, the No. 5 seed at 174, met No. 3 Bo Jordan of Ohio State. Jordan got in on a low single at the 1:00 mark and Hall countered his way to nearly locking up a cradle. Jordan fought the turn off and then Hall fought off a final Jordan push to keep the bout scoreless after the opening stanza. Hall worked his way into a high single that Jordan nearly countered for a takedown. The Lion freshman continued to work the edge of the mat and got a takedown to lead 3-0 at the :41 mark. Ohio State challenged the call, saying that Jordan had a takedown. The call was confirmed and Jordan led 3-0. Jordan escaped as the period wound down and Hall led 3-1 after two periods. Jordan chose down to start the third period and escaped to a 3-2 lead at the 1:32 mark. The duo battled evenly for the next minute. As the clock wound its way down below :20, Hall worked his way into control of the Buckeye grappler and took him to the mat for a clinching takedown, rolling to the 5-2 decision to become a national champion as a true freshman.
Hall closes out his first NCAA tourney run with a 5-0 mark, including a technical fall and a major. He ends his freshman season leading Penn State in wins with a 31-3 mark, including 12 pins, three techs and six majors. Hall was the third true freshman finalist in Penn State history, joining Cary Kolat (1993) and Nico Megaludis (2012).
Both Joseph and Hall become Penn State's first ever freshmen NCAA National Champions.
Sophomore Bo Nickal, the No. 2 seed at 184, met No. 1 Gabe Dean of Cornell in the tournament's final title match-up. After a scoreless minute-plus, Dean used a fast low double leg to take a 2-1 lead with Nickal escaping quickly at the 1:23 mark. Nickal worked his way into control of Dean's ankle and tried to keep the Big Red wrestler on the mat for a takedown. Dean tried to work his way out of the circle and Nickal stepped over and got a takedown after an official review. Leading 3-2, Nickal rode Dean out to carry the 3-2 lead into the second period. Nickal chose down to start the second period and Dean cut him loose to a 4-2 Nickal lead. Nickal stepped back from a fast low Dean shot at the :50 mark to maintain his lead into the third period. Dean chose down to start the third period and quickly escaped to a 4-3 Nickal lead. Nickal nearly scored on a takedown at the :50 mark, Dean nearly countered by turning Nickal to his back but the Lion fought off the effort and action moved out of bounds. Dean pressured Nickal on the edge of the mat and the duo worked their way into a scramble as the clock wound down. Nickal maintained control of Dean's leg and the clock hit :00, giving the Nittany Lion sophomore a 4-3 win and his first NCAA title. His win capped off a stunning 5-0 run in the NCAA finals for Penn State.
Nickal, now a two-time All-American, caps off the 2017 campaign with a 5-0 run at NCAAs, including a tech fall and three pins. Nickal was named the 2017 NCAA Championships Gorriaran Award winner for the most falls in the least amount of time (three in 11:07). He closes out the season with a 26-1 mark, including 17 pins, a tech and three majors.
Penn State won the team title by getting crucial points out of all eight of its participants. Sophomore Nick Nevills took fifth at 285, earning All-American laurels with a 5-2 mark. Senior Jimmy Gulibon went 3-2 at 141, falling just one win shy of earning his second All-America tag. He also added a tech fall and a major for critical bonus points. Junior Matt McCutcheon went 2-2 at 197 and fell just one win shy of All-America honors in the 'round of 12'. McCutcheon nabbed key bonus points with Penn State's first pin of the tournament in the first round.
All six of Penn State's All-Americans from this year's championship run, including five NCAA Champions, return next year. So does three-time qualifier McCutcheon and true freshman Nick Suriano, the No. 3 seed at this year's tournament who had to withdraw due to injury before competition began.
Penn State went a perfect 5-0 in session five and picked up 4.5 bonus points off a major, a tech and a fall. Penn State posted a superb 35-6 overall record, picking up 32.5 bonus points off five majors, nine tech falls and seven pins. Sanderson has now coached 18 national champions, 16 at Penn State. His teams have garnered 58 All-America honors, 43 at Penn State. All of this in addition to leading the Nittany Lions to six national titles in the last seven years. The Nittany Lions, with six All-Americans this year, now have 206 all-time All-Americans, 43 of those have come under Sanderson's tutelage. Penn State's 146.5 team points in the tournament are the most in school history, breaking the record of 143.0 set in 2012. Sanderson has led Penn State to its top six all-time NCAA point totals (all title winning runs).