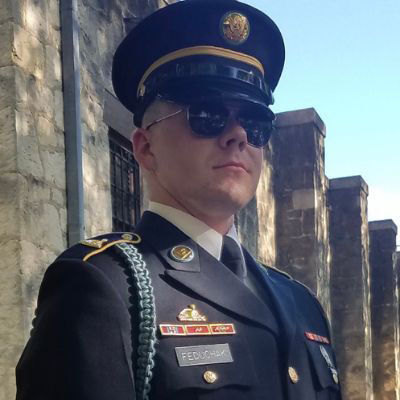 Nikolai Feduchak knew that he wanted to serve his country from an early age.
He has fulfilled this objective time and again, whether directly through his years in the U.S. Army infantry, in his current role as a member of the Veterans Support Club at Penn State Wilkes-Barre, or unknowingly as a child.
"My dad handed me a flag after he came back from a nine-month deployment and said, 'you served,'" said Feduchak, who hails from Greenfield Township, Pennsylvania. "I didn't realize it at the time, but the family encounters a different type of service when a parent leaves."
For Feduchak, a sophomore majoring in international politics at Penn State Wilkes-Barre, the military has always had a prominent presence in his life — his father, paternal grandfather and grand-uncle all served in the military.
After serving for four years in the Army, Feduchak decided to continue his education at Penn State Wilkes-Barre utilizing GI Bill benefits and by taking advantage of the close proximity of the Wilkes-Barre campus to his home.
Like thousands of fellow Pennsylvanians, access to a world-class Penn State education is possible for Feduchak in part because of Penn State's unique Commonwealth Campus structure that places a Penn State location within 30 miles of 96% of the state's population.
"I heard a lot of great things about Penn State, and something also was calling me home," said Feduchak.
Feduchak acknowledges that he's not the typical college student, but he knows the importance of low-cost, in-state tuition for the "kids," as he calls them, which is why he traveled to Harrisburg at the end of March to voice support for the University's state funding during Advocate Penn State Capital Day. He said his classmates call him a "boomer," despite only being a few years older than them.
Feduchak is one of approximately 25,000 students who attend Penn State's 19 undergraduate Commonwealth Campuses, where a strong majority of students — 80% — are Pennsylvania residents who receive the benefits of in-state tuition. Because of the University's discounted in-state tuition rate, which is made possible because of the funding that Penn State receives from the commonwealth of Pennsylvania, Feduchak can maximize the reach of his GI Bill benefits. University-wide, in-state tuition directly impacts 45,000 Pennsylvania resident students and their families every year, saving them each an average of more than $13,000 annually on the cost of tuition. 
Penn State has been more than welcoming to me, and they have a great network for my family and friends.

—Nikolai Feduchak , student veteran and international politics major, Penn State Wilkes-Barre
Like so many of those 45,000 Penn State students, Feduchak stays active on campus beyond his studies. He honors his military roots through Penn State Wilkes-Barre's Veterans Support Club, where he was named the 2022 Outstanding Club Member of the Year.
The club's main goal is to raise awareness and provide support for local veterans, both on campus and in the community. Club members volunteer with local partners like Camp Freedom, an outdoor-focused veterans support initiative. In the past, the group has participated in Operation Gratitude, collecting items and sending packages to troops stationed overseas.
Additionally, the club is working on a Veteran's Memorial Plaque as a remembrance of all those who have served. Feduchak said the club is working hard so that veterans and their sacrifices are remembered. The memorial would be in the shape of a keystone and located between the Murphy Student Services Center and the Nesbitt Academic Commons.
"I am very passionate about veterans' causes and raising awareness about veteran suicide," said Feduchak. "I always have my '22 a Day' bracelet about the veteran suicide rate on me."
He said he uses his experiences to help raise awareness about veteran suicide and connect with others on this important issue. Feduchak noted that although he never served in combat, he has a unique perspective of how difficult it can be.
"I have been a part of over 240 military funerals, one of which being my own family," said Feduchak. "I haven't served in combat just yet, but I know the sorrow of the families."
Feduchak worked at Arlington National Cemetery during his service, presiding over military funerals, including participating in his grand-uncle's funeral.
"When my grand-uncle passed, I had the privilege of presenting the flag to my grand-aunt," said Feduchak. "That was a real honor."
Feduchak is going into the National Guard, a role within the Army that he has direct experience with, as his father was a member of the National Guard for 23 years.
He is studying international politics with a focus on national security. He plans to take advantage of Penn State's 2+2 Plan with a transition to the University Park campus after the next academic year. After graduation, Feduchak plans to return to service within the military or a government agency, where he said he aspires to continue to support and defend the U.S. Constitution.
Feduchak said staying close to home and enrolling at the Wilkes-Barre campus has been the right fit to help him earn his degree. 
"I love Pennsylvania — I was born and raised here," Feduchak said. "Like I said, after the military, something was calling me home. It's a great community to be a part of. Penn State has been more than welcoming to me, and they have a great network for my family and friends."
Learn more about how state support for Penn State impacts thousands of Pennsylvania students like Feduchak in this Penn State News article.