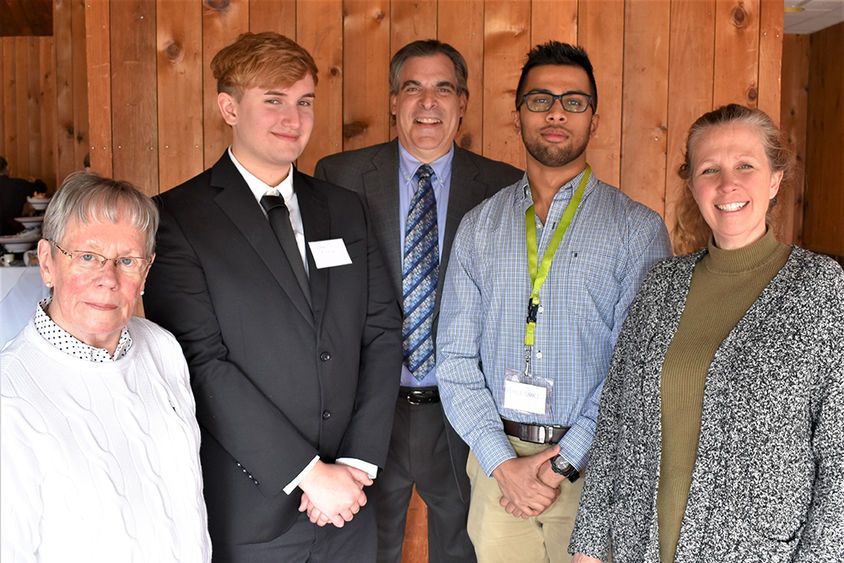 DALLAS, Pa. — On Nov. 10, Penn State Wilkes-Barre students Ethan Krzysik and Asher Smart each received the 2019 Irene Thomas Memorial Scholarship award. This award is given annually by Arts at Hayfield, a non-profit organization housed at Penn State Wilkes-Barre that is dedicated to supporting community arts. The scholarships are granted to academically and artistically accomplished students who demonstrate a commitment to the arts.
In addition to Krzysik and Smart, Luke Kepner, Jason Kepner and Kaci Grabowski were awarded Irene Thomas Memorial Honorable Mention scholarships.
Ethan Krzysik majors in political science, is currently completing a double minor in criminal justice and English, and has been on the Dean's List. He has participated in various local art shows and won awards for his watercolor, pen, pencil, and mixed-media paintings and drawings. As a former Lake Lehman High School student, Krzysik was a member of the art club, chorus, and homecoming float-building committee. He participates in special Penn State Wilkes-Barre events such as the annual "Celebration of the Arts" poetry reading and enjoys writing his own poetry. Krzysik believes that "art should always be there as an outlet for people to express themselves."
Asher Smart, a Dean's List student, is majoring in psychology and pre-med. He was the winner of the spring 2019 Innovation Challenge, an initiative that allows students to pitch their creative ideas to a panel of judges from the Wilkes-Barre business community. As a former Dallas Area High School student, Smart wrote, directed, filmed, and edited his own film, "The Media Heist," based on a true story about a group of 1970's protesters who decided to rob an FBI headquarters. Smart has a strong interest in the art of public speaking; in addition, he performs a variety of different styles of music on his guitar. He is currently a member of the Jam Club, Radio Club, and the Student Government Association at Penn State Wilkes-Barre. Smart plans to continue to "use his skills and talents in the arts to change the world and leave it a better place."
For additional information about Arts at Hayfield and the annual Irene Thomas Memorial Scholarship award, visit the Arts at Hayfield website or contact Jonathan Pineno, Arts at Hayfield president, at 570-675-9159 or [email protected].