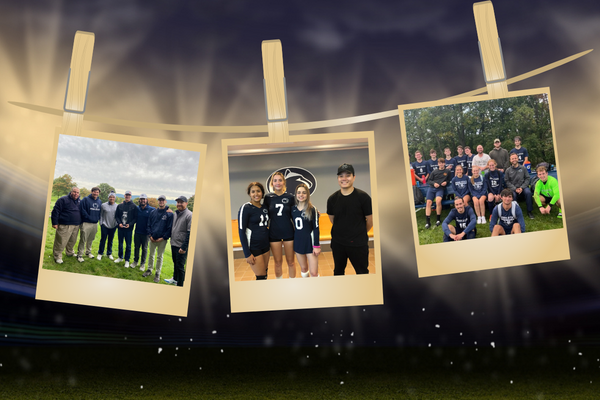 Penn State Wilkes-Barre's fall sports teams are coming into mid-season form, showcasing the teams' talented players, which include many from the greater Wyoming Valley.
This fall, the Penn State Wilkes-Barre golf team has been led by two returning second-year students, Cooper Kelley and Evan Serafin. Kelley, a graduate of Dallas High School, came into his second year strong after being honored on the PSUAC All-Conference First Team in 2021. This season, Kelley finished second in the PSUAC Invitational at University Park Blue Course with a 76. Serafin, a graduate of Coughlin High School, finished first in the Penn State Wilkes-Barre Invitational with a 71.
Kelley and Serafin also led the golf team to its first-place finish in the Penn State Hazleton Invitational on Oct. 3, finishing with a 75 and 83 respectively. The team hopes to carry the momentum into the PSUAC/USCAA Championships, which will be held Oct. 9-11 on the University Park Blue Course.
Penn State Wilkes-Barre's women's volleyball team saw its first win in four years on Sept. 24 against Penn State Scranton. This marked Head Coach Huy Nguyen's first collegiate career win. A graduate of Hanover Area, first-year student-athlete Sierra Hildebrand led the team to victory with 11 kills and recorded four digs with one block. First-year student-athlete Tifany Gomez, a Wilkes-Barre Area graduate, recorded 10 service aces along with five kills and nine digs. Freshman Libero Jenna Skibitksy, a Holy Redeemer High School graduate, recorded 12 digs in the match and two kills.
Penn State Wilkes-Barre's soccer team also tallied its first victory in four years. On Sept. 28, Penn State Wilkes-Barre defeated Penn State Scranton 3-2 — the first collegiate career win for Head Coach Nathan Katz. Led by second-year team captains Riley Gerhardt, a Wyoming Area High School graduate, and Mark Hutsko, a Lake-Lehman High School alum, Penn State Wilkes-Barre now holds a 1-2-1 overall record. Gerhardt opened the scoring for Penn State Wilkes-Barre in the first half, with third-year student-athlete Richard Wooditch following up with his first goal of the season in the second. Wooditch is a graduate of Dallas High School. Second-year student-athlete Ryan Hunt, a Lake-Lehman graduate, made the game-winning goal and his first of the season.
Penn State Wilkes-Barre's golf, soccer and women's volleyball teams are comprised of 37 student athletes, 30 of whom hail from the greater Wyoming Valley.  
Penn State Wilkes-Barre's golf team began its season at the PSUAC Invitational on Sept. 9, then played in four invitational matches throughout its season, including those hosted by Penn State Hazleton and Penn State DuBois. The soccer team has played four games thus far, with four to go in regular season play. The first half of the Penn State Wilkes-Barre women's volleyball season has been played primarily on Penn State Wilkes-Barre's home court, and the team hopes to continue the momentum of its win against Penn State Scranton in later matches this season against Penn State Schuylkill, Scranton, Brandywine and York.
Complete rosters and game schedules can be found on Penn State Wilkes-Barre's Athletics website.