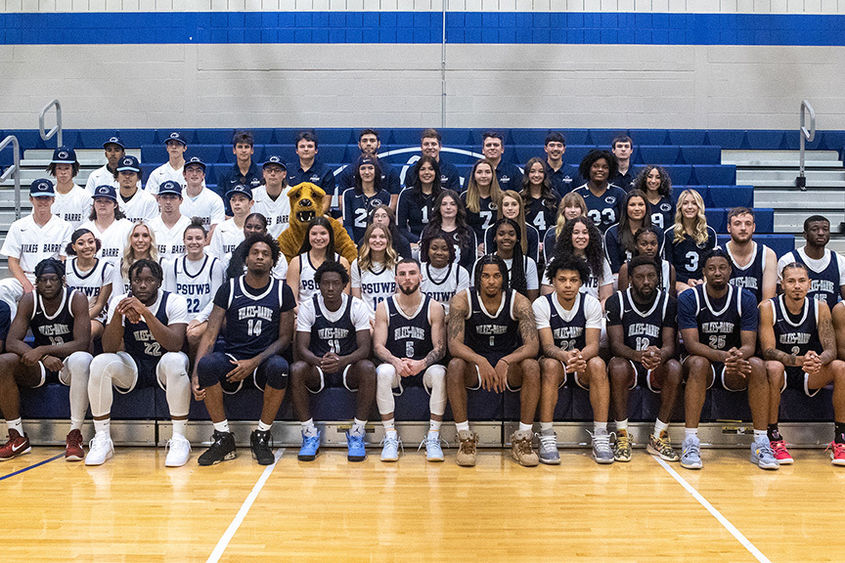 Penn State Wilkes-Barre Athletics recently held its first all-sport Media Day on campus for its student-athletes. Parents, students, staff and the community were invited to attend the event, which served as an introduction to the 2023-2024 sports season and showcased more than 70 athletes and coaches from the baseball, golf, women's volleyball, men's and women's basketball teams.
Each student-athlete scanned a QR code upon entering the gym, opening a list of questions for players to answer — ranging from what their pre-game rituals are to their favorite game day songs and snacks. After, student-athletes cycled through three different stations to get official photos taken in game-day attire. Next to these was a designated interview station for athletes to answer questions pertaining to their upcoming seasons. Ballpark food, including hot dogs, popcorn, ice cream and beverages, was also served.
Several players from each team shared their thoughts about personal challenges, goals, achievements and advice for current and future student-athletes at Penn State Wilkes-Barre at the interview station.
As the baseball team works to build its program, sophomore Andrew Mentzer stated, "I'm motivated by proving the doubters wrong. Whenever things get tough, I just remind myself that we [the team] have to get better."
When asked about the upcoming season and games that the players are looking forward to, senior basketball player Jalen Willis said, "Every game is important. We take it one game at a time; there isn't one game more important than any other."
Willis is no stranger to keeping a one-game-at-a-time mentality, having been a member of Penn State Wilkes-Barre's USCAA Division II National Championship winning basketball team in 2023.
Although just two teams have started their official seasons (golf and volleyball), both basketball teams and the men's baseball team work hard to make sure they are well-conditioned, prepared for whatever obstacles they may face when their seasons commence.
Women's basketball players had a unanimous answer for one of the hardest things to do in practice: conditioning.
"You have to have a positive attitude," explained sophomore Hannah Cook. "It's important to have a 'glass half-full' mentality."
One of the most important things before a game is to have the right mindset while on the court, field or green. Sophomore volleyball player Sierra Hildebrand said she gets her head in the game by zoning out before she needs to zone in.
"I like to meditate. I put on my headphones and listen to one of my favorite songs. It helps me get into the vibe and be stress-free," Hildebrand said.
As Penn State Wilkes-Barre's student-athletes get ready for upcoming games, matches and other aspects of their seasons, they are keeping standards and spirits high in the classroom and in competition.
"You try to set a standard for the team and be a role model for the freshman that come up," said junior golfer Frankie Nocito. "Give confidence to those that haven't experienced the pressure of college. Not just the freshmen, but for everyone."
Student-athletes said they appreciate the support they have gotten at Media Day as their teams build strong programs for current and future players.
"Our athletes at Wilkes-Barre compete very hard both in the classroom and on the field, court and course, and it is important to us that they know all that they mean to our campus and our campus community," said Athletic Director Scott Miner. "This group of student-athletes is going to set the tone for the next 10 years of athletics at Penn State Wilkes-Barre. Their commitment, intensity and abilities will help build one of the best small college athletic programs in the country, and they should be very proud of that. We want our campus to be a destination for tremendous student-athletes and provide them with the best possible program we can."
As their seasons commence, the Lions hope to see Wilkes-Barre pride cheering from the sidelines.