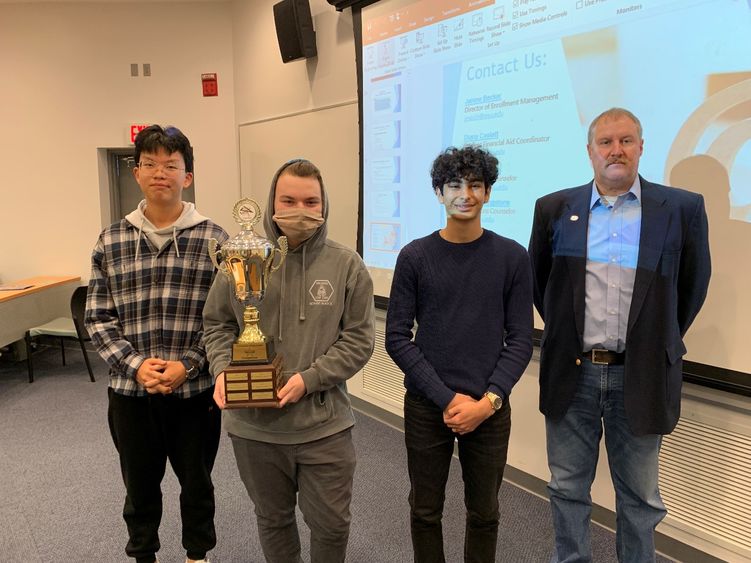 DALLAS, Pa. — Penn State Wilkes-Barre hosted a high school trigonometry competition on campus April 8, welcoming 80 students from eight local schools to campus.
Sponsored by the National Society of Professional Surveyors (NSPS), Trig-Star is a competition that recognizes and rewards high school students who excel in mathematics, particularly trigonometry, and their teachers. The program's goal is to show students practical uses for mathematics and bring greater awareness of the surveying profession.
The event at Penn State Wilkes-Barre was the regional level of competition, with winners advancing to the state level. State winners go on to compete at the national competition. Winners in the regional competition were as follows: first place, Gavin Nichols, 11th grade, Wilkes-Barre Area STEM Academy; second place, Amir Samadian, 11th grade, Wilkes-Barre Area STEM Academy; and third place, Jaka Mao, 11th grade, Holy Redeemer High School.
Penn State Wilkes-Barre hosted the event for several years prior to its cancellation for the COVID-19 pandemic in 2020 and 2021. Representatives from the NSPS and Pennsylvania Society of Land Surveyors (PSLS) contacted Associate Professor of Surveying Engineering Dimitrios Bolkas, coordinator of the surveying engineering program at Penn State Wilkes-Barre, to ask that the event return to campus in 2022.
"We were excited to have the high school students and their teachers back on campus and to host this event once again," Bolkas said. "Trig-Star provides a great opportunity for students to learn how trigonometry, and math in general, are being applied in the real world."
During the event, representatives from NSPS, PSLS and Penn State Wilkes-Barre spoke to students before an exam was administered. Students were able to take part in a demonstration and tour the campus before an awards ceremony was held.
Participants also had the opportunity to learn about surveying engineering and Penn State Wilkes-Barre's program, which is the only accredited surveying engineering program in Pennsylvania and one of just 33 throughout the United States. The campus offers an associate degree in surveying engineering technology and a bachelor's degree in surveying engineering.
"The mission of Trig-Star is a perfect complement to what we offer in our program," Bolkas said. "Having the competition at our campus allowed us to share more information with high school students about the benefits of studying surveying engineering, the jobs available in this field and the maths such as trigonometry that are used in this discipline."