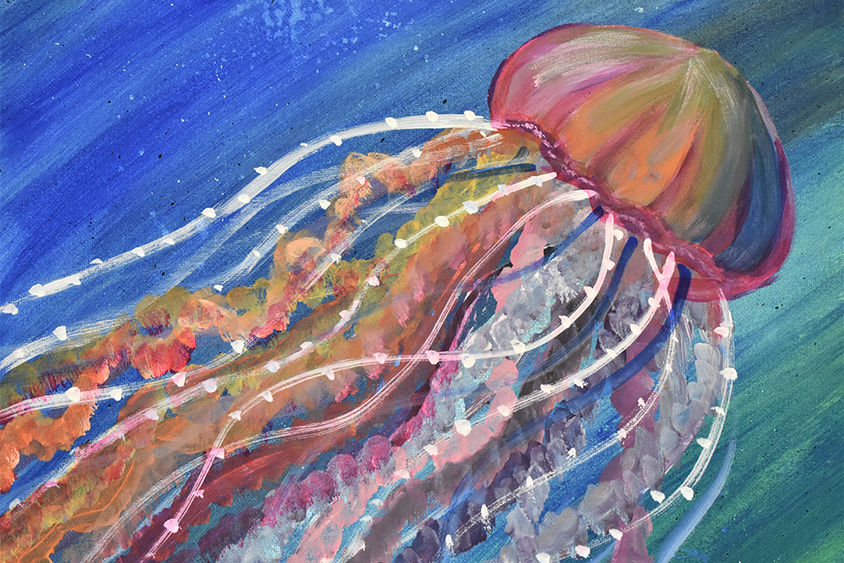 DALLAS, Pa. — The Friedman Art Gallery at Penn State Wilkes-Barre has announced its new "Emerging Artists" series — occasional exhibits highlighting the work of unknown local artists. The inaugural exhibit features the artwork of MaryLou Kolojeski, a painter in acrylics. The exhibit runs through Dec. 3.
Kolojeski lives in the Kingston area. She said she grew up in a very creative household, where all of the members of her family specialized in one form of art or another: photography, writing, drawing, interior decorating, sewing, singing, dancing, or jewelry-making. Kolojeski said she always loved art; as a child she started with paint-by-numbers, and then with her mother's assistance moved on to a variety of artistic projects as she grew older.
Kolojeski was born with epilepsy, and that challenge brought on a multitude of other health issues over time. In November 2018, she said she was drowning in medical debt and attempted to sell things from her home. Nothing was moving, so she searched online for ideas and was inspired to try painting silhouettes. When she posted her first painting of a silhouette, it sold within minutes. Kolojeski began learning about blending, shading and other art techniques from online tutorials, and over time she discovered that she was capable of creating a wide variety of paintings.
"I'm almost done paying off my medical bills, thanks to these paintings. Once that's finished, I plan to start donating 10% of my profits to help others who are overwhelmed with medical debt," she said.
"Painting has always been therapeutic and helpful with my condition," she added with a smile. "I like to call myself a stress painter. I get inspired whenever I'm feeling an extreme emotion, whether it's anger, excitement or sadness. After I finish the painting it's like a breath of fresh air, and a calm comes over me for the rest of the day."
Kolojeski's favorite subjects to paint range from landscapes to flowers, and she's "always looking for new inspiration." The self-taught artist acknowledged, "I've never had any schooling in art, but it would be nice to take an art class one day. All I've used are acrylics, but I'd like to try out oils in the future as well."
Kolojeski reflected, "The lesson here is to have confidence in yourself and to simply try."
For more information about Kolojeski's exhibit, contact Jonathan Pineno, gallery director, at 570‑675‑9159 or [email protected].
The Penn State Wilkes-Barre Friedman Art Gallery is open to the public, except during holiday breaks, 9 a.m.-4 p.m. Monday-Friday.