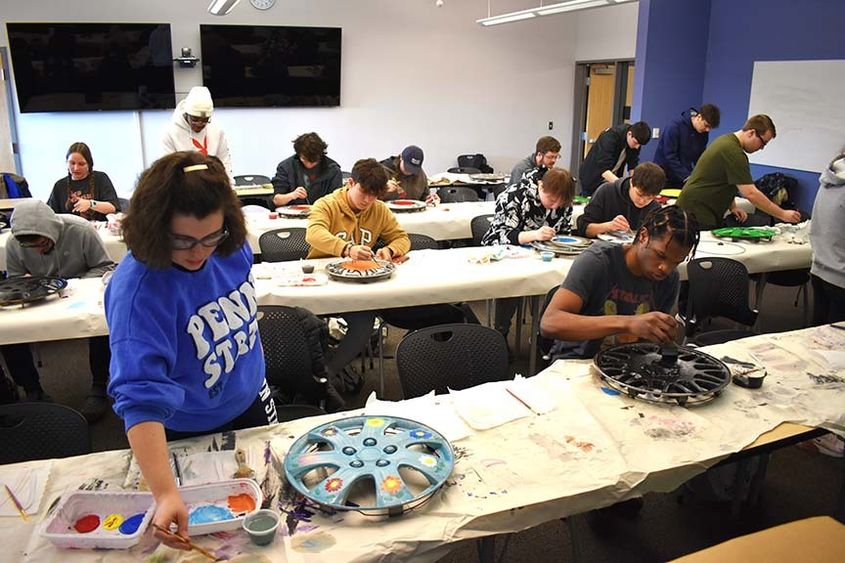 DALLAS, Pa. — A new student art exhibit has opened at Penn State Wilkes-Barre's Friedman Art Gallery. The exhibit, titled "Sharing Our Love of Art," is free and open to the public from 9 a.m. to 4 p.m. every Monday through Friday and runs through March 31. The featured artwork was created by students in three Penn State Wilkes-Barre courses, as well as students who submitted their work independently.
Students in the Art & Music History course studied various types of modern art and painting techniques this semester. They also discussed environmental art and how to use recycled materials for artistic projects. Students then created their own unique creative art projects using recycled hubcaps and plastic caps from bottles, recycled cardboard, paint and glue.
 
Students in the Perceiving the Arts course studied various artworks and painting techniques and incorporated the methods of well-known professional artist Bob Ross. Class members created their own interpretations of Ross' "Purple Splendor," following the artist's instructions.
 
Students in the Food, Writing, and Culture course studied health and wellness, social roles of food in culture, food in the arts, ethics of animal husbandry, alternative diets, reviewing food service and restaurant atmosphere, food magic, sustainability, advertising, food games and competitions. The class then created artwork and sketches related to the course topics and discussions.
The Friedman Art Gallery, a gift from Sidney and Pauline Friedman, opened as part of the Abram Nesbitt Academic Commons in 2008. The gallery regularly displays the works of students and local artists, and private art collections.
The gallery strives to promote, encourage and exhibit artworks of professional and amateur artists from the Penn State Wilkes-Barre campus and surrounding communities.
For additional information about Friedman Art Gallery exhibits, contact Jonathan Pineno, lecturer of music and art, director of the Friedman Art Gallery and president of Arts at Hayfield, at 570-675-9159 or [email protected].