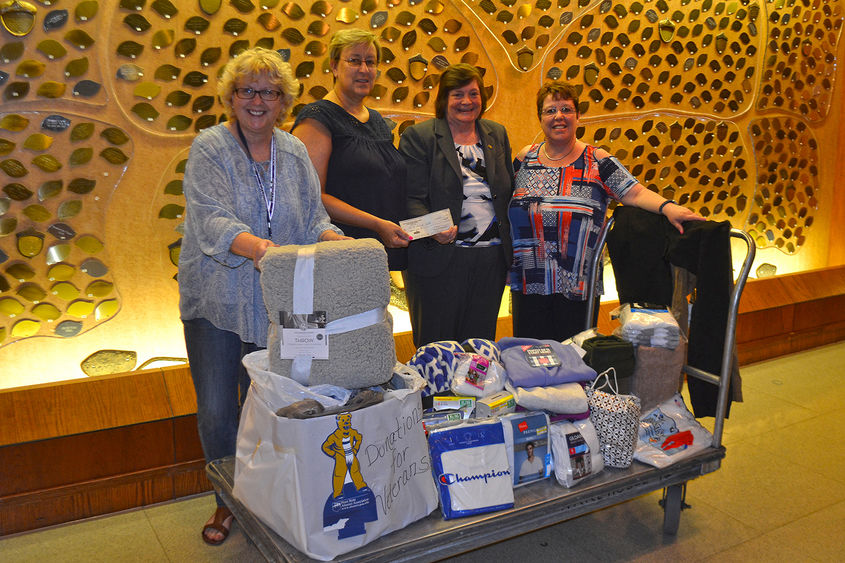 LEHMAN, Pa. — The 2018 Penn State Day at Knoebels Amusement Park featured the Nittany Lion, fun and a generous community spirit. This year the day took on a giving component, as participants were encouraged to help the northeastern Pennsylvania Penn State alumni societies and chapters honor the region's veterans.
"When planning the annual Penn State Day at Knoebels, we discovered it was also the Wilkes-Barre VA Medical Center's Knoebels Day," said Karen Brace-Hodle, Penn State Wilkes-Barre alumni relations and stewardship officer. "We couldn't have asked for a more perfect pairing."
The Penn State Hazleton, Schuylkill, Wilkes-Barre, and Scranton alumni societies, along with the Greater Binghamton, Greater Hazleton, Greater Scranton, Greater Susquehanna Valley, and Schuylkill alumni chapters, collected gift cards, blankets and clothing items, including sweatpants, sweatshirts and socks, to assist veterans in need at the Wilkes-Barre VA. These items were delivered to the VA Medical Center for distribution.
"Most people do not realize that the concept of assisting veterans dates back as far as Plymouth Colony," Brace-Hodle said. "The early settlers passed laws regarding support of disabled soldiers. Fast-forward three centuries and we, as the Penn State Alumni Association, support the University's longstanding mission of service to community. This was an ideal fit all around."
With the success of the collection, the region's alumni groups are hoping to continue this tradition in the years to come.