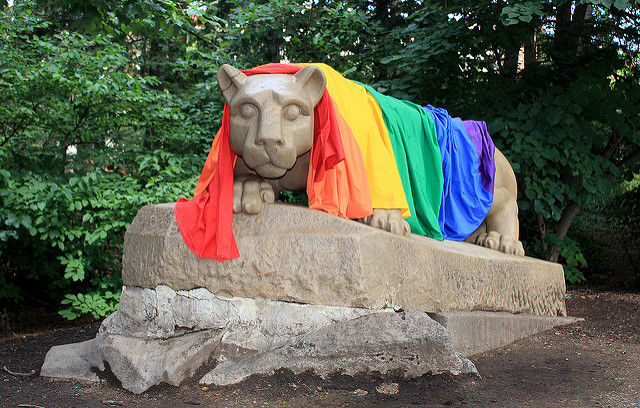 UNIVERSITY PARK, Pa. ­— Penn State is once again named among the top 25 schools in the nation in the 2017 Campus Pride Lesbian, Gay, Bisexual, Transgender, Queer and Questioning-Friendly Campus Climate Index.
The University received five out of five stars for overall campus climate by Campus Pride, a national nonprofit organization for student leaders and campus groups working to improve LGBTQ environments at colleges and universities.
"Receiving this recognition for Penn State and our LGBTQ+ community is exciting and showcases the hard work of students, faculty and staff working together to make the Penn State experience an ever more inclusive one," said Brian Patchcoski, director of Penn State's LGBTQA Student Resource Center.
"While Penn State has received this honor for several years, the recognition is not easily attained," he added. "As the number of institutions growing this work on their campuses has grown, so has the need for us to think broader and more strategically to move our own work forward. Our students share so much of themselves as they work with us and challenge us to make Penn State stronger. This honor is in recognition of them and their desire for Penn State to innovate and grow its understanding of diversity and inclusion."
The Campus Pride Index is a national benchmarking tool for colleges and universities which self-assesses LGBTQ-friendly policies, programs and practices, conducted by and for LGBTQ experts in the field of higher education. The index, now in its ninth year, includes more than 235 colleges and universities with searchable profiles online. Each campus can update their index annually and use the benchmarking tool to make improvements.
The index tool includes 50+ self-assessment questions, which correspond to eight different LGBTQ-friendly factors: policy inclusion; support and institutional commitment; academic life; student life; housing; campus safety; counseling and health; and recruitment and retention efforts. Each school listed receives an overall LGBTQ-friendly score based on a five-star model, as well as breakdowns based on sexual orientation, gender identity/expression and the eight LGBTQ-friendly factors.
In order to be in the Top 30 listing, an institution had to score the highest percentages in the benchmarks.
View Penn State's current Campus Pride Index report card here.