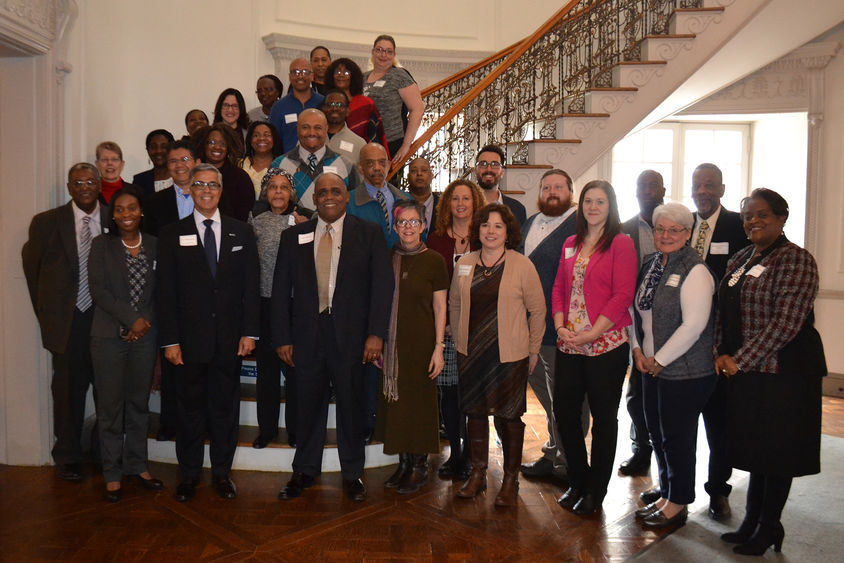 LEHMAN, Pa. — On Friday, April 7, Penn State Wilkes-Barre hosted the Forum on Black Affairs (FOBA), an organization whose goal is to partner with the University to encourage racial diversity, and specifically to create a climate conducive for black faculty and staff to thrive on each Penn State campus.
"Part of FOBA's strategy for continued growth is to be more inclusive," explained Wanda Ochei, director of student services and engagement at Penn State Wilkes-Barre. "To that end, they are reaching out to faculty and staff of color at the Commonwealth Campuses to let them know that they are supportive of their endeavor at succeeding within their jobs. We were extremely honored to be a host campus for this important community event."
FOBA, which has been in operation for 40 years, is also responsible for the Martin Luther King Jr. banquet that takes place every year on Jan. 15 — King's birthday — at The Penn Stater Hotel and Conference Center. The banquet is a proud symbol of Penn State's commitment to fostering an environment of diversity and inclusion. FOBA is open to all members of the Penn State community who wish to support black aspirations at Penn State.
Keynote presenters Constance Wynn, Leonard Cornish, and John Barnes spoke about the black history of northeastern Pennsylvania through the eyes of family. Wynn is a past president of the NAACP Chapter 2306, former reporter for the Citizens Voice newspaper, served as commissioner on the board of elections, and was a contributor on an African-American history book titled, "The Place I Call Home." Cornish is a proud Penn State alumnus, served in the United States Coast Guard, is the founder and principal soil scientist of Pocono Soil and Environmental Consulting, Penn State Wilkes-Barre Advisory Board member, and serves on the board of directors for the Wilkes-Barre Catholic Youth Center and Big Brothers Big Sisters of the Bridge. Barnes is also a proud Penn State alumnus, has served as the Penn State Wilkes-Barre admissions officer for 28 years, is a diversity and inclusion trainer/workshop presenter, the former managing editor of Minority Voices: An Interdisciplinary Journal of Literature, The Arts, The Behavioral and Social Sciences, and served as the vice president of FOBA from 1988 to 1989.
All University Park FOBA meetings for the 2016-17 academic year take place at 6 p.m. on the first Wednesday of the month in the Paul Robeson Cultural Center (PRCC) library. Polycom services are available for campuses upon request and all are welcome to attend.