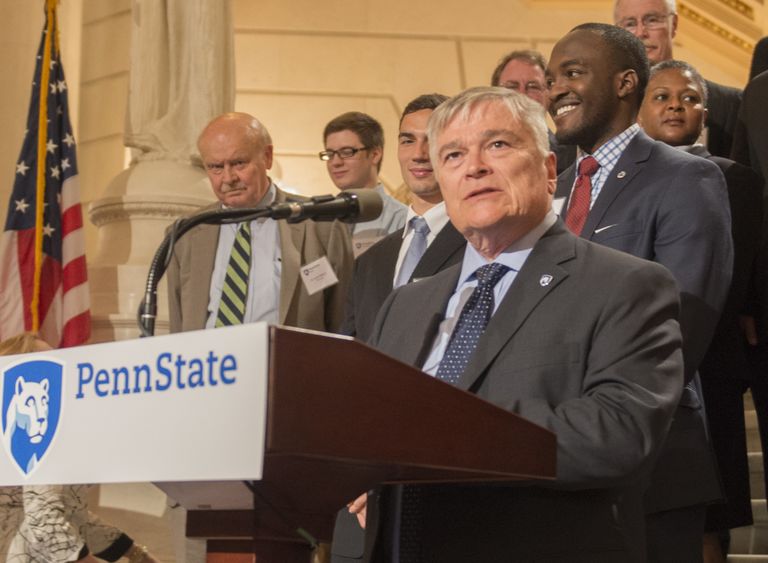 HARRISBURG, Pa. – Today (June 20) in the Capitol Rotunda, Penn State announced the awarding of six additional $50,000 seed grants to jump start entrepreneurial activities across the Commonwealth and celebrate its 13 newly launched entrepreneurship programs in Pennsylvania that are expected to spur economic development, job creation and student career success.
As part of the Invent Penn State initiative, the University held a press conference in the state Capitol to share with legislators, entrepreneurs and the media the ongoing efforts that leverage Penn State's vast research, knowledge and skills to bring to market needed ideas, products and services. Penn State is focused on developing a culture across Pennsylvania that rewards entrepreneurship and creates an ecosystem for innovators and their communities that will spur economic development.
"This is a strategic approach by Penn State to access the economy in various regions of Pennsylvania and offer the needed components – such as advice to startups, legal assistance, infrastructure, research and new discoveries – that can address weaknesses in the current business environment and lead to a major impact on the regional economic health around our campuses," said Penn State President Eric J. Barron. "One of Penn State's goals is to improve regional prosperity by bringing together all of the critical components."
Dennis Davin, secretary of Pennsylvania's Department of Community and Economic Development, was also on hand to discuss the continuing role universities, like Penn State, must play in driving economic development efforts and regional productivity.
"Through efforts like this we are creating an environment that is supportive of startups and welcoming to entrepreneurs that are ready and willing to take risks," said Davin. "I commend President Barron for recognizing the critical need to empower the entrepreneurial ecosystem in Pennsylvania and look forward to working with Penn State to continue to create a pro-business climate for businesses of sizes throughout the state."
The 13 Invent Penn State-funded centers and programs across the state use partnerships with local community organizations and local industry to meet the needs of their unique business startup ecosystem. Through a competitive process, the winning grant proposals include varying combinations of training, mentorship and space to accelerate business startups, improve entrepreneurial leadership and spur economic development. The programs and services of each center or program are available to Penn State students and faculty, as well as community members who are not directly affiliated with Penn State.
The six new awards follow on the heels of six similar $50,000 grants awarded to Penn State campuses in 2015, bringing the number of Commonwealth Campus centers funded by Invent Penn State to 12. The initiative also opened Happy Valley LaunchBox in State College early this year, creating a 13th center.
The six new Commonwealth Campus seed grant awardees are:
Penn State Altoona — Innovation Incorporated
A community co-working space that expands the vision of the Sheetz Center for Entrepreneurial Excellence with an integrated entrepreneurial training and mentorship program to accelerate the transformation of innovative ideas into businesses.
Penn State Berks — Center for Entrepreneurship and Business Development
Focused on enhancing community and industry relationships and utilizing social entrepreneurship to accelerate business development in nutrition, health and medical sectors, as well as to provide resources that encourage entrepreneurship among minority populations.
Penn State Great Valley — REV-UP@GreatValley
A program providing support to all phases of early stage enterprises, as well as access to engineering fabrication tools, an entrepreneur-in-residence program, and an annual Lion Cage competition with monetary awards for innovative projects.
Penn State Schuylkill — Lion Launch
A community-based entrepreneurship program that provides funding and mentorship to start and grow businesses, as well as a community competition wherein winners receive startup funding, training and mentorship from industry, faculty and economic development professionals.
Penn State Shenango— VenturePointe
Courses, programming and mentorship to accelerate business startups, four co-working spaces to support entrepreneurial teams at eCenter@LindenPointe and a Maker's Studio with 3-D printing capabilities to support product prototyping.
Penn State York — MakerSpace & Business Challenge
An expansion of the Graham Center for Entrepreneurial Leadership that provides a MakerSpace for artisans as well as a competitive business challenge program that will fund five student projects.
In 2015 the following six campuses received seed grant funding to develop entrepreneurship programs in their campus communities: Abington, Abington LaunchBox; Erie, the Behrend College, Innovation Commons; Harrisburg, Center for Innovation and Entrepreneurship; Lehigh Valley, Lehigh Valley LaunchBox; New Kensington, the Alle-Kiski Economic Generator; Wilkes-Barre, Entrepreneurial and Business Development Lab.
"The entrepreneurial activity being initiated by Penn State faculty, staff, students and our community partners across the Commonwealth is nothing short of impressive," said Vice President of Research Neil Sharkey, who oversees the Invent Penn State initiative. "We are thrilled to award these six deserving campuses and programs with seed funding."