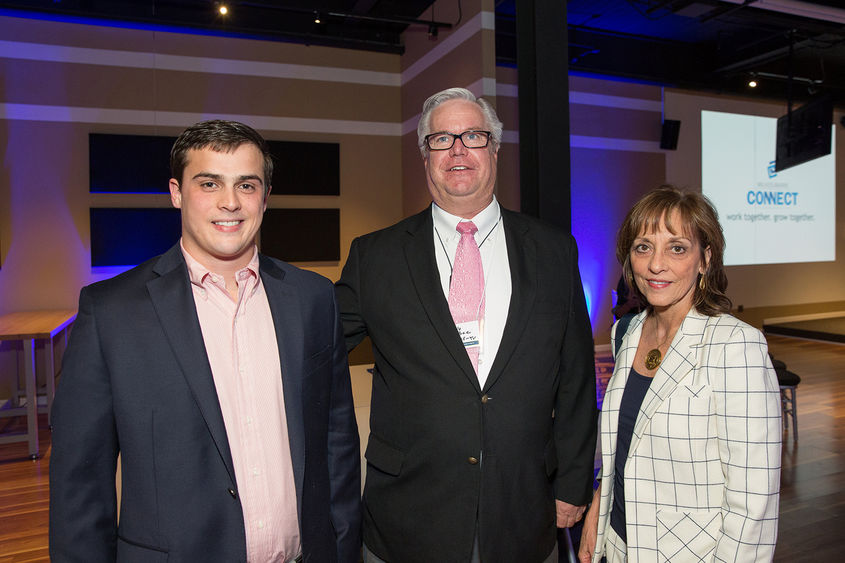 When the Greater Wilkes-Barre Chamber opened the doors to the Wilkes-Barre THINK Center, Penn State Wilkes-Barre student Graham Speace's creativity was on display. Speace, a surveying engineering technology student, was one of four finalists in the "Name The Tech Workshop" contest held by the chamber.
The Wilkes-Barre THINK Center, a nearly 6,000 square foot facility, is a cutting-edge technology workshop and multi-media center providing local professionals, businesses, and colleges/universities access to shared workspace, three tech-driven private conference rooms, a co-working space with plug-and-play tables, and a 50-seat theater/lecture hall with equipment to host virtual meetings, podcasts, lectures, training programs, mentoring sessions and teleconferences. The THINK Center also serves as the physical location of the Wilkes-Barre Connect Initiative, an entrepreneurial ecosystem that aims to spur business and job creation, retention, expansion, and business attraction through support services including mentoring, training, networking, and technical assistance.
"The purpose of the 'Name The Tech Workshop' contest was to engage students from our local higher education partners," explained Joseph Boylan, chamber vice president of economic development. "The THINK Center will be available to the faculty and students of each of the higher education institutions in Luzerne County and we wanted to magnify the importance of that relationship with this contest."
Speace's name, The Diamond Mind, is a nod city of Wilkes-Barre itself.
"For locals at least, diamond is synonymous with the city of Wilkes-Barre, and can be viewed as both nominal and locational," stated Speace, a second year student. "It is the hardest mineral on Earth, and the city isn't short of being as resilient and enduring. These gems only exist because they have already withstood tremendous amounts of heat and pressure over lengthy periods of time. They are meticulously cut and polished until finally they not only possess elegance and beauty, but confirm craftsmanship and perseverance. There are many minds out there, but few are diamonds." While Speace's name will not be used for the center itself, The Diamond Mind conference room will be located next to the Penn State Wilkes-Barre boardroom within the THINK Center.