Registration for new fall session of Idea TestLab now open; applications accepted through Aug. 31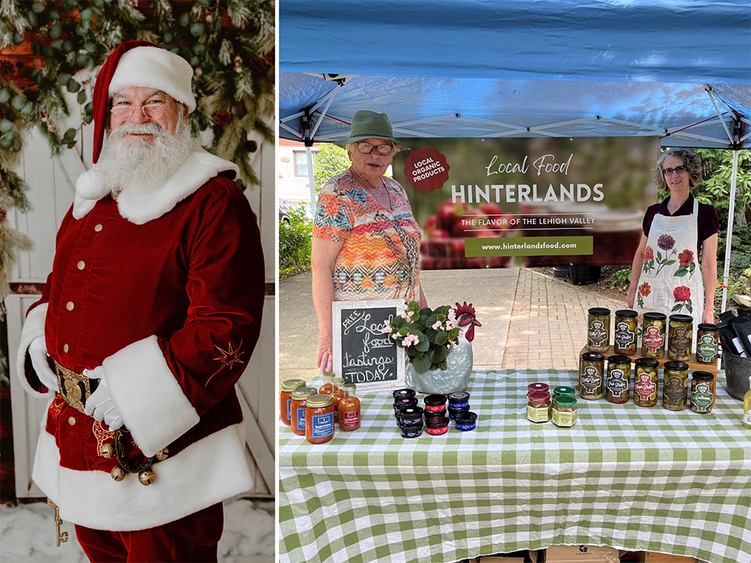 Idea TestLab, a program sponsored by the Penn State Wilkes-Barre, Hazleton and Lehigh Valley LaunchBoxes, has contributed to the success of two growing small businesses. The program is starting a new session in the fall at no cost.
Idea TestLab is an opportunity for members of the community to explore the viability of their business ideas. The program provides participants with instructors and expert coaches who guide them through five sessions, all held virtually. The coaches help participants determine if a customer market exists for their idea and develop a plan for how to move forward.
The Wilkes-Barre, Hazleton and Lehigh Valley LaunchBoxes are part of Invent Penn State, a commonwealth-wide initiative to spur economic development, job creation and student career success through entrepreneurship-focused academic programs, business startup training and incubation, funding for commercialization, and university/community/industry collaboration.
"Last year was our first time holding Idea TestLab, and it went really well. We got positive feedback from our participants," said Stephanie Gresh, assistant teaching professor of business at Penn State Wilkes-Barre and coordinator of the Wilkes-Barre LaunchBox. "Tom Dubreuil and Michelle Mecham were two of last year's Idea TestLab participants who have taken what they learned to a new level."
Mecham worked to set up a food collective, Hinterlands Local Food, with small local vendors to help them distribute their products more widely, and Dubreuil's idea was to start a Christmas shop in downtown Bethlehem, known as the "Christmas City."
"Michelle and Tom both had some very creative, out-of-the-box ideas," Gresh said. "They have taken what they came in with and have sought additional advice, making changes throughout the process. They're using the tools we provided them as they continue to develop and grow their small-business ideas."
Hinterlands Local Food
Mecham works part time as a medical receptionist and has spent the last 20 years of her career in the healthcare field. Prior to that, she worked in tourism and the local food industry.
"I've always shopped for local food and bought products from farms and small farmstands. When the pandemic happened, I did that even more, since I didn't want to go into big grocery stores," she said. "That's when I noticed I had to go all around the Lehigh Valley to get the different things I wanted. I realized nobody had a selection of the best things from around the valley at one location. I decided I would like to be the one to do that."
She and her wife, Arlene Kalkowsky, began researching products and visiting local farm stands that sold their own products.
"Every few days, we would head out in another direction to look for farm stands. We bought the products and tested them at home," Mecham said. "But I really didn't know how to take this idea and make it into something real. I was searching online for business incubator opportunities and found Idea TestLab. I didn't think my idea was on par with others they might be presented with, but I decided to apply and was accepted."
She hoped for some guidance on establishing a business and assistance with writing a business plan but found much more than she was expecting.
"The mentors and speakers helped me take all the ideas that were swirling around in my mind and focus them onto one path," she said. "We were given helpful tools that helped us get to a place where our ideas made sense as a business."
Since Mecham's session of Idea TestLab concluded, Hinterlands Local Food has been established as a fully functioning small business. Mecham and Kalkowsky began attending festivals and vendor shows to sell the products this spring. Hinterlands Local Food also offers products on a website for wholesale customers. The items sold include an array of beverages, pasta, jams, pickles, condiments, spices, honey and more. 
"I wouldn't be here if it wasn't for Idea TestLab," Mecham said. "It gave me the tools to get my thoughts organized and the confidence to turn my ideas into something real. It allowed me to build a business from nothing into the functioning business it is now."
She said another benefit of the program was being able to work with other entrepreneurs and hear their stories and feedback.
"By watching other people work through and change their focus a bit from where they were at the beginning, I didn't feel like I was doing this all alone or like I didn't belong. I think sometimes when you start something new like this, you question whether you belong in the field or whether you're good enough to do this," Mecham said. "But being with a lot of other beginners showed me I was at the same level as others.
Both Dubreuil and Mecham worked closely with Don Webster, executive director of TecBRIDGE, who coached them through Idea TestLab.
"Don was absolutely indispensable to me in all of this," Mecham said. "He has been very inspiring and very helpful."
Dubreuil said, "Don's knowledge is amazing, and he is still serving as a mentor for me, even though I have completed the program. The great thing about Idea TestLab was not just working with Don and the other leaders, but also talking to entrepreneurs and people who are trying to be entrepreneurs. I'm not a business person, so to be able to hear from people who are also thinking about the same things is fantastic. Michelle was really impressive and had some interesting takes and thoughts."
Christmas City Santa
Dubreuil, who by day is the director of student affairs at Penn State Lehigh Valley, applied for Idea TestLab to extend a business venture he was already involved in — moonlighting as Santa Claus.
"Years ago, when my son was in daycare and they needed someone to be Santa Claus, I put on a fake beard and suit and did the job," he recalled. "My first year working at Penn State Lehigh Valley, I grew a real beard to be Santa for an alumni Christmas party. I loved it and discovered it's something I really like."
Within a year after he began operating his business, Christmas City Santa, he was booked every weekend during the holiday season. He also portrays the city of Bethlehem's official Santa Claus, sitting downtown for visits with children every Saturday. 
Dubreuil realized "the Christmas City" didn't have an actual year-round Christmas store — especially with items for children — and felt it was a hole in the market he could fill, he said. He was familiar with Invent Penn State through his work at Penn State Lehigh Valley and decided to apply for Idea TestLab.
"Although I work at Penn State, that has nothing to do with it. It was just how I heard about the program," he said. "I was hoping to gain a little more knowledge of business in general, to make some connections with other entrepreneurs and to see if my idea had legs by bouncing it off the coaches and other budding entrepreneurs. The program gave me lots of ideas and helped steer me in which way I should go."
He said his original idea was to open a brick-and-mortar store for his business, called Dear Santa, as soon as he could, but he learned of other opportunities he could pursue before getting to that point. Those include participating in a popup shop for a "Christmas in July" event and in downtown Bethlehem's Christmas Huts on Main, where he will offer products from his unique inventory.
"I'm going to have a hut for Dear Santa as somewhat of a test to see if there is a market for the things I am going to sell," Dubreuil said. "On the advice of Don Webster, I plan to offer some different items each Christmas season."
One of his signature products will be elf cards, with stories created by Dubreuil himself. Each card features a story about an elf who is part of Santa's team at the workshop. Through a connection made by Webster, Dubreuil is working with someone who develops augmented reality to include that aspect on the cards.
"With augmented reality, you can scan a card with your device, see it in 3D, hear my voice telling a story and get reminders of how many days until Christmas," he said. "I'm trying to make it about the magic of the North Pole and what comes from there. I want to focus on children and the magical aspect of Christmas."
Other items Dubreuil has developed are bells from "retired reindeer," commemorative Santa coins and a Santa Claus-themed stuffed animal stamped with the year. He said he also hopes to offer workshops where children can assemble and take home toys they created.
"Idea TestLab allowed me to explore my ideas and ask questions. My Dear Santa business started because of Penn State. From Idea TestLab to now, it's all because of Penn State, and I couldn't be more thankful," he said. "These programs are really beneficial. They are a great service of Penn State at no cost, and that's pretty amazing as well."
Applications for this year's Idea TestLab opened on Aug. 1 and will be accepted through Aug. 31. The program meets virtually for four weeks on Tuesdays from Sept. 12 to Oct. 3 from 6 to 8 p.m. Participants will work through the customer discovery phase of the startup process and test the viability of their business ideas and have access to one-on-one business mentoring. Any adult with an idea they would like to turn into a business is encouraged to register. Teams are also welcome.