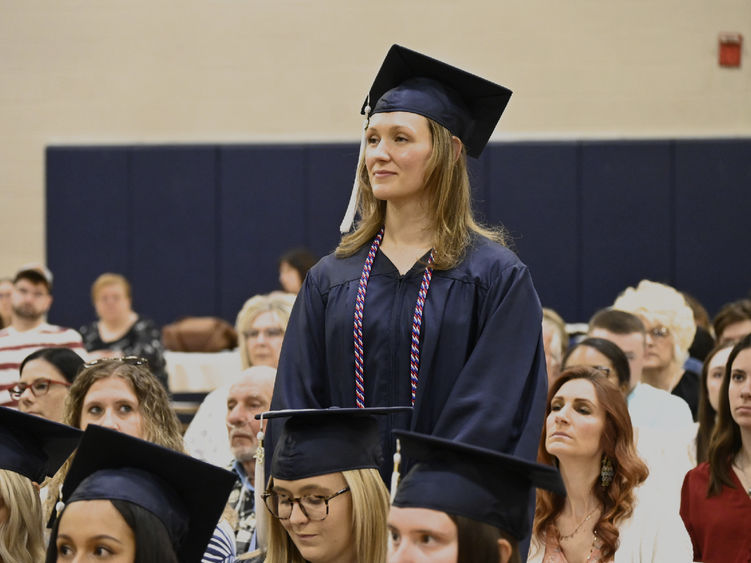 DALLAS, Pa. — Penn State Wilkes-Barre held a weekend of celebration events for this year's graduates, including a commencement ceremony and an outdoor party.
On May 5, the campus held its first "Forever Penn Staters" graduate celebration on the patio of Penn State Wilkes-Barre's historic Hayfield House. The event featured food stations, yard games, music and the creation of a living yearbook for students to personalize with guidance from Anna Malsky, a local artist and owner of ANNAMALY art collective. Bryan Winters was selected as the winner of a random $1,000 drawing sponsored by Cross Valley Federal Credit Union.
"Forever Penn Staters" was attended by notable alumni Richard "Rick" Barry, class of 1980, this year's commencement speaker, who is a philanthropist and investment management manager and former partner and advisory board member of the San Diego Padres, and his longtime friend, Penn State play-by-play announcer Steve Jones. Jones has been the voice of Penn State football games since 2000 and basketball games since 1982. Both Barry and Jones got their starts at Penn State Wilkes-Barre, completing two years at the campus before transitioning to University Park to finish their degrees.
The annual commencement ceremony was held May 6 in the campus' Athletic and Recreation Building. Lynda Goldstein, chancellor and chief academic officer, conferred associate and baccalaureate degrees to the graduates.
This year's graduates, their degrees and hometowns are listed below. Honors graduates and students receiving academic achievement awards are denoted as follows: * cum laude (distinction), ** magna cum laude (high distinction) and *** summa cum laude (highest distinction).
Amineh J. Al-Hawa, Bachelor of Science in Criminal Justice; Kingston
Brooke Arnold, Bachelor of Science in Business; Springville
Gabrielle E. Bohinski, Bachelor of Science in Criminal Justice; Hunlock Creek
James J. Burke Jr., Associate's in Business Administration; Ashley
Hannah Corson, Bachelor of Science in Surveying Engineering; New Albany
Eyziak Cottle, Associate's in Surveying Engineering Technology; Everett
Jenna Cruz, Bachelor of Science in Marketing; Kingston
Sarah Dule, Bachelor of Science in Rehabilitation and Human Services; Hanover Township
Robert Formola, Bachelor of Science in Business; Wilkes-Barre
Kaii Gilliam, Bachelor of Science in Business; Rochester, New York
Zachary A. Hunsinger, Associate's in Surveying Engineering Technology; Saltillo
Patience M. Jacobsen, Associate's in Multidisciplinary Studies; Bloomsburg
Mackenzie E. Jennings, Bachelor of Science in Criminal Justice; Wilkes-Barre
Grace H. Kubus, Associate's in Business Administration; Mayfield
Tyler Klienbach, Bachelor of Science in Administration of Justice; Plymouth
John Kohl, Bachelor of Science in Information Sciences and Technology; Harveys Lake
Edward J. Kupstas IV., Bachelor of Science in Information Sciences and Technology; Edwardsville
Wendy Lamezec, Bachelor of Science in Security and Risk Analysis; Dallas
Charlie Li, Bachelor of Science in Electrical Engineering Technology; Plymouth
Hannah Matysik, Associate's in Business Administration; Sweet Valley
Arthur Menichini, Associate Degree in Criminal Justice; Pittston
Hanna Morgan, Bachelor of Science in Rehabilitation and Human Services; Dallas
Keera M. Naugle, Associate's in Business Administration; Hunlock Creek
Kyle Naugle, Associate's in Business Administration; Hunlock Creek
Syndia Perez, Bachelor of Science in Information Sciences and Technology; Wilkes-Barre
Anthony Picott, Bachelor of Science in Business; Newport News, Virginia
Tyler S. Pokrinchak, Bachelor of Science in Surveying Engineering; Nanticoke
Matthew D. Roberts, Bachelor of Science in Business; Wyoming
Charles G. Ross, Bachelor of Science in Electrical Engineering Technology; Pittston
Hallie Sanchez, Bachelor of Science in Information Sciences and Technology; Wilkes-Barre
Tanner E. Smith, Bachelor of Science in Surveying Engineering; Plains
Ryan C. Sorber, Associate's in Information Sciences and Technology; White Haven
Matthew A. Swire, Bachelor of Arts in Criminal Justice; Dallas
Ashley Tomeo, Bachelor of Science in Information Technology; Wilkes-Barre
Sara Tomsak**, Bachelor of Science in Rehabilitation and Human Services; Exeter
Andy Andy R. Traver, Bachelor of Science in Information Technology; Hanover Township
Yinaria Valentin, Bachelor of Science in Criminal Justice; Ashley
Abigail Winter***, Bachelor of Science in Information Sciences and Technology; Harveys Lake
Bryan N. Winters, Bachelor of Science in Information Sciences and Technology; Duryea
Holly Winters, Bachelor of Arts in Corporate Communication; Duryea