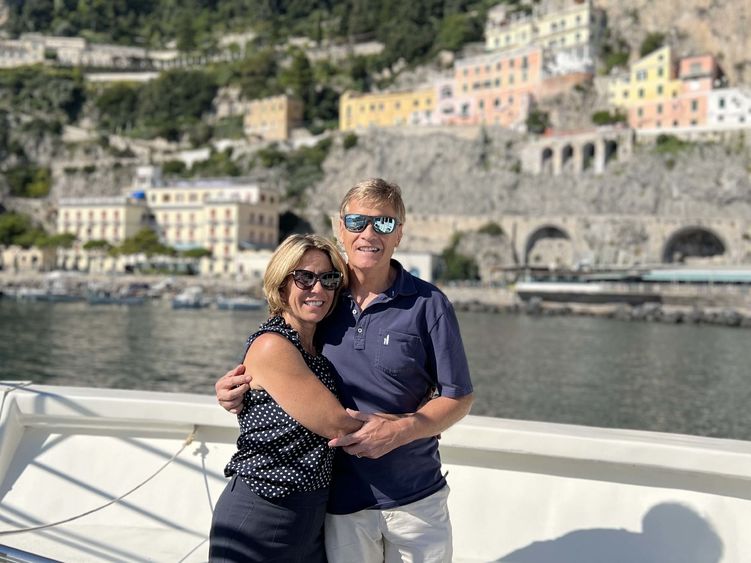 LEHMAN, Pa. — Philanthropist and investment management partner Richard "Rick" Barry, class of 1980, will be the featured speaker at this year's Penn State Wilkes-Barre commencement on May 6 at 10 a.m. in the Athletic & Recreation Building. The event will also be livestreamed for those unable to attend in person.
Barry attended Penn State Wilkes-Barre for his first two years of study before transitioning to University Park, where he earned a bachelor's degree in political science from the College of the Liberal Arts. Barry is a member of the Mount Nittany Society; a past member of the Schreyer Honors College External Advisory Board, the Penn State For the Future Campaign Executive Committee and the Penn State Advisory Council on Philanthropy; and a past mentor for the College of Liberal Arts. He received the Outstanding Liberal Arts Alumni Award in 2013.
He and his wife, Sue, are leading Penn State philanthropists, with gifts including the Rick and Sue Barry Trustee Scholarship at Penn State Wilkes-Barre, the John R. Murphy Student Services Center at Penn State Wilkes-Barre, the John R. Murphy Award for Excellence in Leadership and Service at Penn State Wilkes-Barre, the Steve Jones Student Sports Broadcasting Complex, and the Rick and Sue Barry Paterno Fellows Program Endowed Directorship.
Barry's career has taken him from politics to investment fund management to biotechnology. While a student at Penn State, he completed an internship in a local congressman's office. After graduating, Barry secured his first job as a research analyst in the Pennsylvania State Senate, where he primarily wrote speeches for state senators. About two years later, he decided to make the move to the financial field, he said.
"I had read a few books about markets and finance that got me interested and I thought it would be interesting to be a stockbroker," Barry recalled. "I learned everything I could about being a broker. I went to several brokerage firms in Harrisburg and got a position with Merrill Lynch. That began a 28-year career in the financial services business."
Barry's career in investment management included roles at Robertson Stephens Investment Management, Lazard Freres, Legg Mason and Merrill Lynch. He was a founding member of Eastbourne Capital Management LLC, a large equity hedge fund investing in a variety of industries, including healthcare. He was also a partner and advisory board member for the San Diego Padres from 2009 to 2021.
His next transition was into the biotechnology space. "When I started to think about using capital to help people," he said, "I started taking large equity positions in companies that had promising treatments for horrible diseases where patients had no treatment options. In a few cases, I have joined the board of directors in order to help those companies succeed in developing treatments."
He is a board member of Sarepta Therapeutics, a pioneer in genetic medicine for rare diseases. Sarepta has developed and received FDA approval for three drugs to treat Duchenne Muscular Dystrophy (DMD). He also serves on the board of Cassava Sciences, which is developing a potential treatment for Alzheimer's Disease; the company is currently conducting a Phase 3 trial on that drug. 
The couple's gifts to Penn State reflect the influences and relationships Barry built at the Penn State Wilkes-Barre campus.
"My time at Penn State Wilkes-Barre was transformative to me. I wouldn't be in the position I am now if I hadn't spent those two years at the campus. That gave me the confidence to take some risks in life I probably wouldn't have taken otherwise," Barry said. "I really thrived in the environment at the campus, where classes were small. I was able to develop a close relationship with faculty and staff, along with my classmates."
Barry developed a relationship with Steve Jones, now the announcer at Penn State's home football and basketball games, during his time at Penn State Wilkes-Barre. He and Jones met early in their days at college and became close friends.
"I remember sitting next to him and I took an instant liking to the guy," he said. "He went to University Park the same time I did and immediately got involved in the radio station. His preparation was just amazing. Years later, when I realized Steve is the voice of Penn State, all of this made so much sense to me. I didn't know anyone who was as committed to what he wanted to do and as prepared as Steve was."
At Penn State Wilkes-Barre, he found a mentor in John Murphy, dean of student affairs from 1967 to 2003, who encouraged him to run for president of the Student Government Association (SGA).
"That was something I never would have done in high school, but John Murphy, for whatever reason, believed in me. I ran for the position and won," Barry said. "He has an ability to see someone who has potential. He understood that I needed to gain confidence and his belief in me led me to develop confidence in myself." 
Murphy was an influence on Barry throughout his time at Penn State Wilkes-Barre and the two have developed a lifelong friendship. 
"I was frequently in his office to get advice, whether it was about SGA, my classes or even just life. He was just a great mentor," Barry said. "As the day approached that I was going to have to leave campus, I was really sad. I remember going into his office knowing it was the last time I would have that opportunity to sit and talk to him. I really turned my life around because of my time at the campus and John was a big factor in that. I am really grateful to him." 
Years later, Rick and Sue attended a dinner in Murphy's honor that included previous John R. Murphy Award for Excellence in Leadership and Service Award winners.
"Each person talked about their experiences with John at that dinner," Barry said. "It was stunning. So many of these students or former students had a similar experience to mine. This guy turned a lot of lives around."
Penn State Wilkes-Barre Chancellor and Chief Academic Officer Lynda Goldstein believes that the same is true of Barry himself. She said, "Rick and Sue have made a transformational impact on our campus and in the lives of our students. Because of their generosity, access to the world-class education Penn State offers is possible for a greater number of students. Penn State Wilkes-Barre is so excited to welcome Rick back to campus, and to have him serve as our 2023 commencement speaker is so meaningful to students, faculty, staff, and the greater campus community."
Special event to honor graduates
Barry and Jones will be in attendance at a special event at Penn State Wilkes-Barre to honor this year's graduates.
"Forever Penn Staters" will be held May 5 from 1 to 3 p.m. and is open at no cost to spring and summer 2023 graduates, their families and friends, and the Penn State Wilkes-Barre campus community. The event will be held outside on the Hayfield House patio or in the community room in the event of inclement weather and will feature Taco Bout Us food truck, live music, T-shirts for new alumni, yard games, activities and giveaways; all spring and summer 2023 graduates who attend the event will be entered to win $1,000, sponsored by Cross Valley Federal Credit Union.