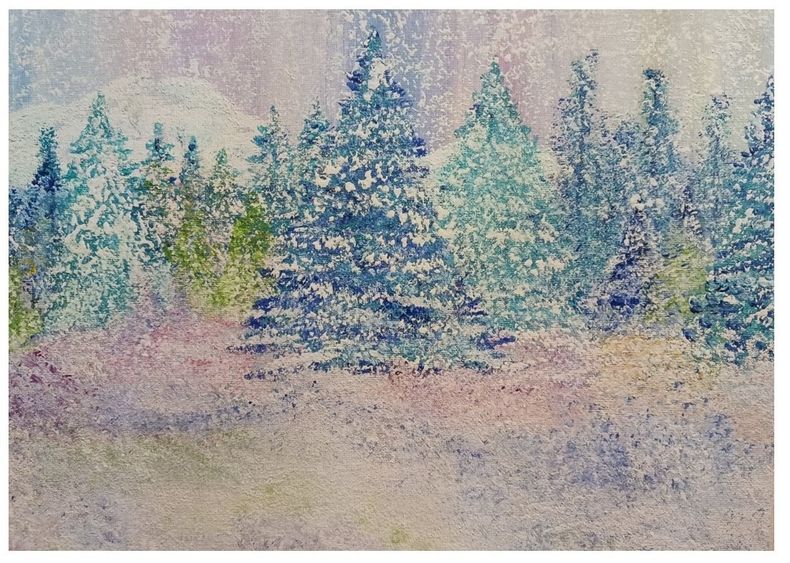 DALLAS, Pa. — A new exhibit focused on healing through art will open April 1 at Penn State Wilkes-Barre's Friedman Art Gallery.
The exhibit, "Healing Through Transformational Art," runs through May 31 and is open to the public. It features artwork by members of Together We Initiate Growth & Stability, or TWIGS. TWIGS is a Dallas-based organization that offers transformational art sessions to stimulate the mind and create a healthier thought process for those who participate.
In conjunction with the art exhibit, the Friedman Art Gallery is sponsoring a live open panel discussion on April 5 about the effects of human trafficking and how the creation of art is used as part of transformational healing from the effects of various traumas. The interactive program will be held in the Nesbitt Academics Commons Building, Barry Auditorium, Room 103 from 12:15-1:15 p.m. and includes guest speakers Sarah Isaac-Samuel, Heather Shnyder and Arielle Perry.
Isaac-Samuel is known as a survivor from abandonment, abuse and sex trafficking. She has beaten the odds and dedicated her life to helping others through their own trauma and abuse. In 2018 her memoir, "A Journey Back to Restoration," was published and led her to public speaking engagements worldwide. Isaac-Samuel continues to speak at events to raise awareness and advance the fight to end sex trafficking. In 2020, she began sharing more of her talents with other victims and survivors of abuse, domestic violence and sex trafficking by using art as a tool in their healing process.
Shnyder has been with Transitions of PA in Lewisburg for over 21 years. She has been an educator since October 2001 and moved into the position of health systems training specialist in January 2022. Shnyder is responsible for coordinating the agency's medical advocacy program with healthcare providers in Union, Snyder and Northumberland counties. She is recognized in Pennsylvania as an expert witness for sexual assault trials and a trained Question, Persuade and Refer (QPR) Suicide Gatekeeper Instructor. Shnyder is an accredited facilitator for "Care for Kids," "Parents in The Know: Engaging Parents in Child Sexual Abuse Prevention program," "Strengthening Families," "Adults and Children Together (ACT) Raising Safe Kids" programs and "Preventing Sexual Harassment at Work."
Arielle Perry, a licensed clinical social worker, is a therapist who provides individual, couples and family counseling services. She has more than 10 years of experience in the fields of mental health, substance abuse and medical comorbidities. Perry uses an integrative approach in her practice and is well versed in a variety of treatment approaches.
The Friedman Art Gallery is a gift from Sidney and Pauline Friedman that opened as part of the Abram Nesbitt Academic Commons in 2008. This art gallery space regularly displays the works of students and local artists, as well as private art collections. The gallery is open at no cost on weekdays from 9 a.m. to 4 p.m., except during holiday breaks.
The Penn State Wilkes-Barre Friedman Art Gallery strives to promote, encourage and exhibit the artwork of professional and amateur artists from the Penn State Wilkes-Barre campus and surrounding communities. For more information about exhibits in the gallery, contact Jonathan Pineno, director of the Friedman Art Gallery and lecturer in music and art, at 570-675-9159 or [email protected].