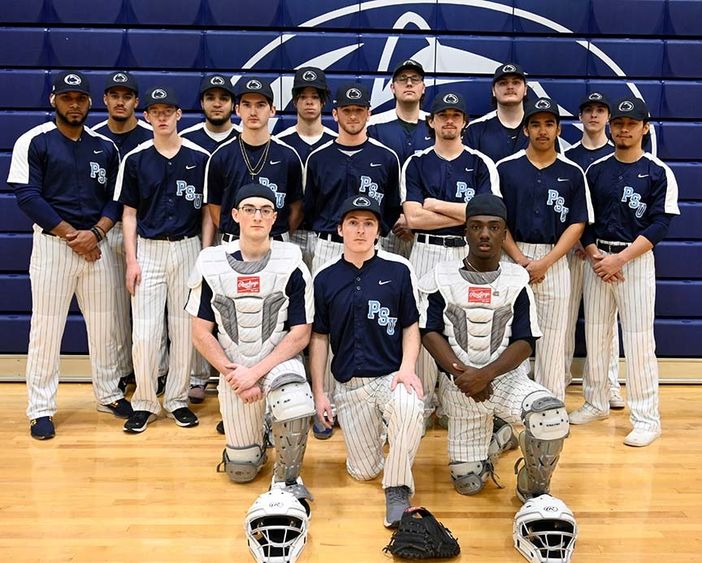 DALLAS, Pa. — The start of the 2023 baseball season is under way, with Penn State Wilkes-Barre's Mountain Lions taking on Elmira College on March 16 for their first game. 
Head Coach Charlie Whited is new to Penn State Wilkes-Barre this year and hopes to lead the Mountain Lions to a winning season. Originally from Trenton, New Jersey, Whited has settled in Kingston in more recent years, coaching and being an umpire for baseball. 
The team has a roster full of new recruits and returners alike, ready to fill the field and enter each matchup with integrity, sportsmanship and heart. 
One of those players is No. 3 senior Rian Long (Sinking Spring, Wilson High School), who plays in the outfield and developed a passion for baseball after one defining moment in his childhood that's stayed with him ever since.
"I can remember my first memory of baseball. It wasn't even me playing, but in 2008 when the Phillies won the World Series, that was really when I got into baseball. My dad was a big part of it too. We celebrated on my bed, dancing on my bed, when I was like 7 years old, from the World Series. Ever since then, I've just loved baseball. That was definitely what made me fall in love with the game," Long said. 
Another player taking the field this year is No. 19 junior Matthew Mager (Northvale, New Jersey, Northern Valley Old Tappan) whose main position is pitcher. He also plays first base. The reason Mager started playing baseball is heartwarming, and even a little funny. Mager said, "When the Giants were still in Brooklyn, my granddad played for them. It's always just kind of been in my family. I was throwing stuff before I could even play baseball. My mom and dad used to say when I was younger that they knew I was going to be good at baseball, because when I was younger, when I was done with my food, I would throw it at my dad. They always knew I had a talent for throwing." 
Growing up in the Dominican Republic, No. 9 sophomore Pedro Rosario (Reading, Wyomissing Area Junior Senior High School) saw other kids playing baseball and decided to join. When he moved to the United States, he continued playing the sport. Now, he said it's "become a way of life", and he's in the dirt and grass of Mountain Lion territory, ready to take on the spring season alongside his teammates. Although he is a player of many positions, Rosario's favorite is outfield, mainly center. "There's more space. I don't feel cramped, and I have more room to run and stuff. You can look at everything; you can see everyone in front of you, the ball, you can see which way it tailspins," he said.
Nine teams stand before Wilkes-Barre in the spring season. The schedule includes 20 games. Eight of these will be on their home turf.
Many of Penn State Wilkes-Barre's Mountain Lions say they look to the inspiration of those around them as well as their favorite players from Major League Baseball teams ranging from the Phillies to the Yankees and Giants.
The team is more than ready to start the season, heading to their first game with confidence and intensity, and with all the might of their mascot, claws out. 
Click here for game updates, stats, and the schedule as you cheer the team on this spring.