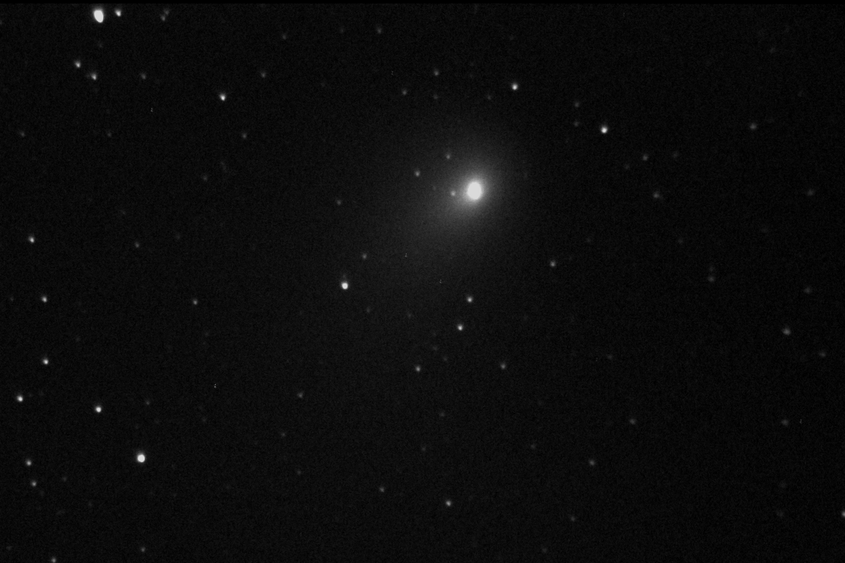 DALLAS, Pa. – Community residents and members of the campus community were able to view a rare astronomical event at Penn State Wilkes-Barre's Friedman Observatory.
The observatory opened for two nights in early February for anyone interested in trying to catch a glimpse of the "green comet." Those who came were able to use the observatory's high-powered 16-inch Meade Schmidt-Cassegrain LX200 telescope.
"This comet is relatively rare for several reasons. It comes to us from the Oort Cloud in the farthest reaches of the solar system and was last here 50,000 years ago," said Violet Mager, assistant professor of physics and astronomy. "It was visible to the naked eye, although barely, in the Northern Hemisphere. It is nicknamed the 'green comet' due to its striking color, which is caused by diatomic carbon. The carbon vaporized as it approached the sun and glows green in ultraviolet light."
The comet, officially named C/2022 E3 (ZTF), was discovered last March by astronomers using the Zwicky Transient Facility at the California Institute of Technology's Palomar Observatory. During the viewing event at Penn State Wilkes-Barre, it came within 26 million miles of the Earth at a speed of 128,500 miles per hour.
During the two nights of viewing at the Friedman Observatory, about 500 people came to use the observatory's telescope to catch a better glimpse, including members of the community along with Penn State Wilkes-Barre students, faculty and staff.
"People were very eager to see the comet with their own eyes through the telescope, even if it meant waiting in line for hours in the cold," Mager said. "There were many children there who seemed inspired and fascinated by the rare opportunity to see celestial objects through a telescope."
Vanessa Lanfrank came to the viewing with two of her three sons, 8-year-old Andrew and 6-year-old Nathan. The Lanfranks live in Dallas.
"Andrew is a lover of space and the two of us are always looking up. Space fascinates us," said Vanessa Lanfrank. "Andrew and I had been to the Friedman Observatory once before in the fall and he had been asking to go back. This event caught my eye, especially since green is Andrew's favorite color. When I told him how rare this occasion was going to be, we made sure to get there."
The Friedman Observatory is open to the public on Friday nights, if weather permits. Additionally, the observatory sometimes hosts special astronomical events, such as the green comet viewing, when the observatory is open outside of the regular open house nights. To learn more, visit https://wilkesbarre.psu.edu/academics/friedman-observatory.