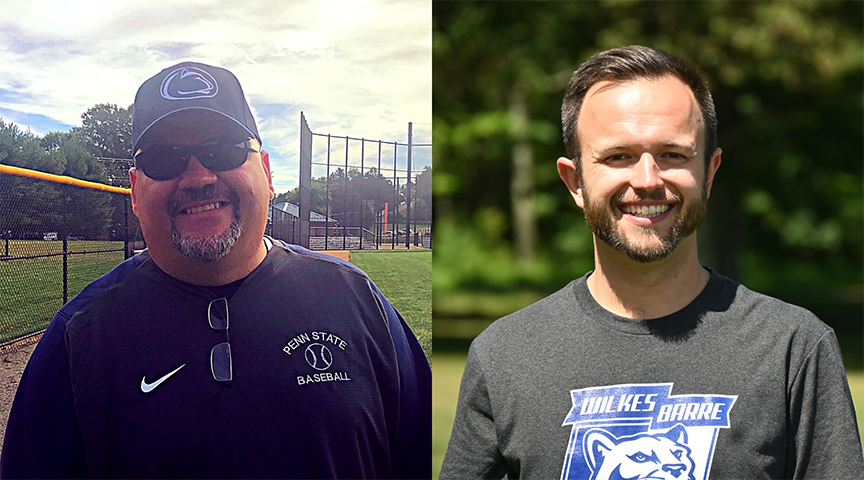 DALLAS, Pa. — Two new coaches have been hired at Penn State Wilkes-Barre: Tom Castello has been selected as head baseball coach, and Nathan Katz has been named head soccer coach.
"We are extremely excited about adding both coaches to our coaching staff at Penn State Wilkes-Barre," said Athletic Director Scott Miner. "They bring a tremendous amount of experience, both as players and as coaches, to our athletic staff. They will be great leaders for our student-athletes. We look forward to seeing them build their programs and what they can teach our student-athletes both on and off the field."
Castello's coaching career spans more than two decades. Prior to coming to Penn State Wilkes-Barre, he was an assistant coach at Methodist University, under ABCA Hall of Famer and 1,200- game winner Tom Austin. The Monarchs placed second in the Rusty Greer-Jackie Moore Classic in Grand Prairie, Texas, to start the 2020 season before COVID-19 cut the year short just weeks later. In his time at Methodist University, Castello coached one three-time All American, eight All-Conference players, three Academic All-Americans, five Academic All-Region and two Team Academic Excellence awards.
Castello also served as the pitching coach and recruiting coordinator for Lenoir Community College in Kinston, North Carolina. Success came quickly in his first season there, as the Lancers started 9-0 on the back of the pitching staff, with the top three pitchers in the conference in ERA through 25 games. The Lancers finished the season 20-19, after going 4-41 the year prior. In his tenure at LCC, Castello also had two National Junior College Athletic Association (NJCAA) national pitchers of the week, one in each of his first two seasons. Some of his players moved on to play for teams at National Collegiate Athletic Association (NCAA) Division I, II and III levels.
Prior to Lenoir CC, Castello coached at the high school level in Wake County, North Carolina. He has also coached summer baseball in the North Carolina High School Athletic Association and travel baseball at a multitude of age levels. Originally from Long Island, Castello coached Little League and taught in an indoor facility for nearly a decade before heading south.
"I could not be more excited for what the future holds, for not only baseball, but the entire athletic department at Penn State Wilkes-Barre," Castello said. "The family environment here is second to none. That is one characteristic I have always brought to my teams and sought in my coaching journey."
Katz comes to Penn State Wilkes-Barre with more than 10 years of coaching experience. During his coaching career, he has coached basketball, baseball and soccer at the varsity level.
He spent a decade coaching varsity soccer at Christian Heritage School in Trumbull, Connecticut. During his time as coach, the team qualified for the prestigious New England Prep School Tournament eight out of 10 seasons while collecting accolades such as Team Academic Awards, Team Sportsmanship Awards and others. Katz's soccer program at Christian Heritage produced many collegiate players and several professional players.
"Penn State Wilkes-Barre is a beautiful campus at which to work. The entire community has been very welcoming and friendly," Katz said. "I am excited to have the opportunity to rebuild the soccer program here and help Penn State Wilkes-Barre grow."