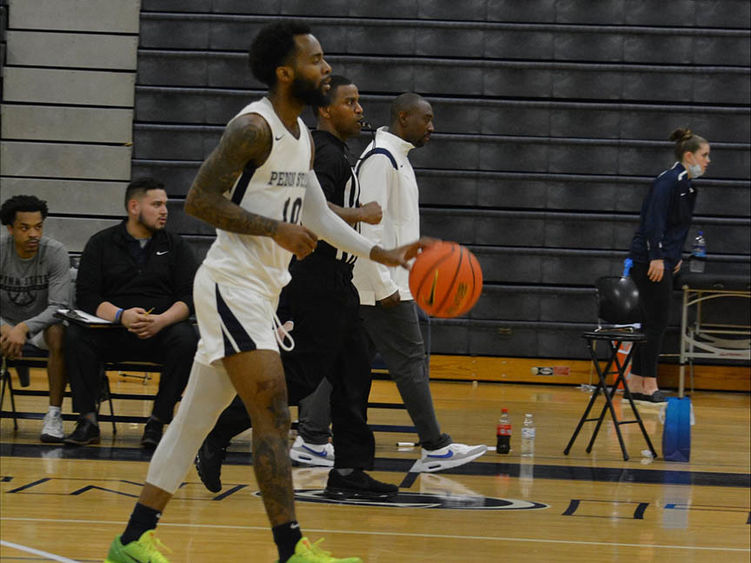 DALLAS, Pa. — Kevin Major, in his final semester at Penn State Wilkes-Barre, has signed an agent representation contract with a professional sports agency in Europe.
Major, who is studying business with a focus on marketing and management, will be represented by France-based Reverse Basket Agency. He will travel to Paris in August to meet with managers and agents and expects to begin playing with a professional team in Europe this fall.
"My mom was so excited for me that I never gave up on my dream. Ever since I was about 6 years old, it was my dream to play professionally. Basketball was a passion of mine since I saw my uncle play when I was young," Major said.
Major said Penn State Wilkes-Barre helped him achieve his dream and make the connections that ultimately led to the signing.
"Penn State Wilkes-Barre gave me the 'it' factor to make me the person I am today," he said. "And Penn State Wilkes-Barre is always going to be with me, no matter where I go."
Major is a graduate of Samuel Gompers High School in the Bronx, New York, and came to Penn State Wilkes-Barre after earning an associate degree in general studies from a community college in upstate New York. He was recruited to play at Penn State Wilkes-Barre by men's basketball coach Leshawn Hammett, also a native of the Bronx.
Major played basketball for two of his three years at Penn State Wilkes-Barre, with one season canceled due to the pandemic. During his senior year, he was named a first team All-American and All-Conference Player. Major led the team in scoring, averaging 19 points per game. He also led the Penn State University Athletic Conference (PSUAC) and United States Collegiate Athletic Association (USCAA) in assists at 7.0 assists per game. In total, he scored 1,177 points during his career. In his two seasons at Penn State Wilkes-Barre, he was part of two teams that won 43 games and appeared in two national tournaments.
"I played with some very good teammates, and I gained a lot of experience in my time playing basketball at Penn State Wilkes-Barre," Major said. "Coach Hammett and the assistant coaches saw the talent in me and pushed me to get to my potential. If it wasn't for Coach Hammett, I wouldn't be in the position I am. He's like a father figure to me and helped connect me with Reverse Basket Agency."
Hammett added, "I told Kevin when we recruited him that he had the chance to be special and if he came here and worked hard, I'd do everything in my power to help him become a pro after he graduated. I'm very proud of Kevin and he was a joy to coach ­­over these last three years­. He worked really hard to get to be a pro and I can't wait to see what he does next."