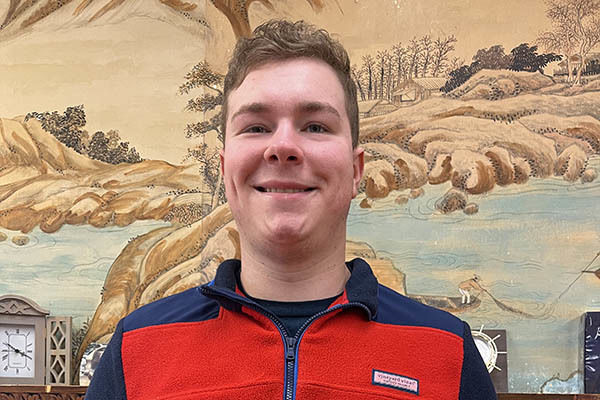 DALLAS, Pa. — Brad Killian, a 2022 graduate of Penn State Wilkes-Barre, received an award honoring him as an adult learner during a virtual ceremony on April 21.
The Outstanding Adult Learner of the Year award is sponsored by the Luzerne County Council on Adult Higher Education (LCCAHE), a council formed with the interest of the continuing education of today's professionals. LCCAHE includes the continuing education units at Penn State Wilkes-Barre, Misericordia University, King's College, Wilkes University and Luzerne County Community College. Every year, each school chooses a recipient. This marks the 33rd year the award has been presented.
Killian earned his degree in criminal justice with a minor in information sciences and technology during commencement exercises at Penn State Wilkes-Barre on May 7. He came to Penn State Wilkes-Barre as a transfer student in 2015, wanting a smaller college experience and the ability to live at home. By moving home to Dunmore, he was able to work full time to pay for tuition. He also earned the Struthers Family Open Doors Scholarship toward his tuition.
During his time on campus, Killian worked as a research assistant under Jeremy Olson, assistant professor of criminal justice and criminal justice program coordinator. Killian presented his research with Olson and Penn State Wilkes-Barre faculty members Rebecca Sarver and Melisa Littleton at the Academy of Criminal Justice Sciences' national conference in March in Las Vegas and last year's virtual event. As part of the research project, Killian co-authored two manuscripts with the faculty members. Through the criminal justice program, he has received training in circle leadership training and mediation and has participated in other leadership training courses.
At Penn State Wilkes-Barre, Killian served as a member of the student clubs Students for Justice, Veterans Support Club, and the Blue and White Society, and he participated in a collection of clothing and other essentials with Students for Justice. He also assisted with local voter registration in Dunmore and as an assistant for the Democratic Women of Northeastern Pennsylvania. Killian plans to pursue a career in the field of juvenile probation or at the local children and youth organization.