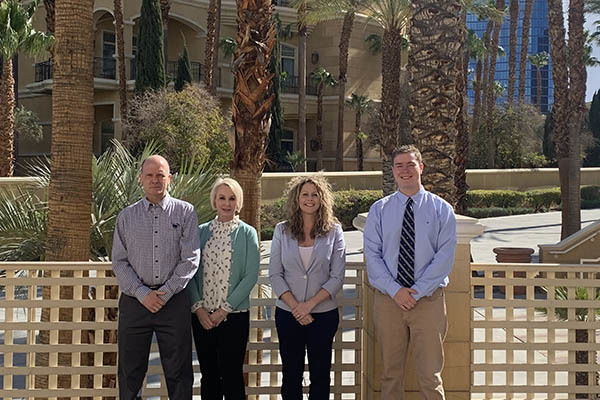 A student at Penn State Wilkes-Barre had the opportunity to present research along with several faculty members at a national conference in March.
Brad Killian, a 2022 graduate in administration of justice, traveled to the Academy of Criminal Justice Sciences (ACJS) annual meeting in Las Vegas with Jeremy Olson, assistant professor of criminal justice; Rebecca Sarver, assistant teaching professor and program coordinator for criminal justice; and Melisa Littleton, assistant teaching professor and program coordinator for rehabilitation and human services. The group discussed the findings from their national study on happiness and crime in their presentation, "Is Satisfaction in Specific Life Domains Associated with Engagement in Specific Crimes?"
Killian is a research assistant for Olson, a position he was selected for after conducting undergraduate research in one of Olson's classes. A transfer student, he didn't intend to get involved in research and has been pleased by all the benefits he has gained from his research experience and his time at Penn State Wilkes-Barre.
"Initially, I attended Temple University for three years, but it was too big of a campus and too much for me. I wasn't focused as much as I should have been on academics," he said. "I moved back home to Dunmore and decided to study administration of justice at Penn State Wilkes-Barre. When I transferred, I had maybe a 2.0 GPA, but now, I have made the dean's list almost every semester.
"That's a direct result of the professors knowing me," he continued. "When I had lectures with 300 students, I didn't ask questions. The biggest benefit I have had here is being able to connect more with teachers. I was able to create bonds with my professors and that made me more interested in my classes. I was able to focus on the specific assignments I needed to do. The professors want you to be as engaged as much as possible, and I feel that drives the discussion a lot more in class."
Killian and Olson have developed a close working relationship as a result of the time they have spent together in the classroom, doing research and at the conference.
"Having Dr. Olson as the head of my program has been helpful. I was able to build a relationship with him prior to him being my boss," Killian said. "He definitely gets the best out of his students. You see how hard he works and it makes you want to work harder. Through working with him, I have learned better time management and improved my public speaking. It's an overall confidence boost and has helped me a lot with advancing conversations and going deeper into research."
Olson praised Killian and the development of his skills, saying, "Brad has been dedicated to his work and attentive to his needs academically. His presentation skills have grown noticeably because of his research. This was the second conference where he has presented with us and the first in person. I saw phenomenal growth in his performance. The work he has had to put into research and to get ready for presentations has helped him academically as well."
The presentation Olson and Killian were part of was titled "Is Satisfaction in Specific Life Domains Associated with Engagement in Specific Crimes?" and studied how achievement in various areas of life, known as domains, is important to people's overall happiness.
"We tried to make the correlation between happiness and people committing crimes," Killian explained. "If they are lacking in a certain category of happiness, are they more likely to commit a certain type of crime? This question might make sense in our heads, but there hasn't been a way to quantify it before."
Olson took a cross-disciplinary approach with his research, knowing that "satisfaction with life impacts multiple fields, and research in both rehabilitation and human services and criminal justice aligns well together."
"RHS researchers and professionals, like Melisa Littleton, do the same work we do," he said. "We both work to improve the human condition. By helping people improve their satisfaction with life, we can help reduce crime."
Olson said Killian was able to gain many advantages from his time as a research assistant and as a conference presenter.
"Students benefit from research because they learn critical thinking and the importance of paying attention to detail. They learn the process of problem solving and analytical skills, which is really what research is," he said. "During the conference, Brad was able to meet emerging researchers and interact with some of the top researchers in their field. It helps him build a network of people who are out in the field, either researching or working."
"Undergraduate research really opens up your mind to finding questions — not just getting answers. It broadens your inquisitiveness and intellectual curiosity," Olson continued. "You learn a process for getting the answers to those questions and accepting the answers. Getting involved in research means you get to ask questions about how life works and how we can make it better for people."
Killian said he appreciated the opportunity to attend the conference and meet leaders and peers in his field.
"I liked being able to see the level of expertise that was at the conference. Some of the presenters were even authors of books I found while doing research," he said. "It was interesting to meet students from other schools and get viewpoints of other people across the country."
He said the preparation for the conference and the research as a student at Penn State Wilkes-Barre have also provided valuable learning experience for him and many more benefits than he expected.
"I'm just as grateful for everything I gained in the preparation leading up to the conference," Killian said. "My overall confidence, ability to speak my mind and elaborate on how I feel, and critical thinking skills have all improved. Dr. Olson spread my networking ability out more than I could ever imagine, and that might be what I'm most grateful for. I feel I'm going to be able to apply those connections for the rest of my life with anything I do."