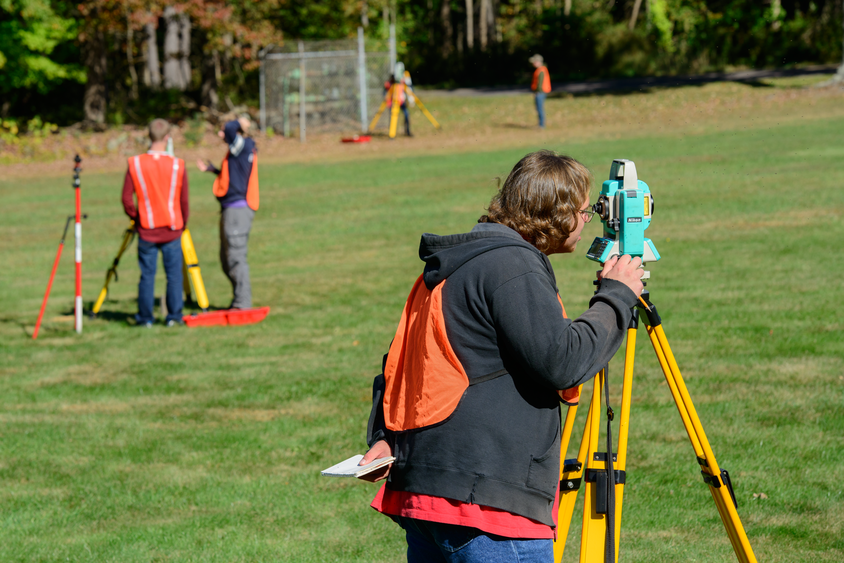 LEHMAN, Pa. — The surveying engineering program at Penn State Wilkes-Barre has been re-accredited by the Engineering Accreditation Commission of ABET (Accreditation Board for Engineering and Technology), signifying the program's high standards and commitment to quality education.
ABET accreditation is a review process conducted over 18 months to ensure that academic programs meet certain standards of quality. Accreditation must be renewed every few years to ensure that the quality of the program is maintained.
Penn State Wilkes-Barre's surveying engineering program is the only one in Pennsylvania and one of just a few throughout the country. It combines the principles of surveying — also known as geomatics — and engineering.
"We are pleased the surveying engineering program received re-accreditation," said Professor of Engineering Albert Lozano-Nieto. "This is a sign of the quality of our program and the excellent education provided to our students."
Associate Professor of Surveying Engineering Dimitrios Bolkas said, "Through ABET, we can attain the standards set by the program. That means our graduates can have their transcripts accepted by licensure boards without having to get multiple separate approvals because the program has already proven its quality to ABET."
The surveying engineering accreditation was part of a re-accreditation review process for 19 engineering programs across the University.
The accreditation process at Penn State Wilkes-Barre included a comprehensive self-study conducted by Lozano-Nieto and Bolkas to demonstrate the program is compliant with accreditation requirements. Normally, an ABET team visits campus as part of the assessment, but due to COVID-19, the visit was conducted remotely. Lozano-Nieto and Bolkas also created videos showing campus laboratories and interviews with students, faculty and employers interested in hiring graduates of the program.
"Because of this accreditation, students can know that we as faculty are continually working on improving the student experience and providing them with a quality experience in general," Bolkas explained.
Lozano-Nieto added, "Students know that when they graduate and earn their diploma, potential employers will know it's from an accredited program. That allows students to focus on their day-to-day work."
Lozano-Nieto said the program features adjunct faculty who have worked in the industry and can share their experience with students.
"Our program also uses the latest technologies," he said. "It was one of the first programs in the country that purchased a drone for teaching and research purposes. It was also one of the first programs in the country to use a laser scanner."
Bolkas said, "The program is committed to quality, so in future years we will continue purchasing cutting-edge technology for our students to use. Our faculty also have the knowledge and the skills to understand and teach those technologies."
Penn State Wilkes-Barre's surveying engineering program was initially offered as a Bachelor of Science in surveying and received initial accreditation from ABET in 1999. During 2004 and 2005, the program changed its content and name to become a Bachelor of Science in Engineering and was granted accreditation as an engineering program. The program has received continuous accreditations since its initial accreditation.