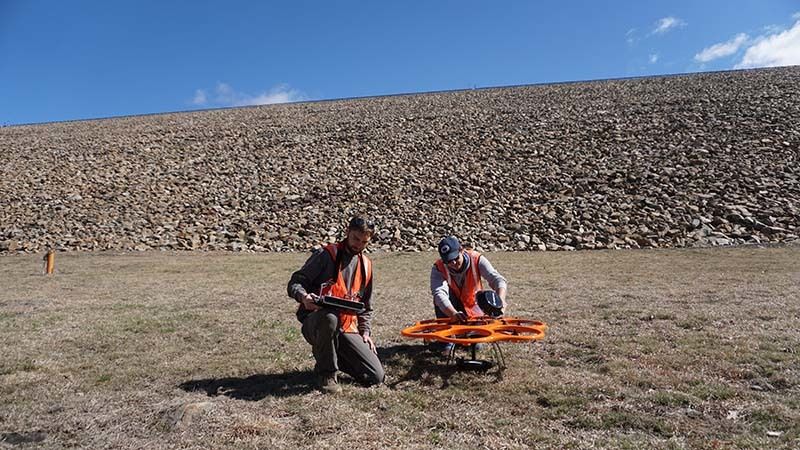 LEHMAN, Pa. — A team of students in Penn State Wilkes-Barre's surveying engineering program has had the opportunity to pair their learning with a project at the Francis E. Walter Dam in Bear Creek Township.
Hannah Corson, Greg Ellsworth, Nicholas Lawler and Gerald Rusek III, juniors majoring in surveying engineering, worked with Assistant Professor of Surveying Engineering Dimitrios Bolkas on a project to monitor the dam using laser scanning and drones. The goal of the project is to test different point cloud methods, terrestrial laser scanning and unmanned aerial systems (UAS) photogrammetry for dam monitoring. Assistant Teaching Professor of Electrical Engineering Technology Timothy Sichler is assisting the group with their data acquisition.
"Students have the opportunity to work on a real project with new cutting-edge technology, and also see the entire process of how to monitor a dam," Bolkas said. "For instance, we had to design and collect data for a control survey using GNSS and collect laser scanning and UAS data. Next, we will process the data, and students will be able to get experience in processing as well. This creates an integrated experience for them."
Ellsworth said, "I was extremely excited when Dr. Bolkas reached out to us about this project. It seemed like a great way to get hands-on experience with cutting-edge technology that most engineering firms don't even have. It was also very exciting to be working with the Army Corps of Engineers in such a unique location."
The dam is operated by the Army Corps of Engineers. Surveying engineering alumnus Max DeAngelo works for the Army Corps of Engineers in Pittsburgh and Bolkas told him of his interest in getting students involved with a dam monitoring project.
"Max helped us make the connection with the local engineers at the Francis E. Walter Dam, who immediately liked the idea and have been very helpful and supportive," Bolkas noted.
The group visited the site three times during the spring semester and will go again in August to gather more data. After that, Penn State Wilkes-Barre representatives will monitor the dam annually or biannually. The current students on the project will mentor next year's students to ensure continuity.
Ellsworth said, "Practical experience such as this will always be valuable to us in our future endeavors. Experience with technology such as laser scanners will set us apart from others in our industry. This experience also allows us to apply the theory we learn in the classroom and see how it will fit in to our jobs day to day."
The group hopes to use its data to develop a new processing method for monitoring embankment dams, which Bolkas said will help other professionals who are using point cloud methods to improve their quantitative analysis and results.
Bolkas thanked David Williams and Brett Anderton of the Army Corps of Engineers at the Francis E. Walter Dam for their assistance with the project.