University to require masking in all campus buildings University-wide for both vaccinated and unvaccinated individuals as virus cases rise across state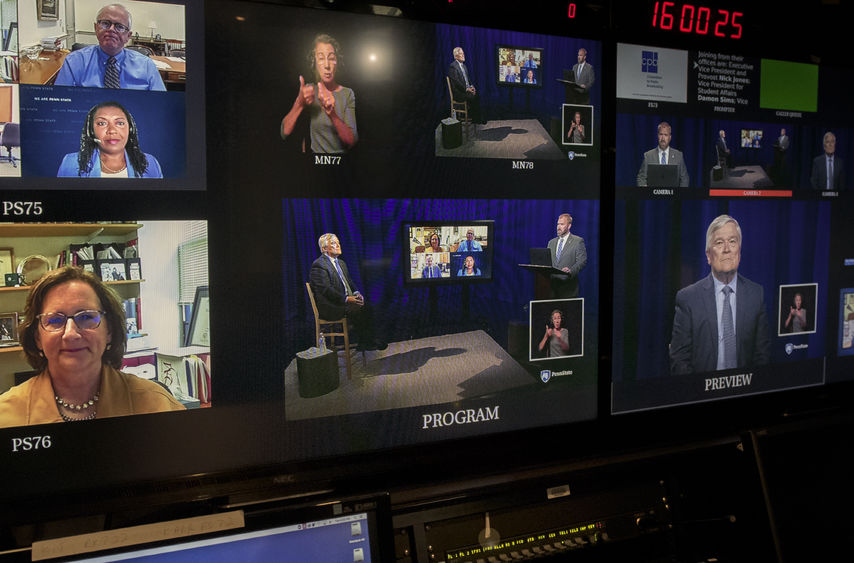 Editor's note: This story was updated Aug. 4 to reflect that Penn State is shifting to required indoor masking at all campuses, including for both vaccinated and unvaccinated individuals, effective immediately.
UNIVERSITY PARK, Pa. — With COVID-19 cases rising in Pennsylvania and across the country and the more aggressive and more transmissible Delta variant of the coronavirus becoming the dominant strain, Penn State is adjusting its health and safety plans for the fall 2021 semester. University leaders are putting in place a number of contingency plans that could be activated, if needed, to mitigate a potential resurgence of COVID-19 on Penn State campuses, and to promote the health and safety of students, employees and local communities.
Penn State President Eric Barron joined other University leaders for a town hall on Tuesday (Aug. 3) to share the fall plans with the Penn State community.
The University continues to strongly encourage students, faculty and staff to get vaccinated for COVID-19 and to share their vaccination status with the University as soon as possible. While the University is not currently requiring vaccinations, Penn State is not impartial when it comes to getting vaccinated. The University's stance is that everyone who can get a vaccine should do so as soon as possible to attain very high vaccination rates on all Penn State campuses.
Students and employees who have not informed the University that they have been fully vaccinated by Aug. 9 will be subject to required testing during the fall semester. Students at University Park, Commonwealth Campuses and Dickinson Law can upload their vaccination records through myUHS, and employees and World Campus students can do so through Salesforce Health Cloud.
Vaccination is the best way to keep COVID-19 from spreading and is an individual's best protection against the Delta variant. While the Centers for Disease Control and Prevention is reporting breakthrough cases of the Delta variant infecting vaccinated individuals, the vaccines are effective at preventing serious illnesses that lead to hospitalizations or death.
New fall mitigation tactics
Students living in on-campus residence halls on any campus who have not been fully vaccinated and/or have not shared their vaccination status with the University by Aug. 9 will be required to take a COVID-19 test upon arrival to their campus. There will be rapid testing at the University Park, Abington, Altoona, Behrend, Berks and Harrisburg campuses. Other campuses will have PCR test kits. Students with negative test results will be permitted to move into their residence halls. Students who test positive will have the choice of entering on- or near-campus isolation for 10 days or returning home for 10 days.
On-arrival testing also will be available for students living off campus who wish to be tested, but priority testing during move-in dates will be for residence hall students. The University will not accept a negative COVID-19 test result from an off-campus test source for move in. Students who test positive from an off-campus testing source can provide that information to University Health Services (UHS) via MyUHS and are encouraged to do so as soon as the test result is received.
Students living in on-campus residence halls who remain unvaccinated or do not submit their vaccination status to the University will be required to test for COVID-19 weekly throughout the semester or until they share with the University that they have been vaccinated. The University also will conduct regular testing throughout the fall semester of the University's population of students living both on and off campus who have not shared with the University that they have been vaccinated. There will be significant compliance consequences through Student Conduct.
UHS and campus health centers also will have testing available for students with symptoms of COVID-19. Even if they are vaccinated, individuals who are experiencing symptoms of COVID-19 should seek out symptomatic testing. While the vaccines are effective against serious illness, vaccinated individuals can contract and spread the virus.
More information on testing is forthcoming prior to the start of the fall semester.
Students who test positive will be referred to isolation and the University's contact tracing process will be initiated. Unvaccinated students who are identified as close contacts of an individual who has tested positive for COVID-19 will be referred to quarantine. With the University providing a fully in-person experience this fall, most courses will not have a remote participation option. Students who must enter quarantine or isolation will miss roughly two weeks of in-person classes. As in pre-pandemic years, students must work with their instructor if they must miss class due to illness or quarantine.
Testing plans and requirements for employees who are not vaccinated or have not shared that they are vaccinated with the University will be announced soon. Employees should upload their information through Salesforce Health Cloud by Aug. 9 or as soon as possible.
As announced Aug. 4, in response to accelerating COVID-19 case counts across the state and in consultation with University Faculty Senate leadership, Penn State will require all students, faculty, staff and visitors — including those who are vaccinated and unvaccinated — to wear masks indoors at all campuses. This requirement is effective immediately.
Community members will be required to wear masks indoors, including in all classrooms — regardless of size — as well as in meeting rooms, common areas in residence halls, and at any indoor events. All individuals on campus will be permitted to eat in designated food service areas, and students living in residence halls will not be required to wear a mask in their living space. In addition, vaccinated employees with individual offices are not required to wear a mask in their personal office. In accordance with CDC guidance, all individuals must wear a face mask while using public transportation.
Students, faculty, staff members and visitors should plan to wear masks indoors on campus until the current COVID-19 surge subsides; the University will provide an update when masking is no longer required.
These new measures apply to all Penn State campuses except the College of Medicine, which has already implemented specific guidance for its community.
"I'm very much looking forward to welcoming our community back to our campuses this fall," said Barron. "While this pandemic continues, though, it is going to take all of us — students, faculty and staff — doing our part to have a safe and successful on-campus experience. We may have to change some of our approaches as the fall semester unfolds, and we have built 'on-ramps' and 'off-ramps' into our fall plans to be able to do so, but all of our community efforts will be worthwhile so we can come together again on our campuses across Pennsylvania. As we have done from the beginning of the pandemic, we will continue to monitor conditions closely and adjust our mitigation strategies depending on the state of the virus."
Vaccine survey results
In an effort to better understand the vaccination status of Penn State campus communities, the University distributed a short anonymous survey to all students, faculty and staff about their current vaccine status or plans to get vaccinated before the start of the fall semester. The employee survey, which was sent to 35,780 employees across the commonwealth, closed on July 16 and garnered a 56% overall response rate, with a 54% response rate from University Park employees and a 52% response rate from the Commonwealth Campuses.
Of the 56% of overall employee respondents, 93% of University Park employees and 91% of Commonwealth Campus employees report they are vaccinated. At all campuses, 94% of all faculty respondents report vaccination and 88% of all staff respondents report they are vaccinated as well.
Results show that 95% of University Park faculty respondents report being vaccinated and 92% of Commonwealth Campus faculty respondents say they are vaccinated. Of staff respondents, 89% are vaccinated at University Park and 86% of respondents at Commonwealth Campuses report they are vaccinated.
With students in various locations and traveling throughout the summer, the University has extended the student vaccine survey deadline to Aug. 6. However, preliminary results from the student survey, as of July 31, indicate a 42% overall response rate across the commonwealth, with a 54% response rate at University Park and a 43% response rate at the Commonwealth Campuses. The survey was sent to 87,793 students and 37,220 had responded as of July 31. Of those who completed the survey by July 31, 77% indicated that they are fully vaccinated, including 82% at University Park and 66% at the Commonwealth Campuses.
The survey results with self-reported vaccination rates are encouraging. However, the Office of Planning, Assessment and Institutional Research, which prepared and distributed the University-wide survey, cautions that there is the potential for response bias in the survey results as vaccinated individuals may be more likely to respond to the survey than unvaccinated individuals, which could lead to lower vaccination rates in the non-respondent population. However, the survey does provide robust estimates of the range of vaccination rates in our community.
Additional potential 'off-ramps'
The University continues to monitor the COVID-19 pandemic, including the spread of the Delta variant and rise in coronavirus cases across the country and within Pennsylvania, and may continue to adjust its plans as circumstances change.
The requirement that all individuals wear masks indoors on all campuses, regardless of vaccination status, is one example of the University's "off-ramp" contingencies designed to promote the health and safety of students, faculty and staff across all of Penn State's locations. Other possible off-ramp measures may include physical distancing, curtailing or suspending some or all programs and activities, and returning to remote classes.
Another, for example, is that large events and gatherings could ultimately be impacted or canceled if the virus worsens on campus. This further underscores the importance of vaccination and following all mitigation measures that may be introduced.
Vaccine incentives
Through Aug. 23, students and employees who have shared their vaccination status with Penn State are eligible for a weekly drawing for prizes; those who wish to participate in the incentive program must also complete an online form.
Students who are not yet vaccinated are strongly encouraged to begin the process as soon as possible before they come to their campus. Students may begin the vaccination process at home by receiving their first dose and bringing their vaccination card with them to their campus, where they can receive their second dose of the Moderna or Pfizer-BioNTech vaccines.
Vaccinations will be available on or near campuses throughout the fall semester, but students are encouraged to start the process as soon as possible. At University Park, UHS is holding a vaccine clinic on Aug. 23 and 24, where students can receive their first or second dose of the Moderna vaccine. UHS also will offer appointments for vaccines on Thursdays and Fridays beginning Sept. 2. For more information about the clinic or to schedule an appointment, visit the Student Affairs website.
Resources
Students are reminded that that COVID-19 symptom checker remains available on the Penn State Go app and are encouraged to complete the symptom checker daily to self-screen for potential COVID-19 symptoms. Penn State Go, the official mobile app for Penn State, is available for download from the Google Play Store and Apple App Store. 
Students and employees also should consider downloading COVID Alert PA, a COVID-19 exposure notification app designed to help fight the spread of the virus. COVID Alert PA uses Exposure Notification System technology developed by Apple and Google to detect if a user has been in close contact with another user who later tested positive for COVID-19.
For students and employees in need, the University has the following wellness and mental health resources available:
Counseling and mental health services available through CAPS, which can be reached at 814-863-0395 for University Park students, or at each Commonwealth Campus location.
You@PSU, a free online wellness portal to help you navigate your time and experiences at Penn State. Create a confidential profile to discover hundreds of personalized tips and resources to tackle your academics, career path, stress and social life.
WellTrack, a free app that offers interactive tools for building resilience and managing stress, depression and anxiety with self-help videos; and guidance in determining next steps.
CAPS Chat, informal, one-on-one, drop-in consultation for students with CAPS counselors, currently held virtually. Meetings are free and students simply schedule online.
Drop-in groups focus on peer support and discussion. Stop by at your convenience during the group time. These are not therapy groups and no appointment is required. Topics cover Wellness, Sexual and Gender Diversity, Women of Color Empowerment, Black and Latino Male Empowerment, Interfaith Dialogues, and addiction recovery.
The Office of Health Promotion and Wellness at University Park offers virtual wellness and stress management programing.
Free wellness sessions on topics including stress, sleep, nutrition, physical activities, and healthy relationships and sexual health.
The Penn State Crisis Line (877-229-6400) and the Crisis Text Line (text "LIONS" to 741741), which are open 24/7 to Penn Staters dealing with both crisis and non-crisis situations — including faculty, staff and students at all campuses who have a question about someone else. The licensed professionals with the Penn State Crisis Line can help evaluate each individual situation, offer guidance and help connect callers with further resources if appropriate.
Penn State's Employee Assistance Program, a free, confidential employee and family resource to be used as the first line of defense for personal or work-related concerns for employees and their families.