Anonymous Pennsylvania Department of Health app provides rapid notification of potential virus exposure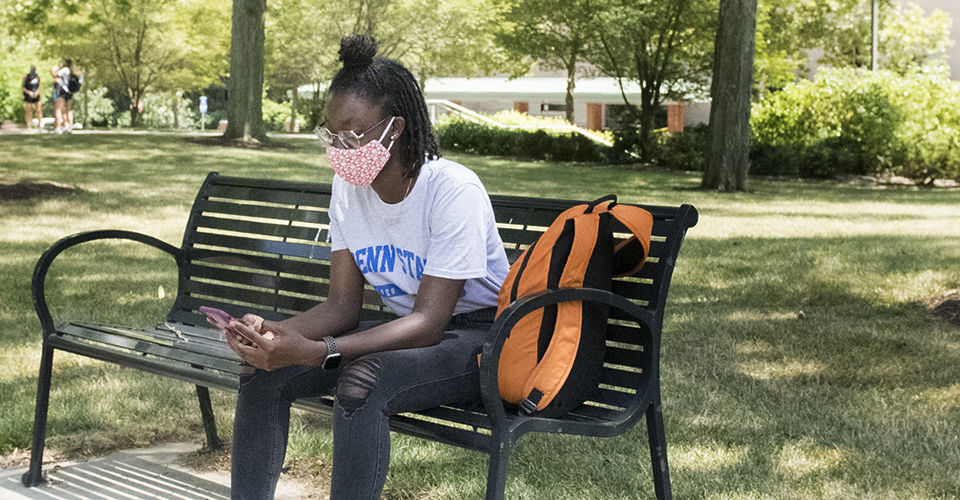 UNIVERSITY PARK, Pa. — As COVID-19 cases continue to rise in Pennsylvania and across the nation, Penn State is urging all students, faculty and staff to download and use the Pennsylvania Department of Health's COVID Alert PA app to assist with early detection of possible COVID-19 exposure.
The app uses private and anonymous Exposure Notification System technology developed by Apple and Google to detect if a user has been in close contact with another app user who later tested positive for COVID-19. Users who may have been exposed to the virus will receive a notification to their phone called a "COVID-19 Exposure Alert," along with guidance on what to do next.
"Using this app can help to inform you and also your friends and family by helping to provide rapid notification of COVID-19 exposure," said Matt Ferrari, associate professor of biology, researcher in the Center for Infectious Disease Dynamics, and co-chair of the University's Public Health and Science Assessment task force. "The faster that one learns about exposure, the faster they can take steps to protect themselves and others, hopefully helping to mitigate spread of the virus. This technology is more effective the more people who are actively using it, so we are strongly encouraging everyone in the Penn State community — students, staff, faculty, families — to download the app to their phone and activate it now."
The app is available for free on smartphones from the Apple App Store or Google Play Store. 
Traditional contact tracing efforts require that positive individuals remember and provide the names of the people they have been in close contact with and for how long. With the COVID Alert PA app, a public health official provides a COVID-19-positive individual with a unique six-digit code that they enter into the app, which then triggers a notification to all app users who have been within six feet of that person for 15 minutes or more in the preceding two weeks.
Use of the app will supplement Penn State's existing contact tracing and virus monitoring efforts. While the app is from the Pennsylvania Department of Health rather than from Penn State, any student who receives notification of possible exposure can receive testing by scheduling an appointment with University Health Services at University Park or their campus health center. Employees who are notified of COVID-19 exposure should call their primary care provider and contact Penn State Occupational Medicine at 814-863-8492 or [email protected]. Students and employees at University Park also can access the walk-up COVID-19 testing site located on the main concourse of Pegula Ice Arena.  
"It is vital that we all work together to slow the spread of the virus on our campuses," said Kelly Wolgast, director of Penn State's COVID-19 Operations Control Center. "Everyone needs to be using this technology to fully maximize its potential to provide early warning of possible exposure. This is another tool at our disposal to catch potential infection early on, and give individuals the opportunity to seek testing and take steps to prevent exposing others to the virus."
According to the Department of Health, the app does not enable any location services or track anyone, and it is designed to be completely anonymous. The Exposure Notification System works by using Bluetooth Low Energy technology, which allows phones with the app to recognize when it is close to another phone with the app installed.
Additional information about the COVID Alert PA app is available at https://www.pa.gov/covid/covid-alert-pa/, including answers to frequently asked questions.