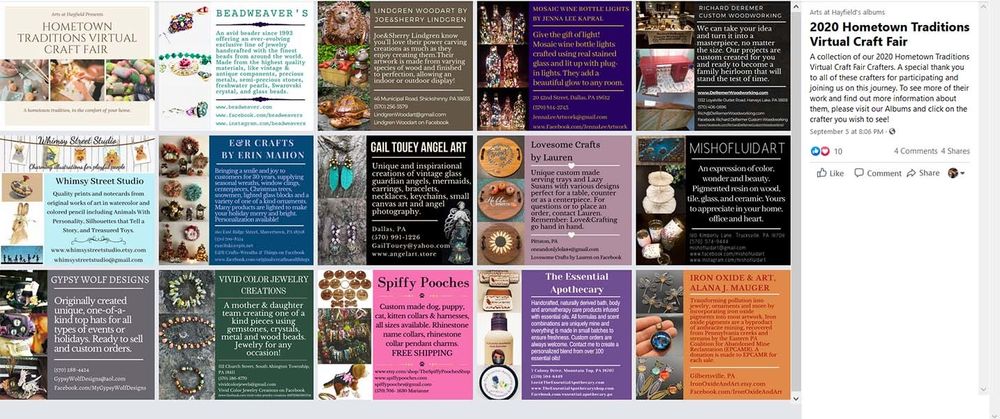 LEHMAN, Pa. — After the nonprofit organization Arts at Hayfield canceled both of its planned craft shows, volunteers began formulating a plan to help the show go on — with the assistance of a Penn State Wilkes-Barre student who is using her skills to help the event go virtual.
The 2020 Hometown Traditions Virtual Craft Fair launched on Sept. 6 and will run through Dec. 31.
Arts at Hayfield has a long tradition of raising funds to support local arts and artists as well as supplying scholarships to Penn State Wilkes-Barre students. However, due to the COVID-19 pandemic and concern for patrons' safety and well-being, the organization decided to cancel both the 2020 Summer Arts Festival and the Homespun Holiday Craft Show. As an alternative to the live on-campus craft shows, organization volunteers worked together to create an online craft fair to promote crafters and vendors.
Jonathan Pineno, president; Janis Winter, treasurer; William Bachman, marketing and promotions; and Autumn Resauit, social media and marketing coordinator, developed the Hometown Traditions Virtual Craft Fair, which pays homage to the history of Arts at Hayfield craft fairs that have been hosted at Penn State Wilkes-Barre for 35 years.
This year's virtual craft fair connects crafters to attendees through Facebook and the Arts at Hayfield website. Every few days, Arts at Hayfield posts a different featured crafter, giving them added exposure to Arts at Hayfield craft-show patrons. Crafters from previous shows are featured along with those who have never participated in an Arts at Hayfield show in the past. Visitors interested in an item they see during the virtual event can visit the crafter's website or contact the crafter to make a purchase.
Resauit, a senior corporate communication student at Penn State Wilkes-Barre, combined her passion for the arts with her knowledge of communications gained as a student.
She worked with Pineno, her mentor, to create a proposal and advertisement pieces for the fair. Resauit continues to be a part of the fair by managing the Facebook page, where she creates graphics and develops posts.
"Everything that I know about social media, event promotion and communications is from my Penn State courses," she said. "I enjoy volunteering with Arts at Hayfield because it helps me implement what I have learned."
Resauit also explained that helping the craft show continue is important to her because as a student herself, she knows how essential the scholarships offered at Penn State Wilkes-Barre are. "I'm so passionate about helping Arts at Hayfield because it benefits students. I know that as a student, any help is welcomed," she said.
The Hometown Traditions Virtual Craft Fair can be viewed on the Arts at Hayfield Facebook page. For more information, visit the Arts at Hayfield website.