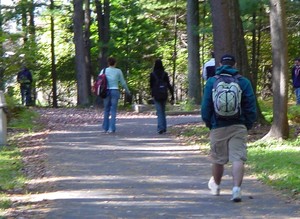 Age: Penn State Wilkes-Barre was established in 1916.
Location: The campus is 13 miles west of Wilkes-Barre on a beautiful, park-like estate in Lehman, PA.
Academic Year: two semesters, late August to mid-December; mid-January to early May; summer sessions
Enrollment: 545 students
Faculty: 58 full-time and adjunct faculty
Student-to-faculty ratio: 9 to 1
Average class size: 18
Library: The Nesbitt Library, located in the Abram Nesbitt III Academic Commons,  has approximately 35,000 volumes and receives approximately 200 periodicals and journals in a number of broad topic areas. In addition, students have access to Penn State's 4.4 million books, 39,000 periodicals, and over 500 databases through the web and via inter-campus and inter-library loan.
Housing: Penn State Wilkes-Barre does not provide on-campus housing. Off-campus housing is available in the local areas surrounding campus, including residence hall style units adjacent to the campus property.
Clubs and Service: More than 20 clubs, organizations, and opportunities for service.
Athletics & Fitness: A state-of-the-art Athletic & Recreation Building provides a fully equipped gym, racquetball courts, a regulation basketball court, a weight room with weight-training and cardiovascular equipment, a health and wellness center, and a multi-purpose room for aerobics, dance, and other activities. Outdoor sites for soccer, tennis, sand volleyball, and running also are available. Intramural sports and recreation programs are offered. Seven intercollegiate sports teams compete in the Penn State University Athletic Conference (PSUAC) and the United States Collegiate Athletic Association (USCAA).
Financial Aid: Penn State Wilkes-Barre has 30 different scholarships funds; the campus awards over $393,000 in scholarships each year. Two-thirds of all Penn State students receive some financial aid.
Degrees Offered: Over 160 degree programs can be begun at Penn State Wilkes-Barre and completed at another Penn State campus. In addition, the following degrees can be begun and completed at Penn State Wilkes-Barre:
Bachelor's degrees (4-year)
Administration of Justice
Business – Accounting
Business – Marketing & Management
Corporate Communication
Electrical Engineering Technology
English
Information Sciences & Technology
Rehabilitation and Human Services
Surveying Engineering
Associate degrees (2-year)
Business Administration
Information Sciences & Technology
Letters, Arts, and Sciences
Surveying Technology