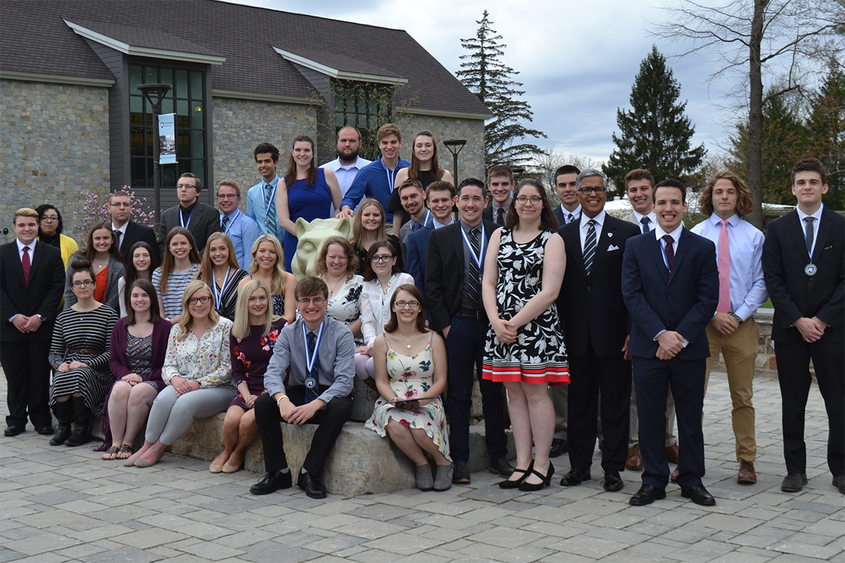 LEHMAN, Pa. — Penn State Wilkes-Barre held its 30th annual Celebration of Academic Excellence on April 25 at the Hayfield House on campus. Hosted by Academic Affairs, the event recognized students who have excelled in their academic endeavors throughout the year.
The President's Freshman Award was presented to Sandon Birch, Gregory Ellsworth, Pablo Franco, Dylan Fredricey, Aidan Joyce, Hunter Kraklio, Gerald Rusek, Shay Toner, Illia Volkovinsky, Corey Weaver, and Kyle Zern.
The President Sparks Award was presented to Ryan Dourand, Alia Mazzatosta, and Thad Nosar.
The Samuel Valick Administration of Justice Award at Penn State Wilkes-Barre was presented to Samantha Bilardi.
The College Academic Achievement Awards were presented to Elizabeth Bartuska, Ryan Dourand, Brian Hardiman, Eric Krushinski, Matthew Myers, Thad Nosar, Samantha Pareago, and Kayla Starzynski.
The Program Academic Achievement Awards were presented to Samantha Bilardi, Nicholas Conway, Allen Fell, Mia FinanCain, Ashlee Harry, Susan Huey, Vanessa Robbins, and Shaina Shelton.
The Honors Program Awards were presented to Brandon Andes, Elizabeth Bartuska, Lindsey Delazzari, Michael Elko, Lynn Gunderman, Susan Huey, Colin Kultys, Mya LaMaster, Emily Lencoski, Claudia Leu, Britney Mirra, Syndia Perez, Quishbel Pichardo, Vedant Prasad, Courtney Snow, Shay Toner, and Illia Volkovinsky.