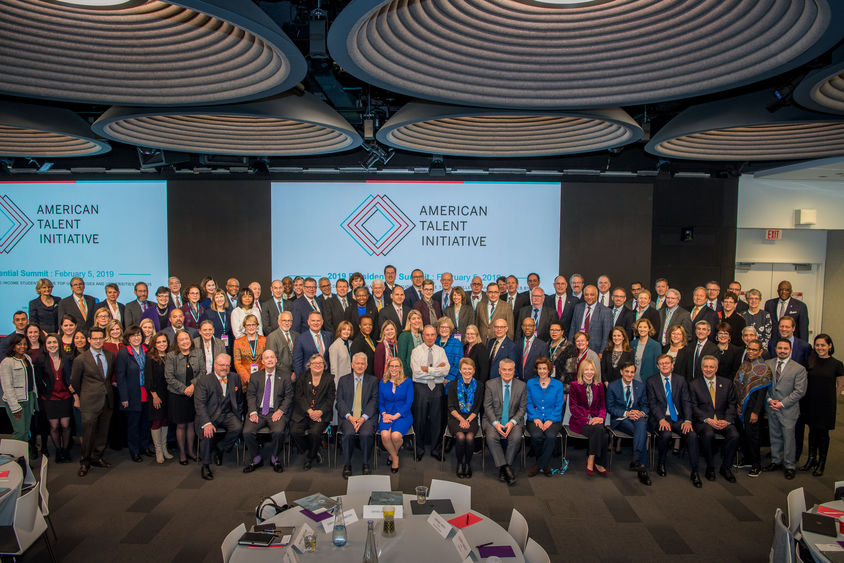 UNIVERSITY PARK, Pa. — Penn State President Eric Barron joined other leaders in higher education at a summit in New York to discuss ideas to make college more accessible and affordable for moderate- and low-income students.
The Feb. 5 meeting drew nearly 100 other college and university presidents, provosts and academic leaders to discuss programs that can broaden and empower access and affordability measures. The event is hosted by the American Talent Initiative (ATI), which hopes to graduate an additional 50,000 moderate- and low-income students through its member institutions by 2025.
Penn State joined ATI in 2018. ATI was formed in 2016 with support from Bloomberg Philanthropies and led by the Aspen Institute's College Excellence Program and Ithaka S+R. Attendees at the Feb. 5 presidential summit were joined by Michael Bloomberg, founder and CEO of Bloomberg L.P., former mayor of New York, and philanthropist; and Aspen Institute President Dan Porterfield.
University leaders were invited to share their goals and priorities at the summit, as well as areas they feel they are already strong and where they need more support or to learn best practices from other institutions.
The summit comes two and a half months after ATI and its member institutions turned their attention to graduating more veterans. In December, an ATI annual report showed that member institutions were well on their way to reaching the organization's broader goals. As of 2018, ATI members increased the enrollment of Pell Grant recipients by 7,291 since the 2015-16 school year.
Penn State already has launched and supported a number of programs to increase access to people from all socio-economic backgrounds in response to a challenging national financial climate for students and a commitment to provide upward mobility for Pennsylvania residents.
Below are some of the programs that support access and affordability at Penn State.
RaiseMe is a partnership with 24 urban and rural state high schools to target students interested in attending Penn State. They can earn up to $16,000 in scholarship support over four years.
The Learning Edge Academic Program (LEAP) helps first-year students acclimate to the University Park campus during the summer before their fall semester and earn six credits toward graduation.
PaSSS, Pathway to Success: Summer Start, is a program at the Commonwealth campuses that includes scholarship support for two summers.
Provost's Awards are competitive awards issued at the time of admission and renewed annually based on academic achievement. Approximately $25 million is awarded annually.
Complete Penn State was piloted in 2017 and supports students who are close to completing their degree by identifying and offering support to those with more than 91 credits but are not registered for fall classes.
The Sokolov-Miller Family Financial and Life Skills Center provides counseling and teaching of financial literacy to the entire Penn State community at no cost.
The Student Engagement Network provides grants to students to make engagement experiences attainable.
The American Talent Initiative is comprised of 110 of the approximately 290 colleges and universities nationwide that achieve a graduation rate of 70 percent of their students in six years. The initiative aims to increase the total number of low- and moderate-income students enrolled at these institutions by 50,000 — from about 480,000 to 530,000 students — by 2025.
Penn State Undergraduate Education is the academic administrative unit that provides leadership and coordination for University-wide programs and initiatives in support of undergraduate teaching and learning at Penn State. Learn more about Undergraduate Education at undergrad.psu.edu. Sign up for the Undergraduate Education Headlines for the latest news.