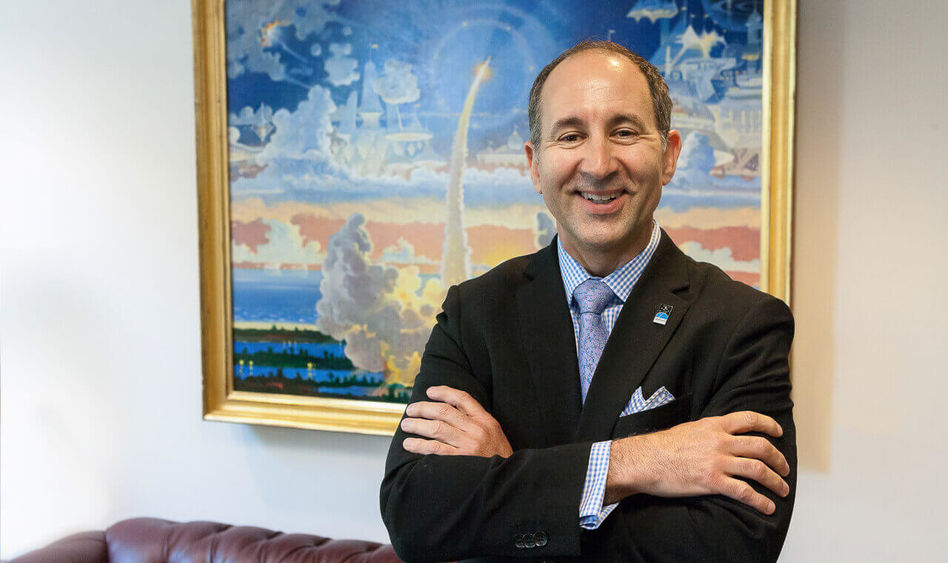 LEHMAN, Pa. — Lance Bush, president and CEO of Challenger Center, will address graduates at Penn State Wilkes-Barre's spring 2018 commencement ceremony, set for 10 a.m. Saturday, May 5, in the campus' Athletics and Recreation Building.
Challenger Center is a leading nonprofit science, technology, engineering and math (STEM) education organization. In the center's 32-year history, it has provided more than 5 million students with simulation-based education experiences that excite them about STEM subjects, expose them to STEM careers, and create a passion for learning that will last a lifetime. Challenger Center was created by the families involved in the Challenger shuttle tragedy to honor the crew of flight STS-51-L.
With the goal to inspire more students, Bush has led the growth and expansion of the organization's education programs, specifically the development of a simulation-based program that can be delivered in the classroom. Under Bush's leadership, Challenger Center was recognized with the National Science Board's Public Service Award for its work to promote a public understanding of science and engineering.
Bush holds a bachelor's degree in aerospace engineering from Penn State, a master's degree in mechanical engineering from Old Dominion University, and a doctorate in technology policy and management from Penn State.
He began his career at NASA as one of the chief engineers designing the next generation of space transportation. Bush managed the International Space Station Commercial Development program and co-founded and served as the chairman of the International Space Station Multilateral Commercialization Group.
Bush also served as the chief strategic officer at Paragon Space Development Corporation, a space vehicle design and build company prior to the Challenger Center. He helped grow and mature the firm to become nationally recognized, and as a result, Paragon was included on the Inc. 5000 Fastest Growing Companies list for five straight years.
"Penn State Wilkes-Barre is committed to ensuring that our students receive an education that effectively prepares them for the modern world and for the challenges they will encounter during their lives. We place a strong emphasis on educating students interested in the growing fields of science, technology, engineering, and mathematics (STEM) careers," said Chancellor Dale Jones. "Dr. Bush is a renowned leader in education, inspiring curiosity that leads to success in STEM fields through the Challenger Center. We have every confidence that he will deliver a meaningful message that will benefit our graduates."
Friends and family of the class of 2018 are encouraged to plan for extra time when arriving for the ceremony, as all bags will be searched for security purposes prior to entering the gymnasium. For more information, contact Rachel Olszewski, strategic communications specialist, at 570-675-9269 or [email protected].