Member of inaugural class stays connected to Alumni Association, University through program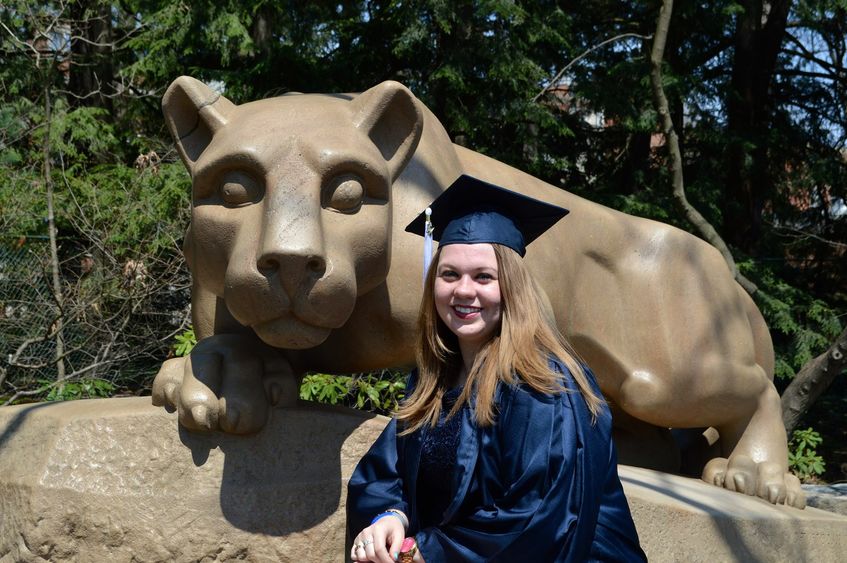 UNIVERSITY PARK, Pa. — Along with four other recent graduates, Kathleen Ritter helps comprise the inaugural class of Young Alumni Ambassadors, an Alumni Association initiative that supports and strengthens young leaders as they become lifelong Penn State volunteers.
Ritter is particularly busy this time of year, and she's also understandably excited for Penn State's appearance in the Fiesta Bowl on Dec. 30. That's because she'll be there, sharing stories and information within her responsibilities as a communications intern. She'll also be involved with the Cactus Bowl and has worked with a local nonprofit, seeing how giving back in her Arizona community makes a difference.
As for Penn State's trip to the Fiesta Bowl, consider it serendipitous for Ritter. She was so active at Penn State that she acknowledges she fell into a funk after graduation, as the realization set in that she wasn't going to be in Happy Valley every day.
Now, for a few days later this month, Happy Valley comes to her in the Valley of the Sun.
Learn what the Young Alumni Ambassador role means to Ritter, and how her student experience helped propel her along her career path, in the Alumni Association's Q&A below.
Penn State Alumni Association: How exactly will you be involved with the Fiesta Bowl and Cactus Bowl, and what are your responsibilities?
Kathleen Ritter: In September, I accepted a communications internship with the Fiesta Bowl. I grew up in Sedona, two hours north of Phoenix, so this was a perfect opportunity to combine two things I love, sports and journalism, in my home state. Some of the things I have done throughout my internship are produce three newsletters, write press releases and feature stories, be a part of news hits with local TV stations, and have a hand in social media. I facilitate all social responsibilities for the Cactus Bowl, which has been an awesome learning experience.
I am someone who loves philanthropy and helping others. Fiesta Bowl Charities has allowed me to be a part of the community and give back. For example, Fiesta Bowl Charities has a program called Wishes for Teachers that donates $5,000 wishes to local teachers across the state of Arizona. I had the opportunity to call some teachers this year and tell them their wish had been granted. That was extremely rewarding listening to their reactions. My first Fiesta Bowl Charities event was Spirit's Birthday. Our Fiesta bowl mascot invited all of the other Arizona mascots for a birthday celebration with local Boys & Girls Clubs across the valley for a night of flag football. Two weeks ago, I went to the Ryan house for a check presentation and got to see where a Fiesta Bowl Charity grant goes firsthand. Last week, I watched 22 kids who have a deployed parent go on a shopping spree during Operation Santa. This internship is unique because every day is different, and I like knowing that going into the office every day.
During the Cactus Bowl and Fiesta Bowl, I will be assisting with the media that come into town. We also have a Media Operations Committee made up of Fiesta Bowl volunteers. It is going to be a great experience working my first two college bowl games. It's funny because my cousin went to Notre Dame and took me with her to the 2016 Fiesta Bowl when the Fighting Irish took on the Ohio State Buckeyes. Who would've thought almost two years later, I would be working the Fiesta Bowl. I started 2017 at the Rose Bowl and I am ending it at the Fiesta Bowl. I couldn't ask for much more.
Penn State Alumni Association: What does it mean to you to have Penn State play in the Fiesta Bowl and have the opportunity to connect with Penn State alumni, fans and friends who will travel to the game?
Kathleen Ritter: It is surreal. I think I am still waiting for it to set in. Having my alma mater competing definitely makes it sweeter. It is one of those things that seems too good to be true. The Nittany Lions have a history in the Valley of the Sun and will be making their seventh Fiesta Bowl appearance. Penn State certainly travels well and I'm excited to see the fans, alumni and friends travel from around the country for this game. It will be good to see some familiar faces in the southwest, in my home state. It is going to be a busy week, but I will make sure to take stop for a minute and take it all in.
Penn State Alumni Association: What was your reaction to being named a Young Alumni Ambassador, and what does it mean to you? Also, what do you see your role being as a Young Alumni Ambassador?
Kathleen Ritter: It is a true honor to be one of five selected in the inaugural class of Young Alumni Ambassadors. When I found out I was selected, I was extremely excited and shocked. I am the first person in my family to graduate from Penn State. Throughout my four years in Happy Valley, I experienced what makes Penn State so special. I may be in Arizona now, but this program enables me to hold onto Penn State and spread the roaring pride across the country, no matter my geographical location. As a Young Alumni Ambassador, I unify the Penn State community, whether they are still pursuing their degree or have graduated. We all have a story to tell. I want to let other young alumni know that it is OK if you don't have it all figured out right after you get your diploma. There is an entire community of fellow Penn Staters who are willing to help you out. I have a couple projects in the works that I can't wait to see come to life.
Penn State Alumni Association: For a recent graduate, what's the benefit of being connected to the Alumni Association, and what's the significance that you're able to stay connected through this program?
Kathleen Ritter: After graduation, I was in a funk and didn't want to accept that I wasn't going to be in Happy Valley every day with my friends and peers. Thanks to the Penn State Alumni Association, I feel like Penn State is always with me. Our alumni network is top notch and everywhere I go, I always run into someone who has a Nittany Lion affiliation. It doesn't matter if I am in Arizona, Pennsylvania or Ireland, We Are … everywhere! Through this program, I have mentors on different levels that help with career and life advice. When you graduate, you are starting your life and might not know where to go. This program offers support from mentors who have been in my position and assist with the post-graduation process. We are lucky to have worldwide allegiance. Resources across the globe are something that should be taken advantage of.
Penn State Alumni Association: In what ways has the Alumni Association (and Penn State) given you personal and professional opportunities? To put it another way, what opportunities have you received through the Alumni Association (and Penn State) that you couldn't have found elsewhere?
Kathleen Ritter: Where do I begin? I did more at Penn State in four years than I ever thought I could. I started my journey at Penn State Wilkes-Barre and told my freshman self to get involved. When I arrived at University Park in the fall of 2015, I had the same mentality. One of the first things that I did was freelance with the Big Ten Network during Penn State football games. The student section is unlike anything else in Beaver Stadium, but the field isn't bad either. You are in the middle of the action, doing your job, contributing to a live TV broadcast. During my time at Penn State, I served as a production Homecoming captain, where I wrote all of the scripts for Homecoming 2016, served on the College of Communications Executive Board, served on the Association for Women in Sports Media Executive Board, worked in the athletic communications office while serving as the women's tennis primary contact. One of my favorite memories was being stationed on the sideline during the Penn State vs. Ohio State game in 2016. Let's just say my senior year was made. Penn State allowed me to see the world twice in the same year. I got to study the telecommunications system in Cuba and learn about the visual arts in Ireland. Penn State provides so many hands-on experiences, and I took advantage of the ones that presented themselves.
Joining the Blue & White Society my senior year really gave me great networking opportunities, incredible friends, and the chance to instill Penn State pride across campus. It also gave me the chance to dance all 46 hours of THON in the stands. Coming from Arizona, I didn't know what THON was. I immediately got involved with it my freshman year. I saw it from a Commonwealth perspective, 46 LIVE perspective and general organization perspective. It is something that I carry with me every day, and I still run the line dances through my head. I might have graduated, but the fight doesn't end there.