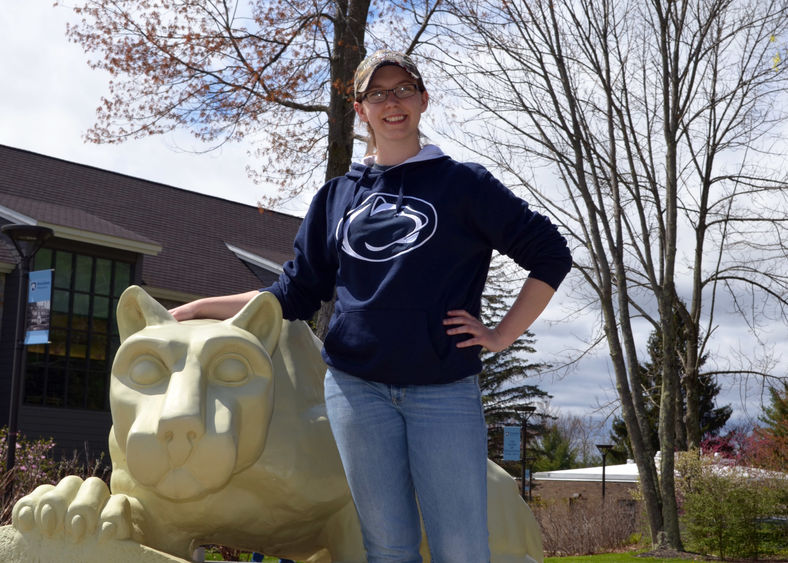 LEHMAN, Pa. — Kaylee Kishbaugh has loved animals for as long as she can remember.
"My grandparents said it would be cheaper to buy me a horse because I would always go on pony rides at fairs," the Schreyer Honors Scholar said.
A Penn State Wilkes-Barre student, Kishbaugh is putting that passion to work at a local veterinary hospital and with her studies.
"My ultimate goal is to get into veterinary school," she said. "I'd like to become a large animal veterinarian and stay somewhat close to home and have my own practice eventually."
Kishbaugh is spending the summer working as a part-time receptionist at Bloomsburg Veterinary Hospital and will receive training to be a veterinary assistant this fall. The agricultural sciences major completed her freshman year in May with a 4.0 grade-point average while taking an honors option on four of her courses.
"It's definitely made my schedule look better for vet school when it comes to having the honors classes on there," said Kishbaugh, who took agricultural classes including animal science at the Pennsylvania Governor's School, "and having people to back up that we are rather knowledgeable in what we are doing."
Kishbaugh has also found a home at The Revolt, the Penn State Wilkes-Barre student newspaper. She wrote several stories and served as the organization's secretary this past year and will take over as president during the upcoming semester, with duties to include assigning stories and formatting the paper.
"I liked the idea of freedom of expression," Kishbaugh said of what drew her to the club. "When I go to club meetings, the people are fun to be around. The fundraisers aren't just 'let's go ask for money.'
"It's not just English majors," she added. "You can be whatever you want and still be in it."
Kishbaugh has known what she has wanted to be for a long time. For the 2018 spring semester, she will transfer to the University Park campus, where she hopes to find another job in a veterinary office as she continues her studies. She is excited to get further into her major and move closer toward what has been a life-long dream.
"Being around something that I love every day is the ultimate career goal," she said. "That's what I want to do with my life. You have to love your job. You have to be willing to give up all hours of the day for it. If you get a call at two in the morning, you have to be able to go to help that animal, and I absolutely adore the idea of being able to do that."