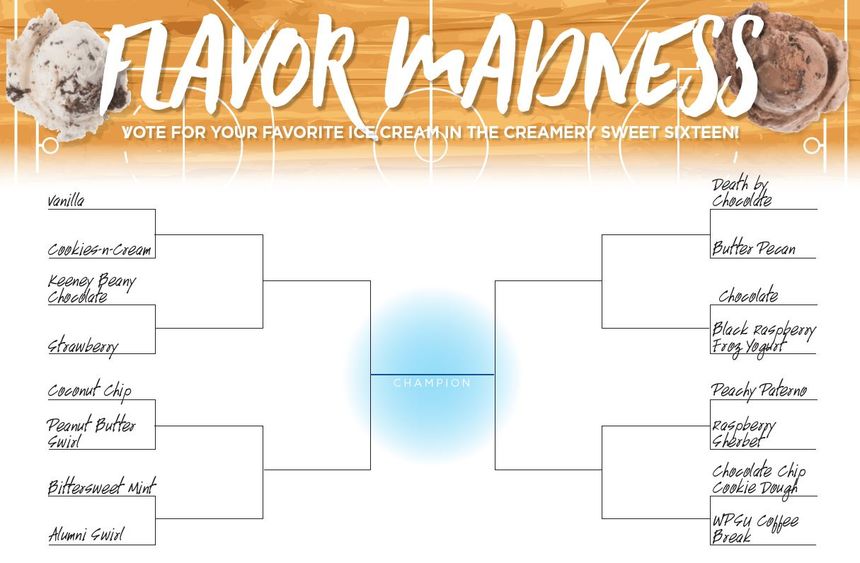 UNIVERSITY PARK, Pa. — The month for hoops is now the month for scoops.
This month, Berkey Creamery is launching Flavor Madness, the online tournament to crown the most popular flavor.
"Penn Staters are passionate about anything related to their school, including their favorite Creamery flavor," said Jim Brown, assistant manager. "This is your chance to get behind your top choices, and help establish what could be a beloved new March tradition at the Creamery."
Voting will take place on the Creamery's website and participants are encouraged to share their picks on social media by using #FlavorMadness.
Fans can choose their favorite flavors, starting with the Berkey Creamery Sweet Sixteen from March 16 to 19. Participants can vote for each matchup in four different divisions.
The "We Scream" division contains Vanilla vs. Cookies and Cream, and Keeney Beany Chocolate vs. Strawberry. In the "You Scream" division, Coconut Chip is paired against Peanut Butter Swirl, and Bittersweet Mint goes against Alumni Swirl. "We All Scream" contains Death by Chocolate vs. Butter Pecan, and Chocolate vs. Black Raspberry Frozen Yogurt, and "For Ice Cream" offers a choice between Peachy Paterno and Raspberry Sherbet, and Chocolate Chip Cookie Dough and WPSU Coffee Break.
The flavors with the most votes will advance to the next round on March 20.
The Flavor Madness schedule:
— The Creamery Sweet 16: March 16-19, with eight winning flavors announced March 20;
— Elite Ate: March 21-26, with four winning flavors announced March 26;
— Flavorful Four: March 27-April 2, with winning flavors announced April 3; and
— Tasty Two: April 4-7, with the "championship" flavor announced April 10.
The winning flavor will be discounted by $2 per half gallon on online shipments only at http://creamery.psu.edu from April 11 to 14. No in-store discounts will be offered.
Participants in the Flavor Madness contest will be eligible in a drawing for a free shipment of Creamery ice cream, with a new winner chosen every week. A winner will be selected at random from the pool of each week's players with a valid email address. Participants must re-enter each week to be eligible for that week's prize. The winner will be contacted by email and must respond within seven business days to claim their prize. Winners will receive five half gallons of ice cream or frozen yogurt. For complete contest rules, go to http://creamery.psu.edu/flavor-madness.
Flavor Madness is one of several new efforts by the Creamery to treat customers to special events and promotions. In February, the Creamery gave chocolate hearts to couples with their orders and offered discounted shakes on THON weekend to anyone wearing a wristband from the event.