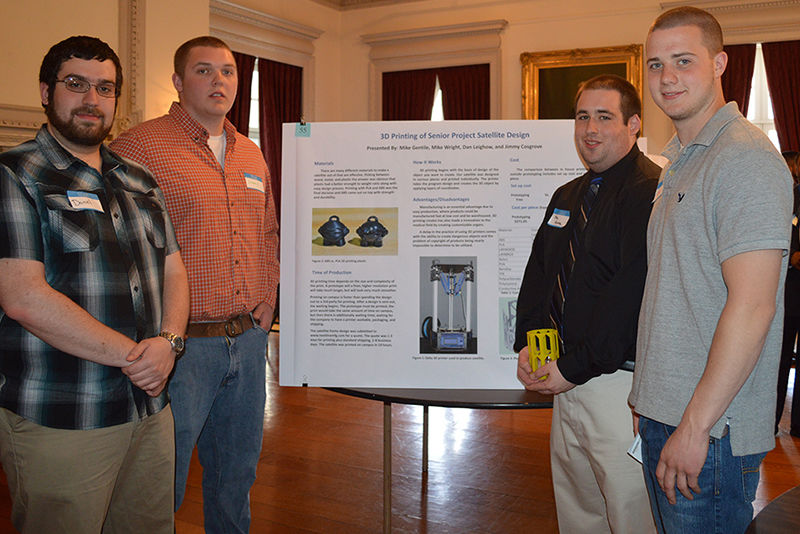 Penn State Wilkes-Barre will be holding its second campus-wide undergraduate research fair, the "Celebration of Scholarship," on Thursday, April 21, 2016, from 12 noon to 1:30 p.m., in the Athletic and Recreation Building (ARB). Over 100 students from a variety of arts and sciences backgrounds will present their research in posters and compete for prizes.
In 2015, top posters in the campus's first "Undergraduate Research Day" covered topics such as water quality, campus improvement projects, 3D-printing of a satellite, geographic information systems, the Gothic short story, a Druid system for measuring time, sibling rivalry, and cultural heritage. In addition, exhibits across campus will highlight the research of several campus faculty. The event is open to the public.
The day's schedule includes students stationed next to their posters ready to give a five-minute talk about their poster and answer questions. During this time, the Judging Committee will be going poster-to-poster, conducting interviews with the students and assessing their posters. Awards will be announced via website and email the week of April 25, 2016.
Penn State Wilkes-Barre is celebrating its 100th Anniversary as a local institution and its 49th year on the Lehman campus. The Celebration of Scholarship will give Penn State's students not only the chance to show off their work but also give them an opportunity to learn and be acquainted with a variety of skills needed for the modern job market.
The Celebration of Scholarship planning committee includes: Dr. Renee Rosier (Biology), Timothy Sichler (Engineering), Jennie Levine Knies (Library), Megan Mac Gregor (Library), Dr. Lynda Goldstein (English) and Dr. Christyne Berzsenyi (English).
Detailed information can be found on the official website.