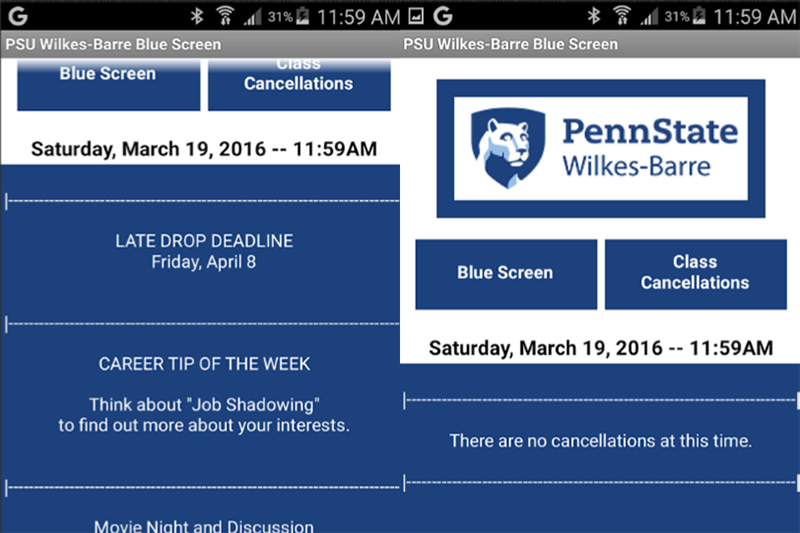 Senior Instructor in Information Sciences and Technology, Frouke de Quillettes, previews her class' Blue Screen App, available for download at the 2016 Celebration of Scholarship.
What class built the app?
IST 240 [Introduction to Computer Languages] created the app. This is an introduction to the application of languages that interact with computers.
What was the motivation behind creating the app?
I have taught a couple semesters of app programming and I wanted to do something that is very functional. In the past, functionality was always creating an app like a weather station, but tons of those already exist. The app needed an XML feed and I found out that the campus has an XML feed for the Blue Screen. That means that we can feed the Blue Screen's content to an app. To improve upon the concept further, I found out there is an XML feed for class cancellations that could also be fed to the app. Students are always looking at cancellations or what's going on the Blue Screen. If the student is home, instead of sitting in front of a computer and finding it online, they could bypass that step, and simply looking at the app on their phones.
What has been the most satisfying moment of creating the app?
The class is solving a real world problem by using real world application. That is very useful for a student. I can tell you that when I introduced this assignment to the students, the class was very excited. Another project similar to this is that the students created a basic game app. The game app uses a game to teach kids ages 6-9 mathematics. It's a basic addition and subtraction game, but the project teaches students how to design apps, and they really enjoy it.
What are future plans for the app?
Actually the student who wrote this app is going to present it at the Celebration of Scholarship on April 21st. The app will be open to all students with an Android platform phone, and he will show students how they can download it to their own phones.