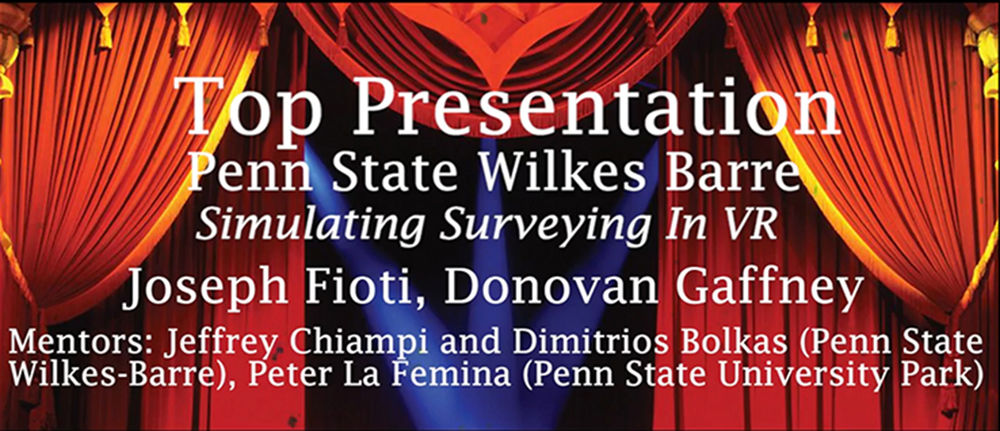 LEHMAN, Pa. – A pair of students who attended Penn State Wilkes-Barre received an award for a research project they started while at the campus.
Joseph Fioti and Donovan Gaffney, both juniors majoring in computer science, participated in the Multi-Campus Research Experience for Undergraduates (MC REU) over the summer. The MC REU program supports Penn State undergraduate engineering students to conduct research with Penn State faculty. Selected students complete their proposed engineering research project in conjunction with two Penn State faculty members — one from the student's home campus and one based at University Park.
Fioti and Gaffney were awarded top honors in the program — the highest possible award — and received scholarship money for their achievement. Their project was selected based on evaluation scores and viewership scores, including total number of views, completion rate and unique viewers.
"The experience provided me with valuable hands-on experience in the world of academic research," Fioti said. "I was able to witness firsthand how researchers work and publish papers, as well as the process they go through to acquire funding and resources. The presentations from leading companies in various industries were extremely informative."
For the students' project, titled "Simulating Surveying in Virtual Reality," they developed a fully immersive simulation for surveying engineering students to conduct academic labs in virtual reality.
"The labs maintain a high level of fidelity to the real-world counterparts, which allows students to learn various skills in VR and effectively transfer them to the real world," Fioti said.
They were mentored by Penn State Wilkes-Barre faculty members Jeffrey Chiampi, assistant teaching professor of engineering, and Dimitrios Bolkas, assistant professor of surveying engineering; and Peter La Femina, associate professor of geosciences at University Park.
"This project allowed Joe and Donovan to expand on the topics they are learning in their computer science courses," Chiampi said. "The experience they earned working on a collaborative group project will help them take their first steps into the programming industry. While many of these skills are covered in the computer science curriculum, they both have gained valuable experience applying those skills on a real-world project. Both students have grown significantly as programmers and I am excited to see what they will do next."
"Joe and Donovan are exceptional students and have created a cutting-edge software that simulates surveying labs in virtual reality," Bolkas said. "Students using the software can use and interact with instruments much like in real life. No similar software, with this level of detail and depth, currently exists in surveying education. Their contribution is essential as we continue to face instructional challenges with surveying labs due to the COVID-19 pandemic."
Because of the pandemic, all in-person events that were part of the program were moved to a virtual format. Fioti and Gaffney's project was already entirely remote, and they were able to continue their work using Penn State's virtual-reality equipment.
"The pandemic highlighted the various benefits of our research, as all surveying labs were cancelled for the remainder of the academic semester. That could have been prevented if our system was put in use," Fioti said.
Fioti and Gaffney have transitioned to University Park to finish their degrees but will continue working with Penn State Wilkes-Barre to publish their results. Fioti is also continuing to work on the project as part of the Equity Research Experience for Undergraduates Program (Equity REU), a 15-week program during which Penn State undergraduate engineering students conduct research with a faculty member based at University Park.