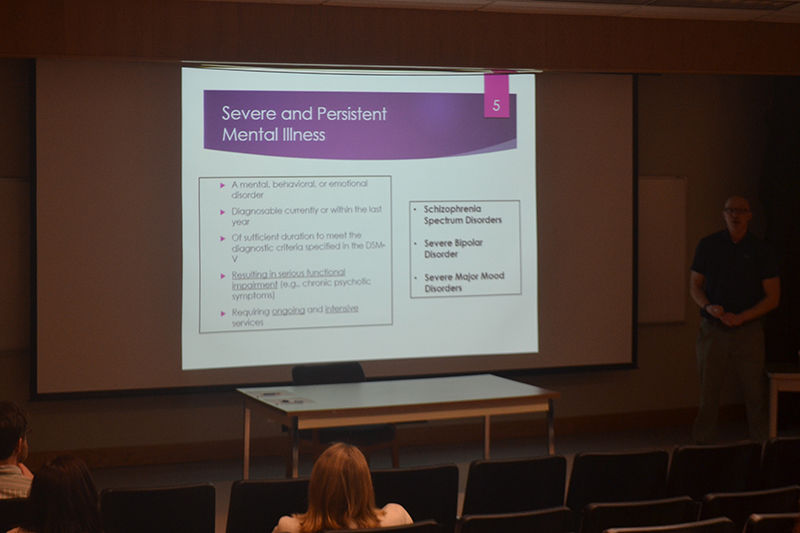 Assistant Professor of Rehabilitation and Human Services, Garrett Huck, presented his research in the most recent installment of Penn State Wilkes-Barre's Spring Scholarly Lecture Series.
How did you get involved in your research?
When I first started working in this field, I worked at a group home for individuals with severe mental illness and developmental disabilities. I was involved in a number of programs such as Special Olympics in which we encouraged people to participate, and I just fell in love with it. I thought it was fun because I liked sports and being active. I saw a lot of positive physical and psychiatric benefits in addition to the participants really enjoying it. It was something I loved, and as I moved forward with my career I worked for a community mental health organization.
I was also involved in running groups a couple times a week, weightlifting, and basketball or other various activities. Again, I saw so many positive things coming from it that I thought there could be a lot to gain for the greater community of mental health organizations if we could have some of those programs elsewhere. Despite the fact that my program provided these kinds of services, it's not something you find all over the country at all. They are few and far between, despite a great need and positive benefits, but they just don't exist. Hopefully with more research in the field we can help some new programs develop in other areas around the country.
What is the most rewarding part about your research?
There are three things that I find rewarding. The first is it focuses on my population of interest; people with severe mental health problems. Second, it's something that I have a great deal of personal investment in. I really like physical activity and being active. Third, just doing something that can bring a lot of positivity to their lives is great to be a part of.
What's the toughest problems you have to deal with?
The hardest part is getting people motivated and engaged in these behaviors. As I mentioned, there are not a lot of programs like this around the country. It's not that other programs are just disinterested, in a lot of cases there is just not funding to support these types of programs so that's something that can be really challenging as well. Other than that, proving the worth of these programs and encouraging other programs to start them up and helping them get funding to actually do some of these things is a challenge. It's also hard to get this group to participate in research because it's a population that just isn't really interested.
How do you see this field changing in the future?
Despite some of the barriers that do exist financially and not having the word shared yet, I see the field growing quite a bit. I think that as more community mental health treatment organizations come to realize the benefits of having opportunities available to people with severe mental illness, it will grow significantly. As I'm sure you know there is just such a push for health and wellness now. Especially preemptive health care, like keeping yourself from getting sick instead of going to the doctor after you get sick. The idea is to actually keep yourself getting sick altogether by eating healthy and being physically active. As a result, the field is just going to continue to grow.
Penn State Wilkes-Barre's Spring Scholarly Lecture Series will continue on Tuesday, April 19th with Dr. Esra Tekdal Yilmaz, Assistant Professor of Surveying Engineering.