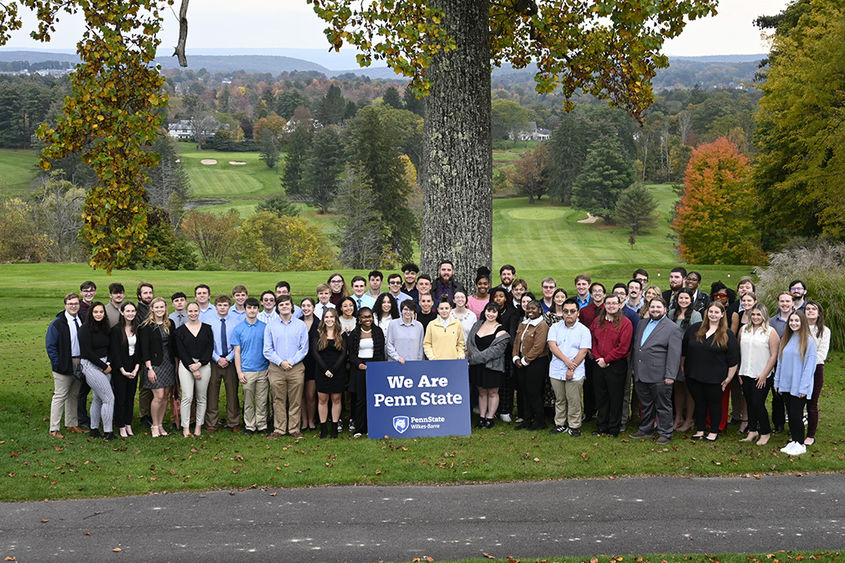 DALLAS, Pa. — Penn State Wilkes-Barre held its annual scholarship dinner on October 19, recognizing donors and bringing them together with campus students who have received scholarships.
More than 100 guests attended the event held at The Greens at Irem Clubhouse, including students, their benefactors, staff and campus leadership. Chancellor and Chief Academic Officer Lynda Goldstein welcomed attendees and Director of Development and Alumni Relations Janelle Drach recognized scholarship sponsors. Frank Nocito, a member of the Penn State Wilkes-Barre Advisory Board, offered remarks, and John Bunting, a first-year student, gave the student address.
"The dinner provides an excellent opportunity to highlight the support we have locally for our students and to give those students a way to meet and develop relationships with the people who have helped make their college education possible," Drach said. "We are grateful for each and every one of our donors and their commitment to Penn State Wilkes-Barre students."
Drach noted that for the 2023-24 academic year, the campus has been able to award $900,000 to 220 students at Penn State Wilkes-Barre.
Bunting, who is majoring in information sciences and technology, expressed his gratitude on behalf of all scholarship recipients.
"Your investment in our education is an investment in the future. By supporting us, you are empowering a generation to dream bigger, reach higher and achieve more than we ever thought possible," Bunting told the donors. "Your support has not only made our dreams achievable but has also instilled in us the belief that we can, and we will, make a difference in the world because WE ARE Penn State." 
During the dinner, four families were recognized for completing the funding cycle for the scholarships they established at Penn State Wilkes-Barre: the James and Jacqueline Brozena Open Doors Scholarship, the Tammy and Michael Hudacek, Jr. Open Doors Scholarship, the Struthers Family Open Doors Scholarship and the Maslow Family Open Doors Scholarship.
"The generous gifts these families and others have made enable 87% of our students to receive financial assistance," Drach said. "Scholarships connect the students to their community and to local alumni. It is meaningful to them to know others value their education and want to support them."
Those interested in helping support students at Penn State Wilkes-Barre can make a gift online or contact the Department of Development and Alumni Relations at 570-675-9107.