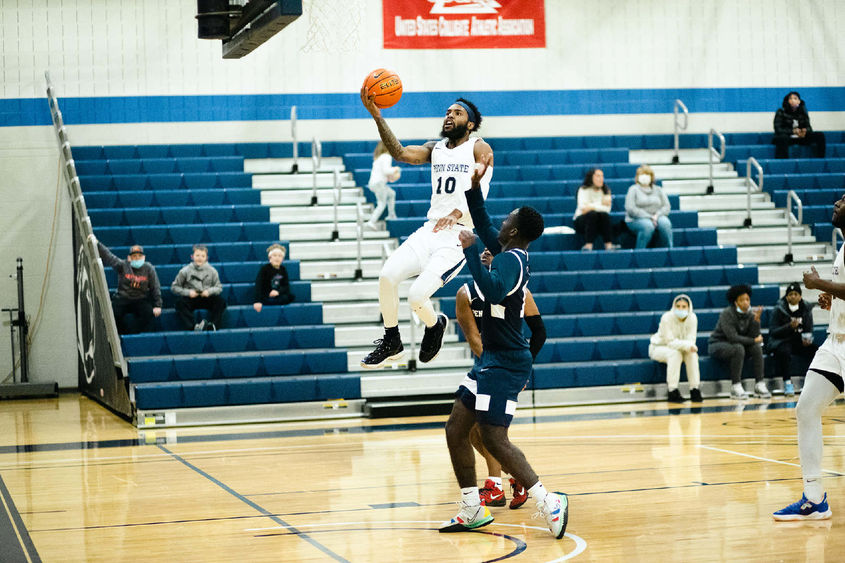 DALLAS, Pa. — Kevin Major, a 2022 graduate of Penn State Wilkes-Barre, has signed a contract to play professional basketball in Albania this season.
Major will play with the team BC Partizani Tirana, which plays in the Albanian A-1 league and is the most successful team in Albanian basketball history with 33 championships won. He was offered the starting shooting guard position for the team with a contract that includes living expenses, round-trip travel, insurance and meals. The team's season begins with a tournament game at the end of September and will run through mid-March.
Major played basketball for two of his three years at Penn State Wilkes-Barre, with one season canceled due to the pandemic. During his senior year, he was named a first team All-American and All-Conference Player. Major led the team in scoring, averaging 19 points per game. He also led the Penn State University Athletic Conference (PSUAC) and United States Collegiate Athletic Association (USCAA) in assists at 7.0 assists per game. In total, he scored 1,177 points during his career. In his two seasons at Penn State Wilkes-Barre, he was part of two teams that won 43 games and appeared in two national tournaments.
"Penn State Wilkes-Barre gave me everything a college student from anywhere could ask for. It prepared me and got me ready to start my professional career," Major said. "Penn State Wilkes-Barre will always be home to me, no matter where I'm at in the world. I built a family there."
Major, who earned his degree in business with a focus on marketing and management, attended the 55 Sports Showcase in Ohio, where he worked with a FIBA (International Basketball Federation) agent to secure the contract.
"I want to thank Coach Leshawn Hammett for believing in me and giving me that stage to be great. I want to thank Athletic Director Scott Miner for all the tips and help with my game," he said. "I also want to thank everyone in all departments at Penn State Wilkes-Barre for rooting for me and supporting me."
Hammett said, "This has been an amazing journey for Kevin. He has worked really hard for this moment and opportunity and I'm happy for him. I know he will do well. We have prepared him for this moment. He had a great career here and now for him to start his professional journey in Europe is amazing."